The red cups are back at the local coffee shop and holiday craft markets are beginning, meaning it's time to start putting together that shopping list full of great gift ideas this season. To give you a head-start, Motorola has offered up their brand new Moto X device for me to give away.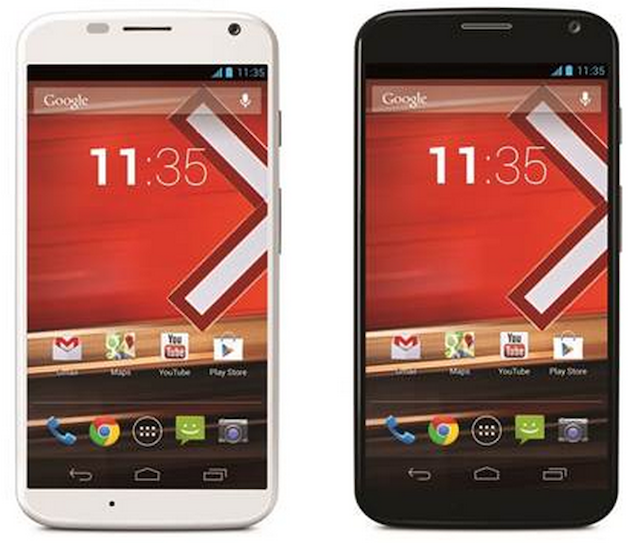 The Moto X — the one you see in the commercials that responds to the voice command "OK Google Now" — is available now only on Rogers in woven white and black for $149.99 on a two-year plan or $549.99 outright.
CNET has reported that "The display found in the Moto X…has the best performance observed in a mobile display to date…[the] AMOLED display draws just 92mA [milliamps] during bright conditions and 68mA while dim." Here are just a few more features from this impressive new Android-powered device.
Moto X Features
Touchless Control
Moto X is ready when you are. It responds to your voice – no touching necessary. You can check the weather, get directions, or do just about anything without lifting a finger.
Active Display
Moto X is always paying attention and is ready to tell you what you need to know. Information quietly appears on the screen. It doesn't interrupt. You don't even have to wake Moto X up to look at the time or see your messages.
Quick Capture Camera
Just by picking it up and twisting your wrist twice Moto X is ready to shoot. Touch anywhere on the screen, and you'll get an amazing shot, even when the moment isn't perfect, like in a dimly lit bar. All in just a few seconds.
The Updates You Need at a Glance
Introducing a better way to get notifications. It's everything you want to know, delivered to your screen in a battery-friendly way. Except not when the phone is in your pocket or placed face down—it's smarter than that.
For one Miss604 reader the Moto X will be theirs to keep, to help with their holiday planning, or to gift to a lucky loved one. Here's how you can enter to win:
Leave a comment on this post (1 entry)
Post the following on Twitter (1 entry)
RT to enter to win a #MotoX from @Motorola_CA and @Miss604 http://ow.ly/qwKHi
I will draw one winner at random from all entries at 12:00pm on Thursday, November 14, 2013. Follow Motorola Canada on Twitter and Facebook to learn more about the Moto X and its features. Prize includes the smartphone only, it does not include a carrier plan.
Update The winner is Francine!