The PNE returns for its 103rd year from August 17th until September 2nd with its full line-up of summer concerts, food vendors, exhibits, Superdogs, rides and attractions. Once again members of Vancity Credit Union will be able to receive a discounted admission for PNE Vancity Member Day on Thursday, August 29, 2013.
Vancity Member Day at the PNE
On Vancity Member Day August 29, 2013, Vancity members and one guest receive a discounted admission of only $5 per person ($9 savings on each ticket!). Simply present your Vancity MEMBER CARD® debit card or Vancity enviro™ Visa* (or other form of membership verification) at the PNE ticket booth.
Vancity will "Cowpower" all the electricity consumed at The Fair on Vancity day, i.e. by supporting Cowpower our dollars go to enabling local farmers to install biodigesters on their farms to process cow manure to make electricity (and it also make a digestate that is a high nutrient natural soil amendment that farmers can spread on their fields). A drinking-water station will also be made available on Member Day, to encourage visitors to use re-usable water bottles for the day. The water station will be provided by Metro Vancouver.
Eco Alley
Eco Alley at the PNE will be an engaging activation area that will showcase The Fair's current green initiatives with a strong focus on recycling and composting, engaging visitors in generating new ideas and proposing additional ways the PNE can "go green."
The area, highlighted by a 20×20 activity tent and a 10×10 composting tent, will feature a number of activities centered around recycling, composting and transportation for attendees to participate in:
Eco-enga Enviro Trivia Game – Vancity has designed a life-sized Jenga game specifically for PNE 2013. The traditional Jenga game is given a "green twist," as each block offers attendees a chance to answer enviro trivia for a slew of fun prizes.
Feature Ideas Wall – Vancity wants to engage attendees and solicit their feedback on how the PNE can further green their operations, so they've built a dry-erase ideas wall that will elicit attendees to write down ideas around water, waste and energy.
Commuter Survey – Vancity will have a survey wall asking attendees to pinpoint where they commuted from and their method of transportation. Along with the survey, they'll be offering tips on how you can further green your commute.
Onsite Commercial Scale-Composting Demonstration – A commercial composter will process food scraps from PNE food vendors and will be adjacent to small food gardens (planted by students from local schools) sharing the message of "Fork-to-Farm" and how food scraps can be digested into nutrients to help our soil grow food. The composter will be provided by Recycling Alternative, a proud Vancity community partner who provides eco-solutions to communities around the Lower Mainland.
"Silver Dragon" In-Home Composter Display – A composter designed for residential use called, "The Silver Dragon," will also be on display for visitors to learn more about how they can add composting to their lifestyle.
Make Good Money Photo – Vancity has also prepared a social media component, where visitors are encouraged to share their ideas on how to build a healthy community, snap a photo with their idea written on one of our exclusive social media blocks and share the photo with their social media networks.
By the entrance of the PNE Main gates, Vancity is also providing a free valet bike service for PNE visitors, providing secure bicycle storage and a chance to win a green prize pack for users of the valet.
PNE Prize Pack Giveaway for Vancity Member Day
To get the word out about Vancity Member Day and Eco Alley at the PNE, Vancity has offered up a prize pack for a Miss604 reader that includes: A pair of Fair Gate and Ride passes (value $100), a green cleaning kit (value $50) and a stainless steel green waste bin (value $50).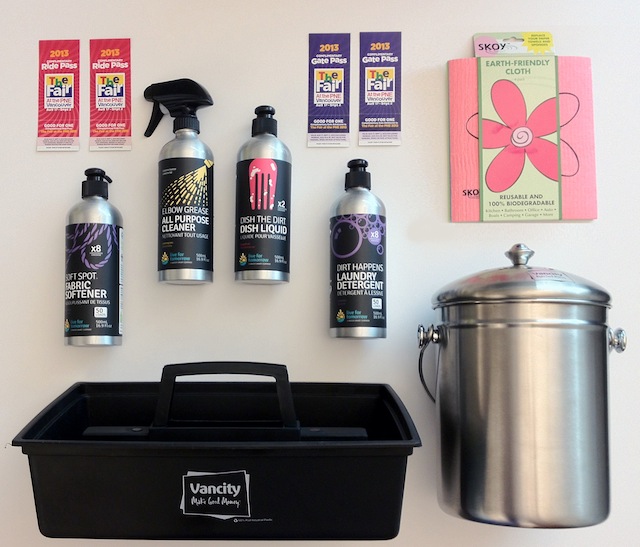 Here's how you can enter to win:
Leave a comment on this post with a green cleaning tip (1 entry)
Post the following on Twitter (1 entry)
RT to enter to win a @Vancity #VancityMemberDay #EcoAlley PNE prize pack from @Miss604 http://ow.ly/nY4eW
I will draw one winner at random from all entries at 5:00pm on Friday, August 23, 2013.
Gates open at 11:00am on PNE Vancity Member Day. Follow the event on Facebook, and on Twitter using the tag #VancityMemberDay for more information. Check out the full PNE Concert Lineup for nightly entertainment at The Fair as well.
Update The winner is Am!