Last night saw my very first Theatre Under the Stars ("TUTS") show at Malkin Bowl, after walking by the venue for most of my life and writing about its history for the last decade. The show was Legally Blonde: The Musical and I admit, Legally Blonde the movie is one of my guilty pleasures to watch (along with the likes of Clueless or The Holiday).
I had no idea what to expect from this production and doubts filled my head at first blush: Would I be able to hear? Would I be able to see? Would the songs be forgettable? Will they have a real puppy in for "Bruiser"? By the time the spotlight beamed across the lawn and the sisters of Delta Nu were singing the incredibly ear-wormy opening number "Omigod You Guys", I knew I had nothing to worry about.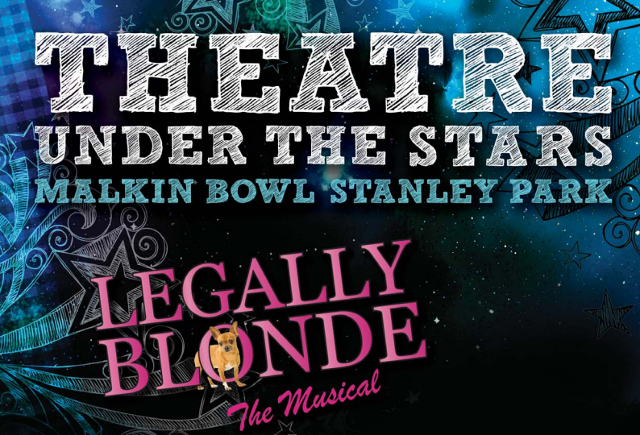 Legally Blonde at TUTS
Being very familiar with the storyline — sorority girl Elle Woods takes on Harvard Law School while chasing love and learning life lessons along the way — I was curious to see how it would be transformed into a musical. Heather Hach's story was complimented by music and lyrics written by Laurence O'Keefe and Nell Benjamin, and this show was the TUTS directorial debut for Valerie Easton who was joined by music director Danny Balkwill.
Juno-nominated Breanne Arrigo was a perfectly perky yet level-headed Elle with impressive dance moves and pitch. Katie Murphy, playing accused husband-killer Brooke Wyndham, led an impressive number that saw her — and the ensemble — skipping rope double-time and jumping around the stage while keeping tempo during their song "Whipped Into Shape". All together, through dancing, singing, acting, and even a cheerleading-themed number that included basket tosses, the cast was tight.
I was impressed by the production from the get-go, with clear sound (with a radio engineer for a husband this is important to me), bright costumes (including functional mini skirts with no wardrobe malfunctions), and by a cast that seemed to be entirely comprised of "triple threat" stars.
An honourable mention goes to the two dogs in the show, Milo (playing "Bruiser") and Béla Nicholas (Paulette's Rufus) who added just another element of smile-inducing talent to the show.
TUTS Tips
Going to TUTS is unlike any other theatre experience in Vancouver. Mainly, there's no roof – you're outside at the Malkin Bowl in Stanley Park. This allows for offerings like a grilled salmon dinner or the option to bring your own picnic. Here are a few tips for enjoying TUTS:
While the sun is shining and temperatures are high, it does cool off quite a bit at night. You can bring blankets in or light jacket like a hoodie for after the show.
You can also pick up some seat cushions on site (by donation) for comfort as the seats are just plastic patio furniture.
You are in the middle of a sloped grassy field in the park so an application of bug spray is recommended.
Dress is casual, I even saw some sweatpants last night, but I'd say jeans are fine.
Just past the entrance there is a "TUTS Museum" with programs, posters, and costumers from decades of TUTS at Malkin Bowl. It's worth browsing around to get a sense of the history of this Vancouver institution.
There are only five shows left this season. Get your tickets now for the August 9th, 11th, 13th, 15th, or 17th performance of Legally Blonde at TUTS to enjoy this truly Vancouver theatre experience. After grinning, laughing, and being thoroughly entertained for two hours, the stars will leave the stage as they start to appear in the sky above the park. It's makes for a beautiful night out in the city.
Follow Theatre Under the Stars ("TUTS") on Facebook and Twitter for more information about this show and the upcoming Grease Sing-A-Long on August 24th.