The launch of our region-wide transit fare card is almost here! But first, some testing needs to take place and that's where you could help make sure things are running smoothly.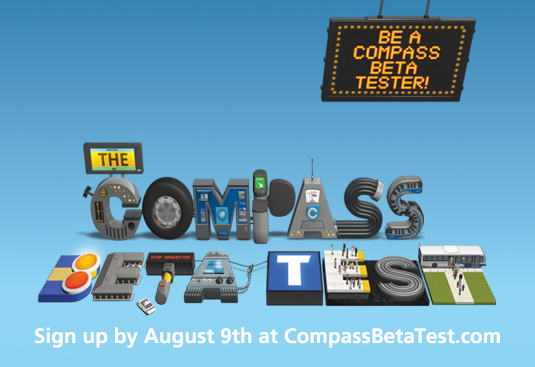 The Compass Card will eventually match up with fare-gates that have been installed at SkyTrain and Canada Line stations and tap pads on buses. The "tap in/tap out" system is starting to take shape so Translink is looking for a group of people to test it out this fall before it gets fully implemented:
Your mission as a Compass Card Beta tester? – simply "tap in" and "tap out" of the Compass system. Easy, right? Your taps will help us make sure the system is working properly and efficiently. It's an important job, and we need your help.

And, if you're extra-eager, there will also be extra tests you can help with, such as the testing of Compass Vending Machines. These special tests won't be included in the general test program, but if you're chosen as a tester, keep an eye on your email for invitations to these events.

We'll be taking the results of all the tests and using it to make changes where needed, and fix things that need fixing. [The Buzzer Blog]
The Compass Beta Test has been designed to include a representative sampling of equipment and Beta Testers from across Metro Vancouver. The number of Compass Beta Tester positions is limited, so Translink will be evaluating applications based on criteria that ensures the testing process is as comprehensive as possible.
Applications are being accepted until August 9, 2013. The Beta Test will then take place in fall 2013, for three or four weeks. The exact dates will be determined once additional system testing is complete. Because a Compass Beta Tester card can only be used for testing purposes, Compass Beta Testers will still be required to carry valid fare at all times. Follow @TheBuzzer on Twitter for updates about this program.