The other night I was randomly barking commands at Siri on my iPhone 4S when I landed on the phrase: "Show me bears". Instead of pulling up a search window and finding an image of a bear, Siri showed me the current roster of the Chicago Bears football team.
I tried something else: "Show me Canucks". Siri popped up the latest Canucks roster and did it again when I said "Show me Whitecaps", "Show me Lions", and "Show me Giants". The latter two came up with mixed results from Detroit, New York and San Francisco but it was great to stumble upon the MLS and NHL options.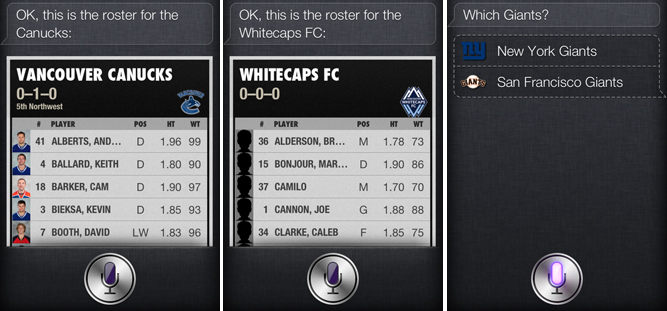 It turns out that Siri is quite the sports fan if you have upgraded to iOS6 last fall (and perhaps you've already noticed this). You can use any of the following commands to get information on the go, adding in the name of your favourite professional sports team:
"Show me hockey scores from yesterday"
"When do the Whitecaps play next?"
"Which Major League Soccer team won the championship?"
"Show me statistics for David Booth"
For more information, you can click on the "i" in the bottom right corner of the search results and that will prompt you to open (or download) the Yahoo! Sportacular app. There you can select your favourite sports teams – including everything from NASCAR to women's basketball to the English Premier League – setup alerts for specific events, and more. Yahoo! Sportacular is also available for Android, although Siri is not.