As of January 2009 Mapquest was still ahead of Google Maps in the online map department however I have a feeling that Google has taken the top rank in recent years. We turn to it for streetviews, directions, information about local businesses or for trip planning. But what happens when the place you're looking for doesn't exist on the map? That is a problem all to familiar to the people of Sechelt, a district municipality on BC's beautiful Sunshine Coast.
I was first told about this Google Map mishap at WordCamp last week. Local web designer Robert Dall explained that over the last few years members of the community have tried pretty much everything to get their town listed. These efforts include hundreds of people reporting the issue to Google, tweeting about it @GoogleMaps on Twitter, and the Mayor of Sechelt, Darren Inkster, has even written an official letter to Google – all to no avail.
The village of Sechelt was incorporated in 1956 and today the district spans about 39 square kilometers with a population of about 8,400. It's pretty hard to miss when you're traveling up Highway 101. It's home to a Provincial Park, distinct neighbourhoods, restaurants, a sea plane terminal and growing residential developments. So why hasn't Google put it on the map?
"Sechelt is native word and so it is used in a couple different places which has confused the issue," explains Dall who wants to make sense of this omission and get it corrected. "This really affects small businesses (especially the bed and breakfast owners), because when people using Google Maps suggest where they want to go they are usually directed to businesses in Whistler and Squamish."
To help the plight of Sechelt, I encourage readers to Tweet @GoogleMaps with the tag #PutSecheltOnTheMap or report a new issue (if you can find out how to do so in the Help Centre). Using their MapMaker tool won't help though as it appears to not even recognize the Sechelt Inlet on the geographic layout.
This isn't the first time Google has missed something on their map. The town of York in Maine was erroneously marked until US Congresswoman Chellie Pingree wrote an official letter Google's CEO, Larry Page.
Update Less than 24 hours after this was posted, Google updated their pin-point marker for Sechelt and it is now correct.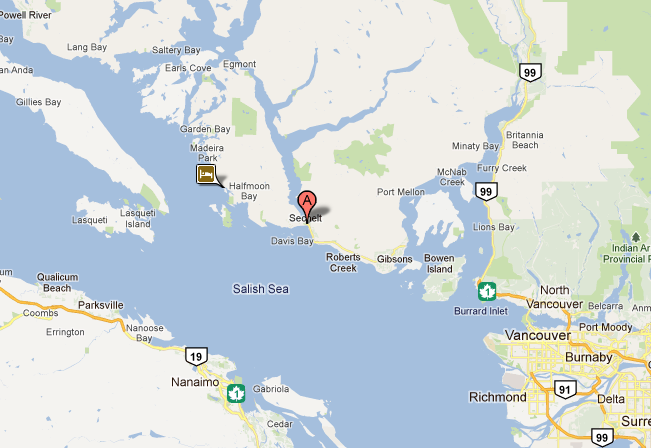 Thanks to everyone who shared this story!