This morning I woke up to see a new Twitter update from @MtSeymourRoad: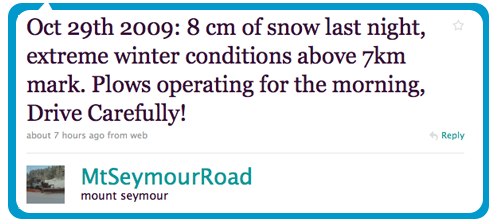 Ski and snowboard season is just around the corner and as Metro Vancouver prepares for another blustery winter, the local hills are getting ready to welcome the Olympic-sized crowds that will be flocking to the hills. Here's how many of them are using social media to keep the public informed about events, activities, and conditions.
Local Mountains on social media
Cypress Mountain
Home of the 2010 Olympic Games snowboarding events


Mount Seymour
Not involved in the 2010 Games so they'll have lots of room for riders this season

Grouse Mountain
Will be open 24 hours a day during the Olympics, even hosting NBC's Today Show for a few weeks — can you say 4am Tweetup on the slopes?

Just outside of Metro Vancouver
Whistler Blackcomb
Host of the 2010 Olympic Winter Games. 90% of their runs will be open to the public during that time.



Hemlock Valley Resort
Closer than you think, just outside the Fraser Valley

Mount Washington
Your ultimate ski/board destination on Vancouver Island. Check out Keira's posts for everything you need to know about Mount Washington.

Quick Okanagan Getaways
Sun Peaks
Located near Kamloops, BC

Big White
Awesome ski-in, ski-out resort near Kelowna, BC


Silver Star Mountain
Just north of Big White, outside of Vernon, BC


I'm celebrating my 16th year as a snowboarder so I can't wait to get in as much riding as possible. With the local mountains getting snow this morning opening day isn't too far down the road.
Should you have any listings you would like to add to my directory above, please feel free to leave a comment or email me through my contact form.