My only up close and personal experience with a Vancouver Island marmot is toying with a stuffed plush MukMuk at the Olympic store. The endangered species, which is a recently upgraded Olympic mascot for 2010, is now facing another challenge; the Vancouver Island Marmot Foundation's funding has been cut by the BC government.
According to the Globe and Mail, "Viki Jackson, executive director of the Nanaimo-based Marmot Recovery Foundation, said last week that her organization is battling a $133,000 shortfall after a Ministry of Environment decision to chop its annual funding from the 2009-10 budget."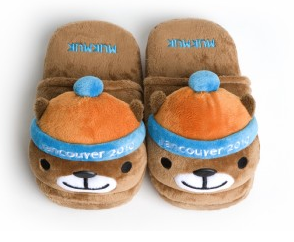 The Foundation operates a Marmot Recovery Centre, manages the captive breeding program, assists the wild population and conducts research. The marmot, known as the "most endangered species in Canada" is down to a population of 200, which is up from 30 just a few years ago.
Without sufficient funding, the Foundation would be left high and dry by next year, right when we are welcoming the world and showcasing the species-inspired MukMuk.
You can educate yourself by reading up on the Foundation or by checking out this post by Vancouver Island blogger (and my good friend) Keira-Anne, which is a part of her Island Profile series.
You can also donate to the Foundation online, purchase a plush toy or sign up for the Adopt-a-Marmot program.