Looking for a refresh on your go-to restaurants and activities? Look no further! We have curated a list of our current culinary favourites and notable limited edition menus, into one convenient spot for this month's Vancouver Foodie Friday feature. For August, we are fully diving into the best late-summer finds:
Vancouver Foodie Friday – August Finds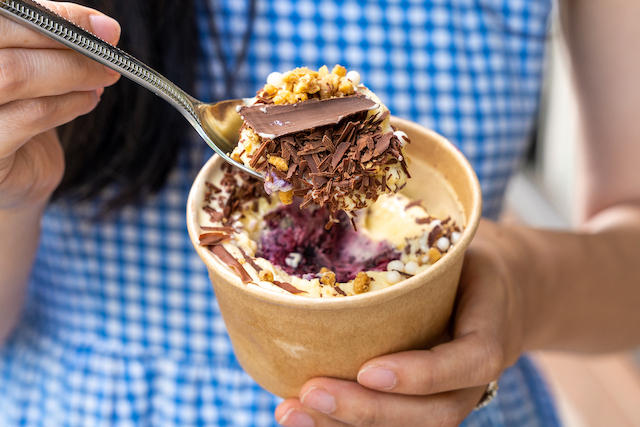 Beaucoup Bakery Announces New Frozen Treats
Where: Fir Street location (2150 Fir St) and St. Regis location (600 Dunsmuir)
When: Now available
Details: Vancouver's Parisian-inspired cafe, Beaucoup Bakery, has just launched two new frozen treats to help guests cool down this summer. The Vanilla Blueberry Iced Mousse Parfait (a walnut praline crunch, caramel and lime cake, BC blueberry jam, lime creameaux and Vanilla bean iced mousse) and the Chocolate Indulgence (milk chocolate and caramel sandwiched between a dark chocolate brownie and chocolate chip cookie and dipped in a pecan milk chocolate glaze) are only available for a limited time. However, both are perfect to enjoy on a Beaucoup patio!
BC Dumpling Festival
Where: Town Centre Park 1299 Pinetree Way, Coquitlam
When: August 12, 2023 11:00am to 8:00pm
Details: The Asian Arts and Culture Society is excited to present the 2nd Annual BC Dumpling Festival in the Tri-Cities. This festival is a celebration of a diverse community and brings together families, friends, neighbours, community organizations and businesses from different cultures to share food, entertainment and laughter. It is a multicultural, family-friendly event that will showcase dumplings from different cultures.
Bubble Tea Crawl
Where: Metro Vancouver
When: Now until August 14th enjoy limited edition drinks and treats; BOGO drink deals August 1st – October 31st
Details: By the same team as the Vancouver Croissant Crawl, Metro Vancouver's first ever Bubble Tea Passport will kick off August 1 with limited edition drinks and treats at participating vendors in Metro Vancouver. Passports are now on sale for $6. All are invited to explore the limited edition drinks and treats à la carte in a self-guided tour across Metro Vancouver. You can purchase the optional passport here to record your tasting notes, have access to other exclusive deals and learn more about participating vendors.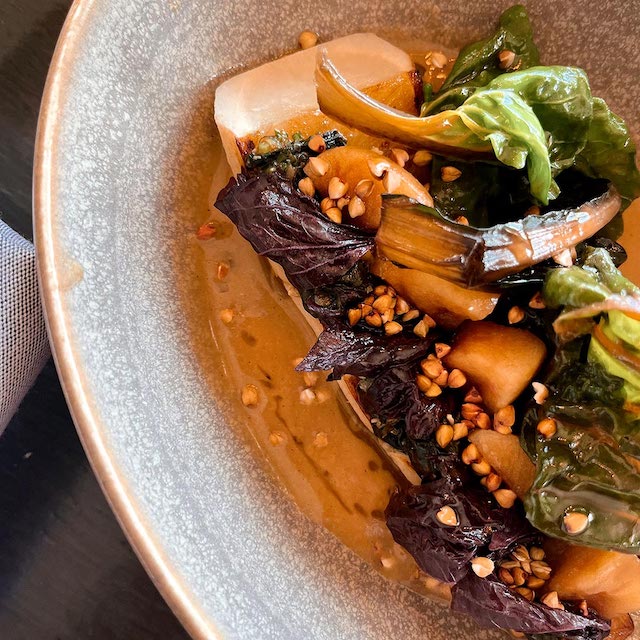 10 New Restaurants Added to MICHELIN Vancouver Guide
Where: Metro Vancouver and surrounding areas
Details: The MICHELIN Guide announced 10 additions to the Vancouver selection of restaurants. These establishments are highlighted as "New" in the guide to help food lovers enjoy new discoveries before the annual announcement of Bib Gourmands and Stars. The new Vancouver additions include a wide range of cuisine; including, Hawaiian, traditional Canadian, Chinese, Indian cuisine and more! Folke (located on W. Broadway, Vancouver) would be a great option on this list for our vegan followers.
Provence Marinaside's Tomato Festival
Where: Provence Marinaside – Yaletown; 1177 Marinaside Crescent, Vancouver
When: August 1-31, 2023
Details: For our savory-not-sweet lovers, the entire month of August Provence Marinaside celebrates all things tomato with its annual Tomato Festival. They will be offering a special prix fixe menu complete with recommended (optional) wine pairings, which has been thoughtfully selected by Assistant Wine Director Ryan Johnson. The menu features everything from a heirloom tomato and watermelon gazpacho appetizer to a mixed berry tartelette complete with a candied tomato for dessert. Learn more about the festival menu and reserve your spot today.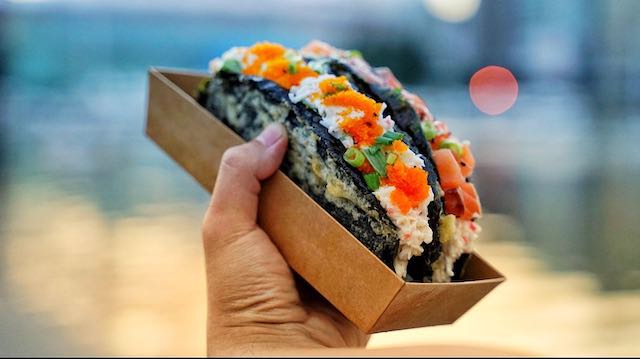 PNE Fair Food Lineup
Where: 2901 E Hastings St, Vancouver
When: August 19 – September 4, 2023
Details: The 2023 PNE Fair food lineup is here, along with a new $10 or less menu, called Taste of the Fair! This menu consists of over 30 delicious items including poke, dim sum, grilled cheese, tacos, BBQ, ice cream and many more delicious food options. With over 50 vendors at the Fair, from PNE classics to brand new dishes, there is sure to be an option for everyone's cravings – including the pickiest of kiddos. Check out the full menu here to be prepared for your visit ahead of time.
New at the PNE: Try a Slider with Masala Fries by Curry in a Hurry, California Nori Taco by Taco Nori, an Oreo Shake by Lickity Drippity, Pulled Pork Poutine by Truckin BBQ, Jamaican Irie Rolls by Jamaican Mi Juicy, and more!
Order Ahead at Vancouver Parks
Vancouver Board of Parks and Recreation, in partnership with Vancouver Civic Theatres, announced the launch of the VanEats app, a new mobile ordering app for concessions and theatres throughout Vancouver. Available for download on Apple and Android devices, VanEats streamlines ordering and reduces wait times for residents and visitors wanting to enjoy Vancouver's cultural and natural scenes.
VanEats is currently available at eight Park Board concession stands: Second Beach, Third Beach, Lumberman's Arch, Sunset Beach, Kitsilano Pool, Jericho Beach, Locarno Beach, Spanish Banks East. It's also available at four Vancouver Civic Theatres, offering a choice of BC wine and local beer options, along with a growing selection of theatre snacks: Queen Elizabeth Theatre, Vancouver Playhouse, Orpheum, Annex.
Don't forget to check out last month's Vancouver Foodie Friday for local restaurants still offering seasonal specialties before the end of summer. And check back in September for a fall Foodie Friday. Be sure to tag @miss604 during your adventures or send us insta-worthy recommendations of your own!