Hundreds of thousands of spectators will look to the sky over English Bay this week as the Honda Celebration of Light Fireworks in Vancouver return for three nights this summer. Here are a few more details about the evening events that include some traffic impacts, road closures, and more: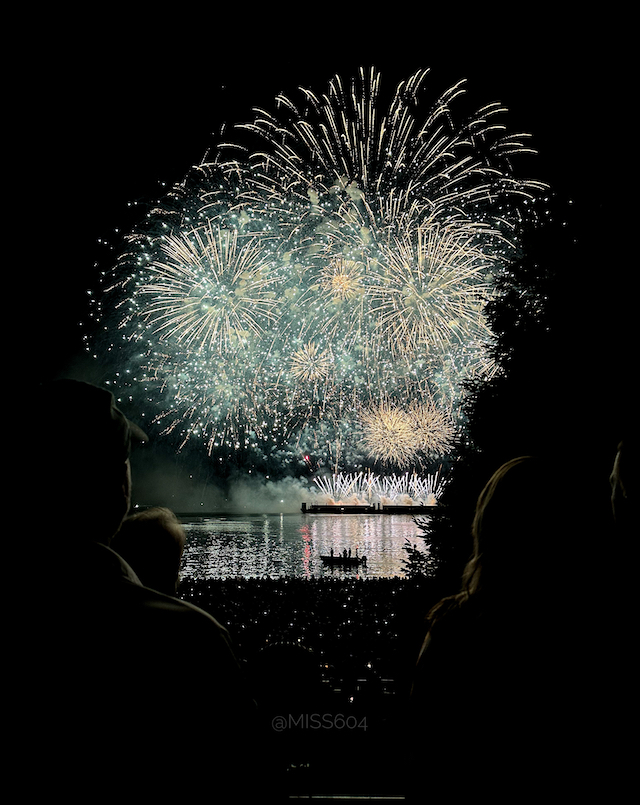 Fireworks Road Closures in Vancouver
Event load-in/load-out – July 19-21
Full road closure

Burnaby St from Beach Ave to Bidwell St
Event – July 22, 26, 29
9:00am to 5:00pm – Traffic Controls in Effect

Beach Ave closed from Pacific St to Davie St
Burnaby St from Beach Ave to Bidwell St

5:00pm to 12:00am – Full Road Closures

Beach Ave/Pacific St from Stanley Park to Thurlow St
Davie St from Denman St to Burrard St
Denman St from Alberni to Beach Ave
Local Traffic Access Points
Burnaby St at Thurlow St
Nelson St at Thurlow St
Denman St at Alberni St
Vehicle access in the West End and Kits Point event areas will be limited to residents with a local parking decal or vehicle registration displaying a local neighbourhood address.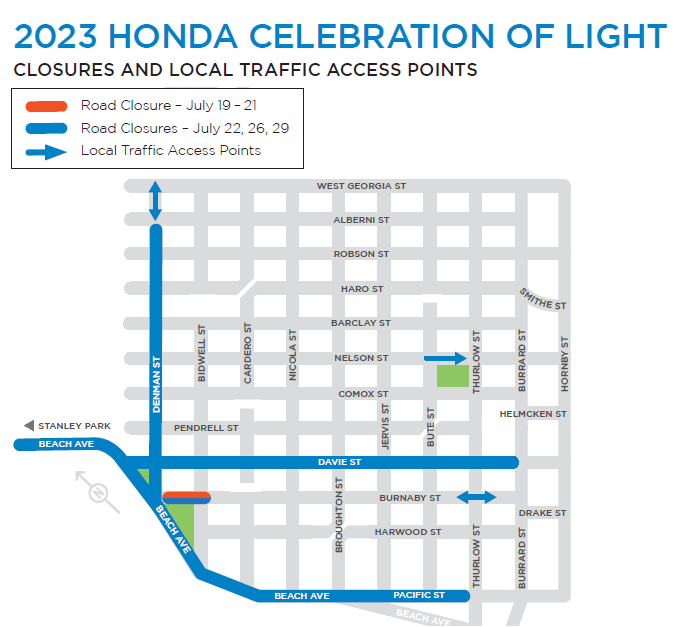 At 10:00pm each night the fireworks will begin from barges located in English Bay. Music simulcast can be heard on CFMI Rock 101. The winning team will be announced on Tuesday, August 2nd. The event also welcomes back the Red Bull Air Show, a spectacular pre-show performance happening on all three festival nights.
Viewpoints in Vancouver
Anywhere with a view of the barge is going to be a great view! All along the Seawall from about Sunset Beach to about where it meets Park Lane; from the Burrard Bridge; around by Vanier Park, Kits Point, Kits Beach, clear over to Jericho Beach will have nice views in the sky. The Cypress Lookout in West Vancouver is also a popular spot with a panoramic view of the whole area – but be warned it goes get very busy on that road.
For a premium experience, tickets are available for the following reserved seating options in the Concord Pacific Grandstand (reserved bleacher seating); the Scotiabank Lounge; Inukshuk Point; English Bay Grandstands and private luxury cabanas and private patios.
More Fireworks Viewing Tips
Many get to the beach earlier in the day to secure their viewing spot. Be sure to protect yourself during hot weather.
Walk, bike, roll, or take transit whenever possible
Be aware of fireworks viewing point markers, especially those marking the high tide points along the beach
Put waste in its place. Walk, bike or roll with waste to the nearest garbage, recycling or organics bin

Use the "Pack-In, Pack-Out" method, especially for large gatherings. Group gatherings often result in excess waste and can quickly overfill waste bins. Bring waste home with you to properly sort and dispose of

Be considerate of the community and keep noise to a minimum when leaving
Respect the no smoking ban in Vancouver parks and refrain from using barbeques
Watching from the water? Follow safe boating guidelines, carry your boating license with you and refrain from consuming alcohol on the water
Canoes, kayaks and other non-powered vessels should stay close to the shore to avoid interfering with larger vessels
Boaters should also be aware of the exclusion perimeter in English Bay; this will be marked out by marine buoys
Leave your pets at home. Fireworks and large crowds can be very frightening for animals. If you choose to bring your dog with you, make sure it's wearing proper identification: 97 per cent of dogs that are licensed and wearing tags are returned to their owner. If your dog gets lost, phone 3-1-1 to inform Animal Services
"The annual Honda Celebration of Light is the longest running off-shore fireworks competition in the world and one of the largest events in Vancouver," says Mayor Ken Sim. "This event sparks joy and plays an important role in fostering a vibrant Vancouver. To ensure this event remains an enjoyable and safe experience for everyone, we will be working closely with our partners at the Park Board, Vancouver Police Department and Emergency Services."
Participating Countries
July 22, 2023 – Australia

Howard & Sons Pyrotechnics are leaders in pyrotechnic innovation. They take immense pride in their international reputation for taking major events into the next league, pushing pyrotechnic boundaries with their passion and exceeding audience's expectations!

July 26, 2023 – Mexico

Created in 2014, Grupo AVACON is a combination of Cabo Fireworks Co. and Atomic Professional Fireworks. With their extensive experience, Grupo AVACON are always looking forward to giving the best and most innovative shows with the use of the latest technology and effects.

July 29, 2023 – The Philippines

Founded by a group of passionate individuals dedicated to their love of fireworks in 2015, Blue Peacock Fireworks The Philippines is regarded as one of The Philippines promising names in the pyrotechnics industry. Their work has won several awards worldwide in Asia and North America.
Follow the Honda Celebration of Light Fireworks on Facebook for the latest updates and news.