Bard on the Beach Shakespeare Festival's 34th Season continues in Sen̓ákw/Vanier Park with special events throughout the month of July and August. The highlight summer event is its signature Bard Fireworks Nights, and you can enter to win tickets!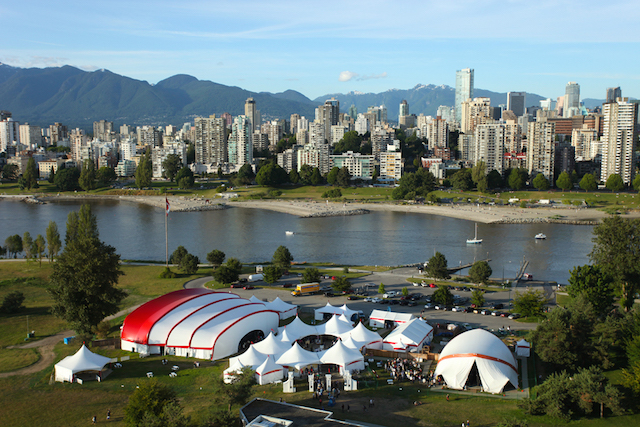 Bard on the Beach Fireworks Nights
See  As You Like It or Henry V, enjoy a delicious dinner from Emelle's Catering and post-dinner entertainment from Coastal Wolf Pack. End the night with a private view of the spectacular Celebration of Light  Fireworks. Bard's fireworks nights are an unforgettable experience, offering outstanding value for the ticket price.
A selection of wine, beer, ciders and non-alcoholic beverages available for purchase. If you require dietary accommodations for allergies or food intolerances, contact the Box Office no later than 72 hours before your event date.
Win Tickets
I'm giving away tickets to the Bard Fireworks night on July 26th with a feature performance of the '60s- inspired, Beatles-infused production of As You Like It.
Win Bard on the Beach Fireworks Tickets
Enjoy Shakespeare blended with The Beatles hits in this romantic comedy conceived and directed by Daryl Cloran (As You Like It, Shakespeare in Love). This production broke Bard box office records in 2018 and has since toured North America to ecstatic reviews.
"We are delighted to bring back the most successful production in Bard's history," says Christopher Gaze, Bard on the Beach Artistic Director. "This glorious musical is filled with tunes beloved of all generations. It will touch a vast range of people and become an inspired gateway into the magic of Shakespeare."
As You Like It cast members, returning and new actors, include Henry Beasly, Scott Bellis, Sharon Crandall, Oscar Derkx, Ben Elliott, Alexandra Lainfiesta, Jennifer Lines, Matthew MacDonald-Bain, Andrew McNee, Naomi Ngebulana, Evan Rein, Chelsea Rose, Emma Slipp, Marco Walker-Ng, Andrew Wheeler, and Sally Zori. Understudies for As You Like It are Jennifer Copping, Andrew Cownden, Olivia Hutt, and Matthew Ip-Shaw.
Follow Bard on the Beach on Facebook for their latest updates, events, and announcements.