The Richmond Museum Society presents Doors Open Richmond ("DOR"), taking place June 3-4, 2023. This free, in-person event invites residents and visitors to explore 39 diverse cultural places and civic services of Richmond.
Doors Open Richmond 2023
When: June 3-4, 2023 (open hours vary for each site)
Where: 39 diverse cultural sites and City services (map)
Admission: Free!

Some sites may require pre-registration so check them out in advance on the event website.
Pre-registration is required for the bus tours. Call 604-276-4300 to register. For those with an Xplor account, go online and click "browse and register" and search the registration number for the bus tour listed below.
This year's event features an array of in-person activities and guided tours that showcase Richmond's diversity alongside its civic services, providing unique experiences for the whole family.
Some highlights this year include:
Several new sites for 2023 highlight the city's vibrant cultural mosaic. Among these additions are the Richmond Multicultural Community Services, offering Richmond newcomers an introductory public art bus tour that takes them through local parks and public spaces to discover diverse art installations.
The Turkish Canadian Society invites visitors to indulge in a mesmerizing cultural experience featuring a blend of traditional and contemporary Turkish art, crafts, cuisine, and performances, including a Turkish choir and folk dances.
An opportunity to learn Richmond's unique places of faith on a bus tour including three visits to locations throughout Richmond. Tours include two stops along No. 5 Road known as the "Highway to Heaven", including Az-Zahraa Islamic Centre, Lingyen Mountain Temple, Richmond Jamia Mosque, and Thrangu Monastery Canada, and either the Steveston Buddhist Temple or Eastern Catholic Church Richmond.
The return of the popular 39 Service Battalion & 12 Service Battalion Museum, where visitors can witness the dedication of everyday citizens who voluntarily train to support the local army reserve. Visitors can learn about the work happening at the Battalion through displays and insightful commentary from volunteer hosts.
Sites that showcase the diversity of food available in Richmond. Included on the sold out bus tour is a visit to Anar Persian Cuisine, where guests can immerse themselves in Persian culture and sample an array of traditional dishes; Lamajoun Armenian Restaurant, a family-owned business that showcases authentic Armenian and Georgian cuisine, complemented by exquisite clary art from an Armenian artist; and Sanduz Estate wines, boasting one of the largest wine selections in BC set in the heart of Richmond's rich agricultural lands.
An emphasis on accessibility, with wheelchair and walker friendly bus tours to provide seamless access to the featured sites and some sites providing Cantonese or Mandarin speaking guides.
View the full list of participating sites on the DOR page and/or with this map: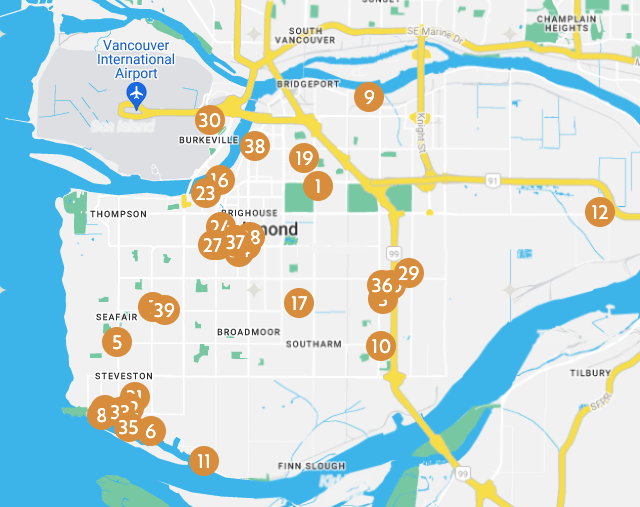 Established in 2008, Doors Open Richmond is the longest-running Doors Open event in British Columbia.
The local event is part of the Doors Open Canada program and is supported by the City of Richmond, the BC Arts Council and Canadian Heritage. The event is produced by the Richmond Museum Society. Follow on Facebook and Instagram for updates and check the event website for opening hours for the venues as they are subject to change.