Add a unique nature-focused experience to your holiday calendar and celebrate winter with breathtaking views at Malahat Skywalk's Holiday Magic.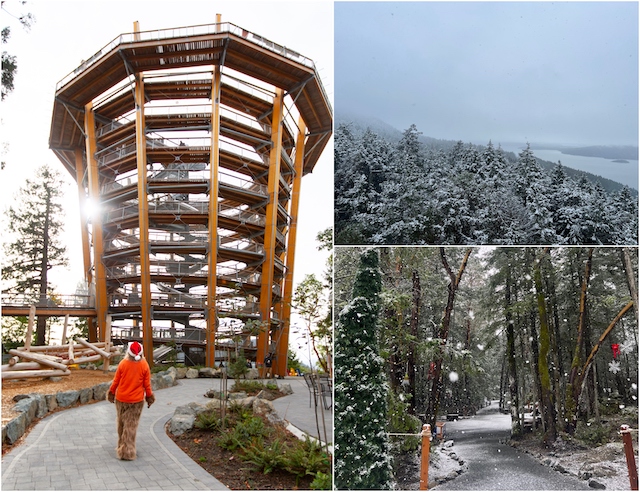 Winter at the Malahat Skywalk on Vancouver Island
When: The Holiday Magic display runs from December 2, 2022 to January 1, 2023. Malahat SkyWalk is open seven days a week from 10:00am to 6:00pm, aside from Christmas and New Year's Day (open from 10:00am to 2:00pm).
Where: 901 Trans-Canada Highway, Malahat, BC.
Tickets: Tickets can be purchased on Malahat Skywalk's site or call directly via (833) 625-2428. Special pricing for children, seniors, family passes or annual season passes is available.
Take in the sights and sounds of the season with Malahat SkyWalk and experience something unique and truly west coast. Holiday Magic features an exciting line-up of fun and festive activities for all to enjoy. This line-up includes appearances by Santa, Luke the Sasquatch Elf, decorations, a twenty-foot Christmas tree to Santa's Workshop, The Claus Family Bakery and a cozy outdoor fire. Therefore, there's no better place to get into the holiday spirit and enjoy the best of the season. 
"We are excited to welcome our guests to celebrate Holiday Magic with us and discover the beauty of Malahat SkyWalk and the surrounding landscape at this time of year," says Ken Bailey, General Manager of Malahat SkyWalk. "With so many festive activities to enjoy along with all that the attraction has to offer, it's sure to be an unforgettable experience for every member of the family."
While at Malahat SkyWalk's Holiday Magic, guests can also connect with nature on the elevated TreeWalk through a Douglas Fir and Arbutus forest and be amazed by the ten-story Spiral Tower. This structure boasts panoramic views of the Salish Sea, Coast Mountain range and surrounding islands in both Canada and the US. Additionally, for thrill-seekers, a walk along the adventure net and a 20m spiral slide down will cap off this Vancouver Island experience.
A full list of the Holiday Magic events can be found on the Malahat SkyWalk website. For the latest news and updates, follow Malahat SkyWalk on Instagram and connect on Facebook.
Follow Miss604Holidays this season for the latest arts and culture activities, attraction and event news »