I'm excited to once again partner with Meinhardt Fine Foods to do a gift box giveaway! This season you can find delicious treats and holiday meals all in one place, including decadent, sweet, and savoury, gifts for everyone on your 'nice' list.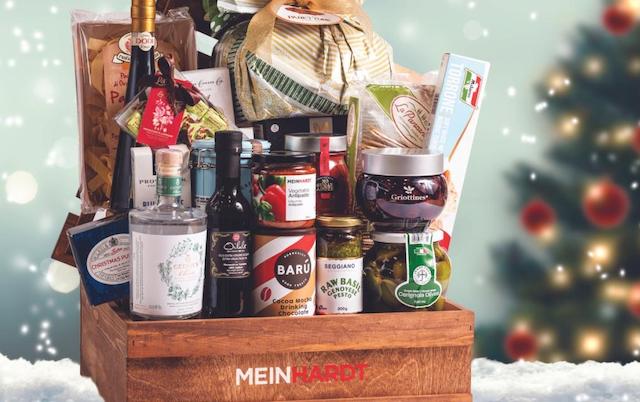 Meinhardt Fine Foods Gift Boxes
Meinhardt takes great care with local delivery of their beautifully wrapped "open-style" gift boxes and the products are carefully chosen for their individuality and gourmet appeal. Whether you choose a standard box or a wooden crate, you'll find your gift is both stylish and reflective of the quality of the products contained within.
There are over 15 types of gift boxes to choose from, whether you want to celebrate Tea Time, Holly Jolly Flavours, Wine O'Clock, or the Best of the West.
Holiday Meals from Meinhardt
Meinhardt's Holiday Dinners are all made in-house with fresh, local ingredients. The family-style holiday dinner comes with nine dishes and is available in four different sizes, ranging from $24.99 to $204.99. A vegetarian main dish is available as an add-on with any order. Fully vegetarian meals are available upon request, please call our stores to place an order. Order online, by phone, or in person at least 48 hours in advance for pick-up from the South Granville (3002 Granville St, Vancouver) or Pacific Centre (609 Granville, Vancouver) locations.
In Store Holiday Items
Both locations are packed with holiday items that make for perfect stocking stuffers or gifts for foodies. Meinhardt Fine Foods carries one of Vancouver's largest selections of authentic Italian Panettone, with many different flavours, shapes, and sizes at both locations. Some of the more unique flavours include tiramisu, pistachio, and chocolate brownie. They also have a wide selection of other seasonal products such as cookies, chocolates, specialty teas and coffee, German spice cookies, stollen, and so much more.
Win a Gift Box
I have one of Meinhardt's Party to Go boxes (value $165) to give away that includes all of the items below wrapped up in a handcrafted, reusable wooden crate:
Savoury
Meinhardt Tortilla Chips
Meinhardt Salsa
Meinhardt Vegetable Antipasto
Simply 7 Quinoa Chips
Ferdies Virginia Honey-Roasted Peanuts
La Panzanella Crackers

Drink
Bottle Green hand-picked elderflowers
(non-alcoholic)
Sweet
La Mère Poulard Butter Biscuits
Meinhardt Candies in a Jar
Jasmine Turkish Delight
Anna's Viennese Wafers
Hamlet Chocola's Thin Crisps
 Annas Thins Biscuits
Meinhardt Dark Chocolate Bar Caramel
Meinhardt Milk Chocolate Bar Almonds
Meinhardt Cocoa Dusted Truffles
 Maina Mini Panettone
Here are several ways you can enter to win:
Win a Meinhardt Fine Foods Gift Box
Follow Miss604Holidays this season for the latest arts and culture activities, attraction and event news »