After being apart for a few holidays, the gift of experiences together with loved ones is more popular than ever. Take a stroll to enjoy a light display, visit a nostalgic attraction, and spend time with those you care about (while not breaking the bank). Here is my 7th annual list of *Free Holiday Activities in Vancouver & The Valley, which will be updated often throughout the season so be sure to bookmark it and check back often.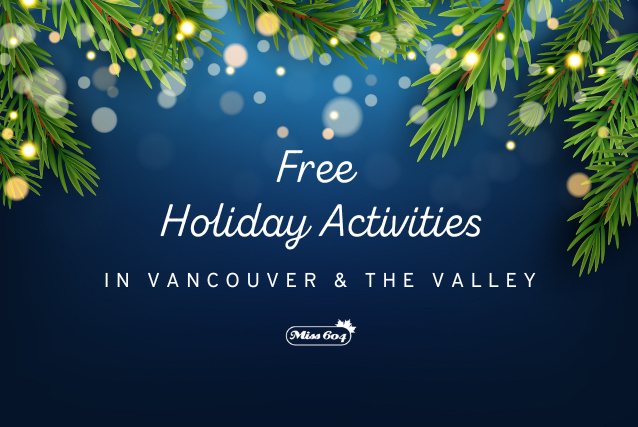 Free Holiday Activities in Vancouver
Free Holiday Activities in Burnaby & New Westminster
Shine Bright New Westminster December 1, 2022 to January 31, 2022 there will be light displays around Downtown New West along with some free creative and crafty activities for all ages.
Bright in Burnaby December 2, 2022 is the kick off for the season of Burnaby Village Museum Heritage Christmas November 26, 2022 to January 2, 2023. Free gate admission includes light displays, entertainment, and more in this 10 acre open air museum site. Miss604 is a proud Media Sponsor.
HollyDaze in the Heights is a free street festival in Austin Heights on November 19, 2022.
Free Holiday Activities in Abbotsford & Chilliwack
Free Holiday Activities in the Tri-Cities
Lights at Lafarge in Coquitlam kicks-off with a free event November 26, 2022 with live entertainment and more. The lights will be on display all around Town Centre Park until January, 2023.
Celebrations of Light presented by Coquitlam Heritage is December 17, 2022. Learn about Diwali, Hannukah, Kwanzaa and Winter Solstice as well as how the French community in Maillardville celebrated the Christmas season. Free to attend, register in advance.
The CP Holiday Train arrives in Pitt Meadows, Maple Ridge, Port Moody, and Port Coquitlam December 17 & 18, 2022 with performances from MacKenzie Porter & Virginia to Vegas. Bring a donation for the local food bank to enjoy these rolling shows.
Free Holiday Activities on the North Shore
Free Holiday Activities in Richmond
Free Christmas Activities in Langley & Fort Langley
Free Christmas Activities in Delta & Tsawwassen
Free Christmas Activities in Surrey & White Rock
If you have any other free Christmas activities around Vancouver to add, send them in via my contact form and I'll include them (free or not) on the December event list. Thank you!
* Please note that there may be costs associated with extra activities at these events and attractions, such as food/snacks, admission to other attractions or sites, etc. This post covers information available at the time of publishing and any posted signage or fees at these activities should be observed.
Subscribe to the Weekly Events Newsletter
If you wish to receive this weekly/weekend event list right to your email inbox, please sign up for the Miss604 Weekly Events Newsletter below. It will be sent once a week, only to those who opt-in.
Follow Miss604Holidays this season for the latest arts and culture activities, attraction and event news »