It began in 2014 as a simple, beautiful, elegant way to bring light to the West End during its darkest season. This year, re-envisioned Lumière Festival will embrace all of Downtown Vancouver with its warmth while shining a light on local artists. Returning November 17-27 with the theme: Dream the Future, elements of light, art and storytelling will be woven together to redefine winter as a season of inspiration and connection.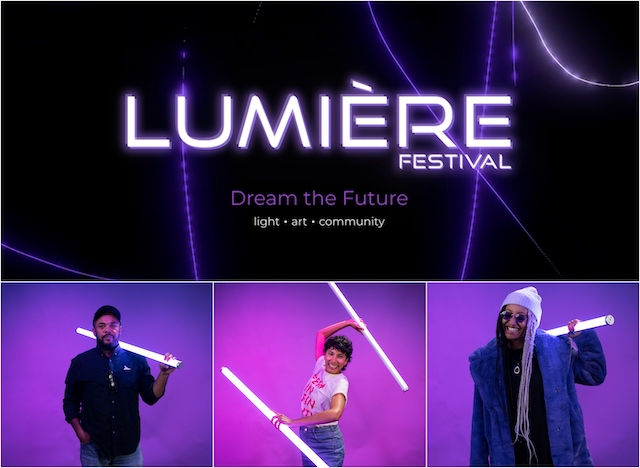 Lumière Festival Vancouver 2022
When: November 17-27, 2022
Where: Various public locations in Downtown Vancouver, the West End (English Bay, Jim Deva Plaza, Denman Street), Yaletown (Roundhouse Plaza, Bill Curtis Square, Helmcken Plaza), Gastown (Maple Tree Square)
Admission: Free!
Follow Lumière through Downtown Vancouver, the West End, Yaletown and Gastown, and discover 55+ artists and performers, illuminated Dream beacons, pop-up performances, workshops and demonstrations, as well as neighborhood parades throughout the course of the festival.
Each night, at a new location, festival Dreamers will come together and celebrate with light, music, art and dance; no two nights will be the same during this free family-friendly celebration.
Kicking off the Lumière Festival is an open air spectacle at šxʷƛ̓ənəq Xwtl'e7énḵ Square (formerly: Vancouver Art Gallery North Plaza) on the evening of Thursday, November 17, 2022, and wrapping up in iconic Morton Park on November 26, 2022, is another outdoor stage showcasing artists, light and performances.
Featured artists include two-time Western Canadian Music Award winning soul, jazz and R&B singer Krystle Dos Santos, explosive, high-energy dance band Queer As Funk and Vancouver event band Trilojay. Visual artists include Zachery Cameron Longboy, Lee Rosenbaum, and Jed Mangahis. Dancers from Harbour Dance, Mozaico Flamenco and many more of Vancouver's best will be Dreaming throughout Lumière.
Follow the festival on Facebook and Instagram for more info.
Follow Miss604Holidays this season for the latest arts and culture activities, attraction and event news »