The CP Holiday Train will once again set out across the continent to entertain hundreds of thousands of people, collecting food and raising funds for food banks while also raising awareness for food insecurity issues.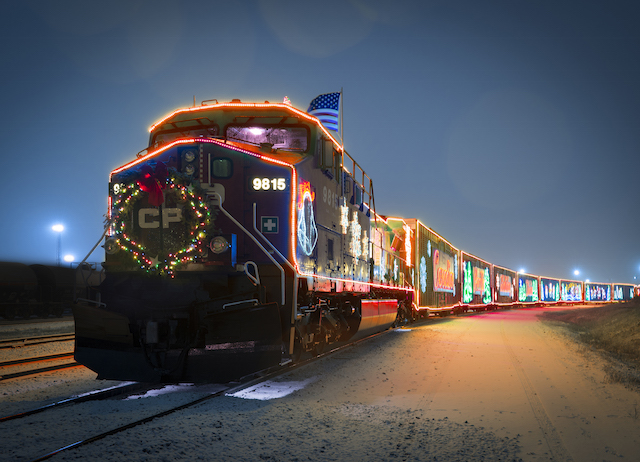 CP Holiday Train
The CP Holiday Train program has two trains, one that travels exclusively in Canada and another with stops in both Canada and the United States.
The U.S. Holiday Train departs Montreal on November 22 and features performers Brittany Kennell and Don Amero performing in communities in Maine and eastern townships of Quebec. Lindsey Ell and JoJo Mason will perform for communities in New York, southern Ontario, and down through Chicago to Kansas City. Alan Doyle and Kelly Prescott will pick up the tour in Iowa and finish the train's journey back to Canada with the final show in Weyburn, Saskatchewan, on December 18th.
The Canadian Holiday Train departs Montreal on November 27th and follows CP tracks west to Vancouver. Performing free concerts in support of food banks from Montreal to Calgary are performers Tenille Townes and Aysanabee, while first-time Holiday Train artists McKenzie Porter and Virginia to Vegas will finish out the tour departing out of Calgary and wrapping up in the greater Vancouver area on December 18th.
How the Events Work
When the train arrives it will pull to a safe stop in front of the crowd in attendance. The stage door lowers and the band opens with its first song. After that, a brief presentation takes place with local food bank officials and other dignitaries.
Once complete, the band resumes performing a mix of traditional and modern holiday-themed songs. The whole event lasts about 30 minutes, and once the band plays its farewell show, the boxcar door closes, and the train slips off into the night on its way to the next stop.
Fraser Valley & Metro Vancouver Stops
MacKenzie Porter and Virginia to Vegas will roll up to play Agassiz on December 17th at 5:30pm, Maple Ridge at 7:50pm, and Pitt Meadows at 8:55pm. On December 18th the CP Holiday Train will finish its journey in Canada by reaching Port Moody at 4:45pm, and Port Coquitlam at 6:15pm.
| City | Location | Dec 17th |
| --- | --- | --- |
| Agassiz | Across from Agra Centre on Pioneer Ave West of Hwy 9 | 5:30pm |
| Maple Ridge (Haney) | Across from Billy Miner pub 22355 River Rd | 7:50pm |
| Pitt Meadows | Railway crossing corner of Harris Rd & Advent Rd | 8:55pm |
| City | Location | Dec 18th |
| --- | --- | --- |
| Port Moody | 300 Ioco Road behind Rec Center | 4:45pm |
| Port Coquitlam | KingsWay between Mary Hill & Wilson Ave | 6:15pm |
The spectacular event is free to attend, but you are encouraged to bring a cash or non-perishable food donation if you're able. Local organizations will set up collection stations at each event, with all donations made staying with the local food bank to help people in need in the community. Tip: Because local food shelves buy food at a discount, cash donations can go further than food donations to help those in need.
Since the Holiday Train program launched in 1999, it's raised more than $21 million and collected 5 million pounds of food for community food banks across North America. Follow the #CPHolidayTrain on Facebook, Instagram, and Twitter for more information.
Follow Miss604Holidays this season for the latest arts and culture activities, attraction and event news »