The Italian Chamber of Commerce in Canada – West ("ICCC West") will be celebrating its 30th anniversary with La Grande Festa on September 29th. This deluxe gala dinner is open to members, partners and the public, and partial proceeds will benefit Variety – The Children's Charity of BC.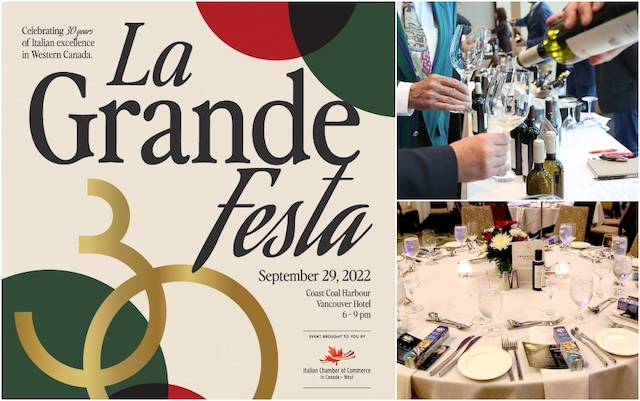 ICCC West Presents La Grande Festa
When: Thursday, September 29, 2022 at 6:00pm
Where: Coast Coal Harbour Hotel (1180 W Hastings, Vancouver)
Tickets: Available to purchase online or by phone (604) 682-1410.
La Grande Festa or 'The Big Party' will feature a culinary experience that includes an exclusive 5-course menu inspired by authentic Italian products from different regions of Italy. Guests will also enjoy premium Italian wines, guest gift bags with authentic Italian products, door prizes, a silent auction of Italian-made and designed items, as well as a top prize by ICCC West sponsor and Premium Member, Air Canada.
The gala dinner will open with a keynote speech from honorary guest Coach Vanni Sartini from the Vancouver Whitecaps Football Club.
Win Tickets
I have a pair of tickets to give away to this wonderful gala experience. Here's how you can enter to win: 
ICCC West Presents La Grande Festa
Since 1992, ICCC West has played a key role in connecting Italian brands and businesses with like-minded Canadian counterparts across Western Canada in order to facilitate trade between both countries. With a combined total of over 30,000 event attendees to date (and counting), ICCC West hopes to showcase the immense contributions that Italian and Canadian members have made in building Western Canada's cultural mosaic and economy. 
"We invite our dear members and the public to join us for a festive celebration showcasing an authentic taste of Italy. For three full decades, the Italian Chamber of Commerce in Canada – West has been driving economic impact by giving Italian and Canadian businesses customized solutions and a platform to broaden their business horizons into the Canadian and Italian markets," said Ilaria Baldan, Executive Director of the Italian Chamber of Commerce in Canada – West. "Events comprise a vital part of our work, and we are looking forward to celebrating this milestone anniversary with friends and colleagues, new and old."
They have some great online resources available as well, like the Italian Food Map featuring where to buy authentic Italian food and wines in Western Canada, and the Italian Design Map to search for made in Italy products near you.