Following their recent fall opening, Surrey Art Gallery is continuing to collaborate with the Black Arts Centre to present three events this fall related to the Black Arts Centre's two exhibits at the Gallery, Concealed Cultures: Visualizing the Black Vernacular and I see; I breathe; I am!.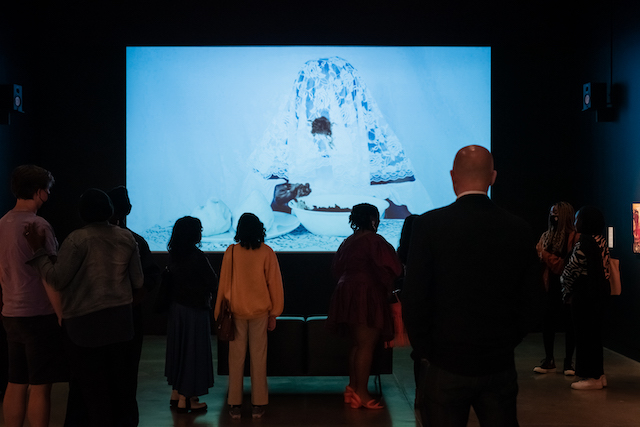 Black Arts Centre Events at Surrey Art Gallery This Fall
When:
Where: Surrey Art Gallery (13750 88 Ave, Surrey at Bear Creek Park)
Admission: Free
On October 8, the Black Arts Centre presents a film screening and performance. The program features works by Concealed Cultures exhibiting artist Ogheneofegor Obuwoma alongside a performance by Chipo Chipaziwa. Obuwoma's and Chipaziwa's works highlight themes of Black identity, spirituality, ritual, and female agency. The screening will be followed by a conversation between the Black Arts Centre curator Olumoroti (Moroti) Soji-George and the two artists.
On Saturday, October 29, the Black Arts Centre curators Arshi Chadha, Olumoroti (Moroti) Soji-George, and Vanessa Fajemisin will lead a guided tour of Concealed Cultures: The Black Vernacular and I see; I breathe; I am. Learn more about their process of curating these two exhibitions and how they bring together themes of community, language, racial violence, voyeurism, spirituality, Black agency, erasure, and cultural reconnection.
On Saturday, November 12, the three curators will lead an interactive workshop about creation in spoken form. Participants will be invited to engage with mediums of spoken word such as poetry, rap, song, and literature as they interact with the boundless and changing ideas surrounding the visualization of Blackness and cultivate art inspired by language.
About the Black Arts Centre
Located in the heart of Surrey directly beneath Surrey Central Station, the Black Arts Centre exists to support and celebrate Black art and artists across a variety of disciplines at a local, national, and international scale by hosting exhibitions, performances, events, workshops, and other diverse programming. The Black Arts Centre is a response to our community's need for a Black-friendly art and gathering space that is culturally relevant and accessible. The Centre not only conceptualizes art in an everyday sense, but also aims to foster mutual, transformational relationships that connect our community to artistic and cultural Black experiences year-round.
About Surrey Art Gallery
Founded in 1975, Surrey Art Gallery presents contemporary art by local, national, and international artists, including digital and audio art. Recognized for its award-winning programs, the Gallery engages children through to adults in ongoing conversations that affect our lives and provides opportunities to interact with artists and the artistic process. The Gallery is located at 13750 88 Avenue in Surrey on the unceded territories of the Salish Peoples, including the q̓ic̓əy̓ (Katzie), q̓ʷɑ:n̓ƛ̓ən̓ (Kwantlen), and Semiahma (Semiahmoo) nations. Surrey Art Gallery gratefully acknowledges operating funding from the City of Surrey, Province of BC through BC Arts Council, Canada Council for the Arts, and the Surrey Art Gallery Association.