The Surrey Art Gallery will host two exhibits this fall with the Black Arts Centre: Concealed Cultures: Visualizing the Black Vernacular and I see; I breathe; I am! both opening on Saturday, September 17th.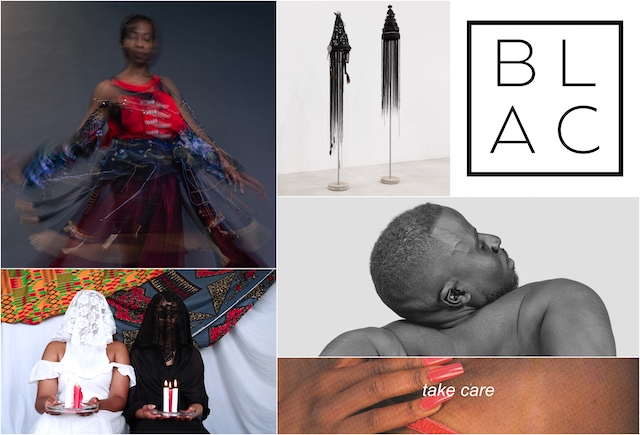 Black Arts Centre Shows at Surrey Art Gallery
When: September 17−December 11, 2022
Where: Surrey Art Gallery (13750 88 Ave, Surrey at Bear Creek Park)
Admission: Free
The Black Arts Centre is a Black youth-owned and operated artist-run centre and community space located in Surrey. Existing at the intersection of art, community, and culture, the Black Arts Centre aims to provide infrastructure for Black art, creativity, imagination and more, using a community-engaged, hybrid approach. Arshi Chadha, Moroti Soji-George, and Vanessa Fajemisin are just a few co-directors of the Black Arts Centre who are curating the two exhibits in the Gallery.
Concealed Cultures: Visualizing the Black Vernacular connects seven artists (Oluseye, Karice Mitchell, Fegor Obuwoma, Clancy A.F Ngbolah, Odera Igbokwe, Michele Bygodt, and Nura Ali) through a desire to make visible the specificities of language that emerge as a result of lived experiences in the diasporic world. The representation of Blackness is understood in this exhibition as a means of communication, interpreted through storytelling and portraiture. These stories unfold and interweave with one another through film, photography, printmaking, and other media. Themes include community, language, racial violence, voyeurism, spirituality, Black agency, erasure, and cultural reconnection. Urging a consideration of how community is visualized with agency, Concealed Cultures is expansive.
I see; I breathe; I am! features artists Nancy Ainomugisha and Olúwáṣọlá Kẹ́hìndé Olówó-Aké building on the theme of plurality of Blackness presented in Concealed Cultures. Going beyond themes of representation, Ainomugisha and Olówó-Aké use storytelling, photography, and film to expand the conversation on how society interprets Blackness. What emerges from the personal narratives of these two artists is a thought-provoking dialogue highlighting the multifaceted nature of the Black female and femme experience. Though the term "femme" means different things to different people, it's an identity deeply tied to communities who struggle against heterosexism. To the curators of the Black Arts Centre, "femme" includes those who push against gender norms and sexist policies that serve to further oppress those who are historically marginalized.
Black Arts Centre co-director Vanessa Fajemisin says, "The different intersections and facets of these exhibitsunderscore that Blackness and Black femmehood are complex, intersectional, and multi-dimensional, a statement that feels urgent to reiterate in this moment, knowing that art can play a meaningful role in shaping social and cultural narratives."
Additional Events
Opening Reception
Saturday, September 17th 6:30pm to 9:00pm
Curator Moroti Soji-George of the Black Arts Centre will facilitate a panel conversation with exhibiting artists Michele Bygodt, Olúwáṣọlá Kẹ́hìndé Olówó-Aké, and Odera Igbokwe.
The opening reception will also celebrate Surrey Art Gallery's other fall exhibits: video-based artwork in Poets with a Video Camera; Henry Tsang: Tansy Point; and Zachery Cameron Longboy: Guardian of Sleep; the colourful vinyl murals Echoes by Atheana Picha and It's not what you look at that matters, it's what you see by Sandeep Johal; paintings in Fraser Valley Chapter Presents: Fresh Paint! and mixed media in Surrey Art Teachers Association: Connect.
Saturday, October 8th from 2:00pm to 4:00pm
Black Arts Centre will be at the Gallery for an art performance and screening of films made by exhibiting artist Fegor Obuwoma, alongside a performance by Chipo Chipaziwa. Obuwoma's and Chipaziwa's works highlight themes of Black identity, spirituality, and female agency. The screening will be followed by a conversation between Black Arts Centre curator Moroti Soji-George and the two artists.
Saturday, November 12th 2:00pm to 4:00pm
Black Arts Centre curators will lead an interactive workshop on creation in spoken form. Participants will engage with mediums of spoken word such as poetry, rap, song, and literature as they interact with the boundless and changing ideas surrounding visualizing Blackness, cultivating art inspired by language and imagination.
About the Black Arts Centre in Surrey
Located in the heart of Surrey, directly beneath Surrey Central Station (10305 City Pkwy), the Black Arts Centre exists to support and celebrate Black art and artists across a variety of disciplines at a local, national, and international scale, by hosting exhibitions, performances, events, workshops, and other diverse programming. The Black Arts Centre is a response to our community's need for a Black-friendly art and gathering space that is culturally relevant and accessible. The Centre not only conceptualizes art in an everyday sense, but also aims to foster mutual, transformational relationships that connect our community to artistic and cultural Black experiences year-round.