The Vancouver Pride Parade is the highlight of summer in Downtown Vancouver, a tradition for the last 44 years, and the largest parade of any kind in Western Canada! We are so excited that it's back and in person Sunday, July 31st as a part of Vancouver Pride's incredible lineup of inclusive events celebrating 2SLGBTQAI+ communities.
NOTE: The NEW Vancouver Pride Festival Route for 2023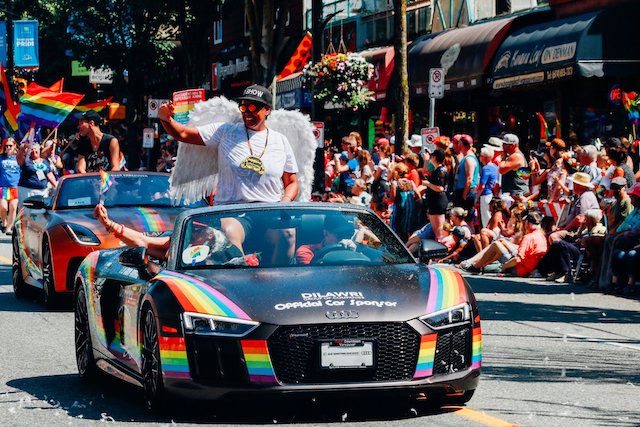 Vancouver Pride Parade Route and Info 2022
Where: Downtown Vancouver along Robson Street, Denman, and Beach Ave
When: Sunday, July 31, 2022 from 12:00pm to 3:00pm
The parade will travel down the road from Thurlow, down Robson St towards Denman. It will turn left on Denman all the way to Beach Ave and flow into the Sunset Beach Festival. The public can gather anywhere along the route to view and enjoy the parade from the sidewalk.
This year's Grand Marshals are: Annie Ohana, Tiyáltelut Kristen Rivers, and Dogwood Monarchist Society's Empress Fancy Pants and Emperor Victor the Victorious.
11:50am Dykes on Bikes ride the Parade Route to signify that the Parade is starting soon
12:00pm Parade begins at Robson and Jervis
12:45pm First float reaches the end of the Parade at Pacific and Jervis
2:15pm Last float leaves the Parade staging area at Robson and Jervis
3:00pm Last float reaches the dispersal area at Pacific and Jervis, Parade is finished
Pride Parade Hosts Along the Route
Safeway at Denman & Robson – Conni Smudge & Yogi Omar
Denman Place Mall at 1037 Denman Street – Caryl Dolinko & Kyra Philbert
Craft Beer Market at 1795 Beach Avenue – Joan-E & Kendall Gender
Bidwell & Beach – Jaylene Tyme, Fiona Forbes, Angus Praught, and Barb Snelgrove
Beach and Broughton – Shanique Kelly and Kona Katranya
Be on the lookout for Toonie Brigade led by Safeway Canada and Kwantlen Polytechnic University. The Toonie Brigade carries a giant rainbow flag where folks can throw in their toonies, which go towards making Pride what it is today.
Vancouver Pride Parade Road Closures
Full Closure 7:00am – 3:30pm

Robson St. between Jervis St. and Burrard St.
Alberni St. between Bute St. and Burrard St.
Thurlow St. between W. Georgia St. and Nelson St.
Bute St. between Alberni St. and Haro St.
Jervis St Between Eihu Lane & Rosemary Brown lane

Local Access Only Until 11:30am, No Access 11:30am-4:00pm

Robson St. between Jervis St. and Denman St.
Denman St. between Robson St. and Beach Ave.
Beach Ave. between Denman St. and Jervis St.

Local Access Only until 12:30pm, No Access 12:30pm-3:30pm

Pacific St. between Jervis St. and Thurlow St.
Beach Ave. between Jervis St. and Thurlow St.
If you are unable to make it in person, you can tune in live online.
Enjoy the Sunset Beach Festival during and after the parade and consider donating to Vancouver Pride Society so they can continue to support the community and host wonderful events like these throughout the year.