Vancouver Pride Society ("VPS") has announced its full schedule for the 2022 season. The organization has planned a variety of signature and partnered events spanning a mostly in-person lineup with digital experiences for those who choose to experience Pride differently amid COVID-19 safety measures.
This year's festival is themed Together Again and is meant to highlight the excitement and importance of 2SLGBTQAI+ communities taking up space and gathering for in-person, community-focused events once more. Programming will run throughout the city for nearly two months beginning today, June 6. The dedicated Vancouver Pride Week, with signature events including the Vancouver Pride Parade and Sunset Beach Festival, will take place from July 21 to August 1, 2022.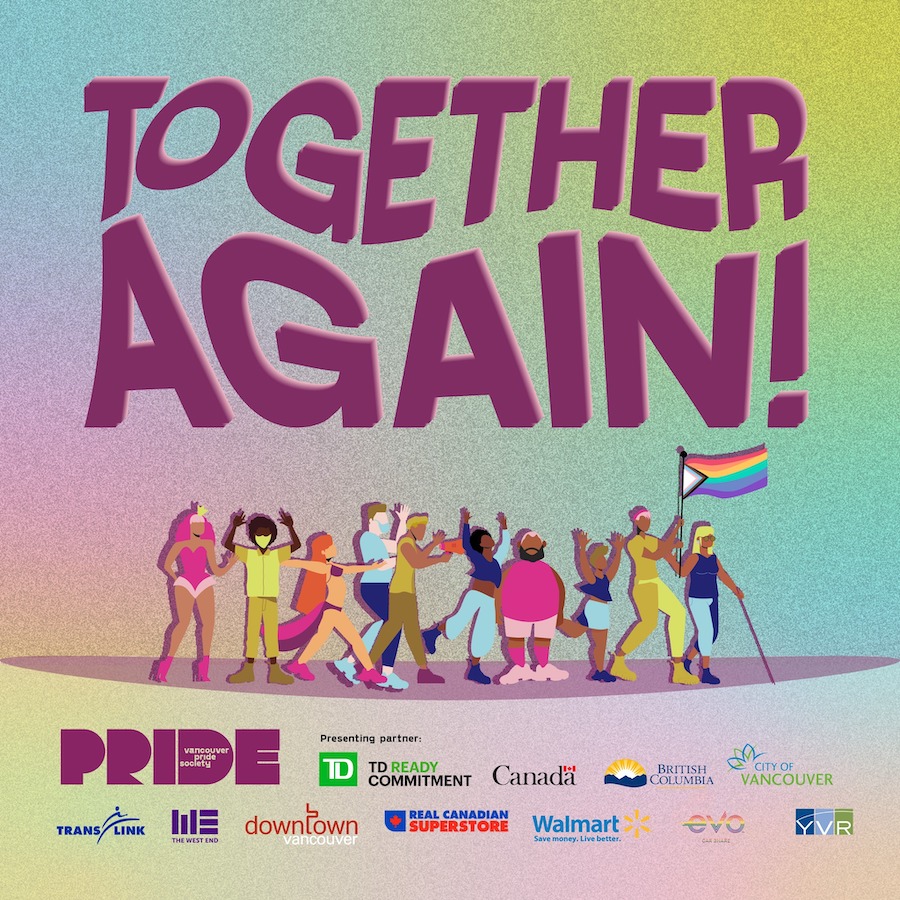 "It's been three years since we've had our major in-person Pride events in Vancouver for a variety of reasons," said Lee Keple, Interim Executive Director of VPS. "COVID-19 has presented a number of challenges for event organizers like us as well as the 2SLGBTQAI+ communities that we serve. To have our signature programming safely return to Vancouver, to see these communities coming together again to celebrate Pride—it's something we've been waiting for and working towards for a long time."
VPS's first signature event, East Side Pride will take place later this month on June 25 in Grandview Park. Attendees can look forward to this free, all ages experience featuring an array of diverse performances, 2SLGBTQAI+ community vendors, as well as food and drink trucks. In the evening, celebrations will continue in partnership with Do604 at Thrive With Pride, the official after party at Fox Cabaret. At this 19+ event, local shining stars will grace the stage to perform musical numbers, drag and more.
Vancouver's Pride Parade will take place in downtown Vancouver on July 31. The organization is delighted to announce this year's Grand Marshals are Annie Ohana, an educator and community activist with a background in organizing and anti-oppression work; Emperor Victor the Victorious and Empress Fancy Pants representing the Dogwood Monarchist Society, a not-for-profit organization tasked with providing social interaction in Vancouver's 2SLGBTQAI+ community, and Kristen Rivers (tiyaltelut) a member of Squamish Nation Council and a strong advocate for women and 2SLGBTQAI+ rights. All Grand Marshals were selected through a public nomination process.
During Pride week in July, VPS has a stacked lineup of programming outside of the parade. Some highlights include an online discussion of queer history rooted in what's colonially known as Vancouver, a series of partnered lounges that will pop up throughout the city with a brand new location set for Granville Island, and the return of Drag Deliveries—a drag road crew taking the streets of Vancouver to perform trivia and giveaways.
Vancouver Pride Society Summer Event Schedule
Vancouver Pride Wellness Hub

June 6 to 10 at 8:00pm @ 121 West 2nd Ave, Vancouver

SPIN X DJ X DRAG Sponsored by EVO Car Share

June 12 from 11:00am to 4:30pm @ Milton Wong Plaza (1650 Manitoba, Vancouver)

East Side Pride

June 25 fro 11:00am to 6:00pm @ Grandview Park (1657 Charles St, Vancouver)

Thrive with Pride

June 25 from 7:00pm to 11:00pm @ The Fox Cabaret (2321 Main St, Vancouver)

Love Intersections Panel

July 21 at 6:00pm @ Djavad Mowafaghian Cinema (SFU Woodwards, 149 W Hastings, Vancouver)

Rainbow Lounge

July 22 to 24; 28 to 31 from 12:00pm to 12:00am weekdays & 12:00pm to 2:00am, weekends @ Ocean Arts Pavillion

Afroqueer

July 31 from 1:00pm to 8:00pm @ Beaumont Studios (316 W 5th Ave, Vancouver)

Pride Proclamation & Flag Raising Ceremony

July 25, 11:30am to 12:00pm, Livestream

Drag Deliveries

July 25 to 31 from 5:00pm to 6:00pm @ West End & Downtown Vancouver

Queer History Panel

July 26 from 7:00pm to 8:30pm, Livestream

Theatre Under the Stars

July 26 from 7:30pm to 9:30pm @ Stanley Park

Vizzy Forest Lounge

July 28 to 31 from 2:00pm to 11:00pm @ 1100 Bute St

Pride Neighbourhood Patio at Bentall

July 28 to 30 from 12:00pm to 8:00pm @ Bentall Center Plaza

Terry Wallace Memorial Breakfast

July 30 from 8:00am to 12:00pm @ 1100 Bute St

Vancouver Pride Parade

July 31 from 12:00pm to 3:00pm @ Robson St., Denman St, Beach Ave

Sunset Beach Festival

July 31 from 11:00am to 6:00m @ Sunset Beach Park (1204 Beach Ave, Vancouver)
Find the full list of events and ticket info online here.
Follow Vancouver Pride on Facebook, Instagram and Twitter for updates.