The DOXA Documentary Film Festival, Western Canada's largest documentary film festival, returns to present a hybrid 21st edition, screening in theatres and streaming online May 5- May 15, 2022.
In a return to form, DOXA will screen its roster of crucial and thought-provoking documentaries in theatrical venues across the city, bringing filmmakers and audiences together for a long-awaited communal cinema experience. And for folks who prefer to view from the comfort of their own homes, most festival films will be available to stream online for select durations between festival dates.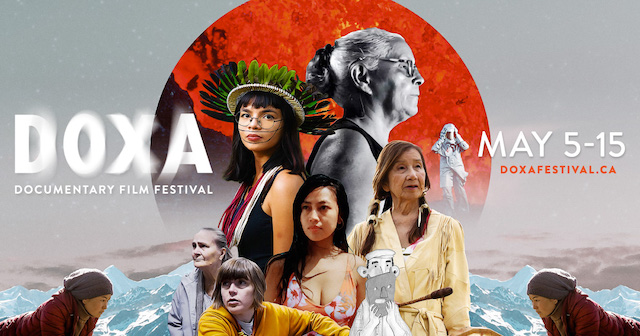 2022 DOXA Documentary Film Festival
When: May 5-15, 2022
Where: Online and in theatres around Vancouver:

SFU Goldcorp Centre, VIFF Centre, The Cinematheque, The Playhouse

Tickets: Available online now:

General Admission in-person ticket: $15; Student/Seniors/Low-income in-person ticket: $13; In-theatre 5 Ticket Pack: $65; $7-10 sliding scale per individual online ticket; Online Festival Passes: $75
The 21st annual Festival will showcase a total of 55 features and mid-lengths, 24 short films, both pre-recorded and live Q+As, as well as Industry events and multiple opportunities for filmmakers, audiences and industry professionals to connect, both virtually and in person.
Films will be available to stream Canada-wide, through DOXA's Eventive online platform. In-person screenings will take place at The Vancouver Playhouse (Opening film), The Cinematheque, VIFF Centre and SFU Goldcorp Centre for the Arts. In-person Industry events will be held at SFU's World Arts Centre.
Enter to Win
I have a pair of tickets to give away to the Opening Night film: Fire of Love, on Saturday, May 7th at 7:00pm at the Vancouver Playhouse (600 Hamilton St). Here's how you can enter to win:
Win Tickets to the DOXA Documentary Film Festival Opening Night Film
About the Hybrid Festival
DOXA will feature two guest-curated programs: The returning FRENCH FRENCH, curated by Thierry Garrel, spotlights the work of two acclaimed French directors (Mariana Otero and François Caillat) in a double retrospective, alongside bold new voices in French-language cinema. A selection of films under the umbrella of GRAND-MÈRE. GRANDMOTHER. BABUSHKA., chosen by guest curator Laurence Reymond, takes the universality of the Grandmother Figure and examines her many cinematic representations.
Beyond the festival's cornerstone Justice Forum and Rated Y for Youth programs, DOXA 2022 will include two Spotlight programming streams: MEMORY AND ARCHIVES and LANDSCAPES OF RESISTANCE.
The affective and political potential of archival material is the focal point of the Memory and Archives Spotlight program. Landscapes of Resistance presents a collection of films rooted in stewardship and grounded in political freedom. The films in this Spotlight are searing reminders of the ongoing effects of colonialism, systemic oppression and environmental destruction in BC, across Turtle Island and around the world.
Several Canadian filmmakers launch their world premiere at DOXA 2022. In addition to Sara Wylie's A More Radiant Sphere and Ali Kazimi's Beyond Extinction, Canadian films premiering for the very first time at DOXA include Teresa Alfeld's Doug and the Slugs and Me, DOXA's Closing film; Colin Askey's Love in the Time of Fentanyl (Justice Forum Special Presentation); Simon Plouffe's immersive short about a flooded forest on unceded Innu territory, titled Forests; My Friend Jim, Aaron Zeghers's short about his friend's kinship with pop star Britney Spears; And Ingrid by Hannah Dubois, a short profile of the conceptual artist Ingrid Baxter; Alixandra Buck's Beckwoman's Hippie Emporium, about the legendary Commercial Drive shop owner; and Cypher, directed by Miriam Ingrid Barry and Eva Anandi Brownstein, which follows three Black artists creating safe spaces for youth of African descent in Vancouver.
DOXA's Special Presentations include Sara Dosa's Fire of Love (which also finds a place in the Memory and Archives Spotlight), telling the awe-inspiring story of two volcanologists in love; Love in the Time of Fentanyl by Colin Askey, an intimate portrait of a community fighting to save lives through harm reduction; Dear Jackie directed by Henri Pardo, an endearing portrait of Black life in Montreal and a testament to the history and legacy of community-building in the face of segregation and racist urban renewal policies; and Doug and the Slugs and Me by local DOXA alum Teresa Alfeld, which utilizes candid testimonies of the Slugs themselves to temper nostalgia for the band's glory days with a nuanced look at the complexities of the legendary Doug's life—from his formative early years to the bittersweet end.