Join the Unique Get Together Society ("UGTS") as they collaborate with various Black owned businesses, artisans, and musicians to celebrate and honour Black History Month this weekend in Surrey.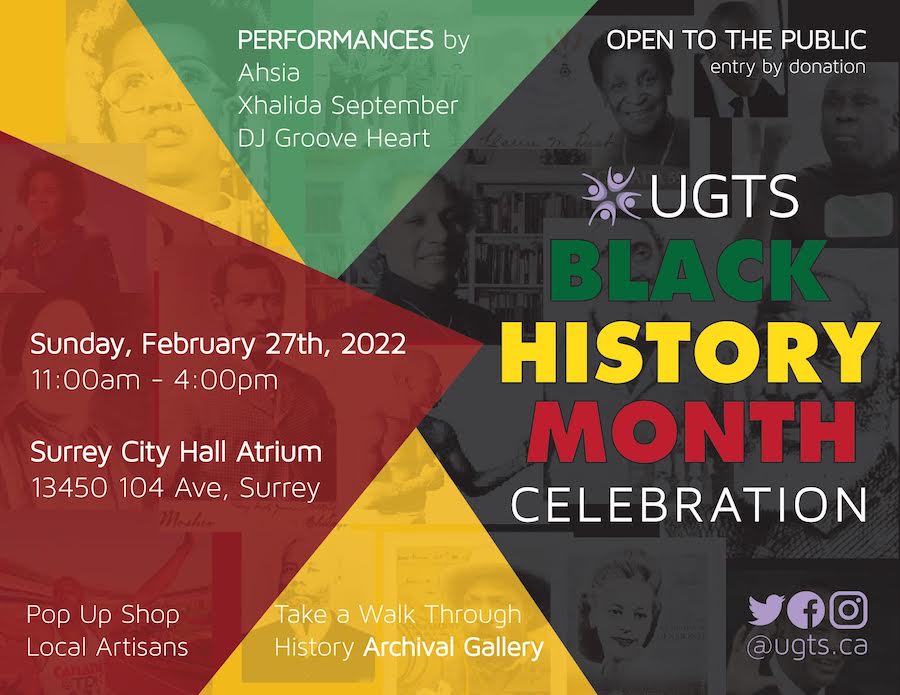 UGTS Black History Month Celebration in Surrey
When: Sunday, February 27, 2022 drop by anytime 11:00am to 4:00pm
Where: Surrey City Hall Atrium (13450 104 Ave, Surrey)
Admission: By donation. RSVP on Facebook for updates.
Enjoy a carefully curated a gallery of archives that highlight significant locations, people and events that contribute to the fabric of Canadian Black History. Come and engage with local black owned businesses and enjoy performances from musicians and DJ.
The pop‐up shop will include clothing, jewelry, art puzzles and colouring books from BIPOC artists and more.
"We want this event to become a regular celebration and learning experience for the entire West Coast. It is important to honour and celebrate BIPOC culture and what role we play in our nation's history." – UGTS founder Debra Abraham.
The theme for Black History Month is health and wellness. Throughout the month, UGTS has conducted interviews (available on Facebook) with key players in the community to discuss decolonizing the health system, challenges faced, discriminations experienced and discussions on how to move forward on closing the inequity gap. These interviews come from the point of view of Black community liaison, Parris Abraham with Dr. Charles Quist‐Adade, Orene Askew aka DJ O Show and Dr. Ruth Habte.
Unique Get Together Society is all‐inclusive non‐profit that is dedicated to a holistic approach to see underserved communities overcome challenges. Their foundational values of love, healing, independence, service, community and ultimately change are infused in every program provided to see people in their care thrive.
Related: Unique Get Together Society – Giving Tuesday Profile