My favorite time of year is finally on the horizon and I am ready for it! I am most looking forward to the coziness, celebrating with loved ones and gift giving to come. This year I have put together a guide to help us all shop with intention, a gift guide of holiday must-haves from Indigenous businesses you can shop online or in person:
Gift Ideas from Indigenous Businesses
Note: Prices are those that were available at time of publishing of this article, and they may vary. The price on the retailer's site is always the right one to go by.
Business: Ay Lelum
Browse Instagram: @aylelum
Online Ordering: Direct or through a variety of retailers
Featured Gift Item: 3 Layer Masks $25
Ay Lelum is a second-generation Coast Salish design house in Nanaimo, recently featured in New York Fashion Week. Shop online for their original 3 Layer Masks designed in collaboration with Oddball Workshop. Oddball's comfortable fabric combined with the breathtaking art by Joel Good and William Good creates a tasteful gift to show everyone on your list you care about their safety. 
Business: West Coast Wildflowers
Browse Instagram: @westcoast.wildflowers
Online Ordering: Yes or in-person at 1175 Shoppers Row, Campbell River
Featured Gift Item: Standing Spruce Cedar & Yarrow Balm $21
Based in the unceded traditional territory of the Ligwiłda'xw people (Campbell River) strives to stock its shelves with 75% local and 25% North American products. West Coast Wildflowers supports small shops, women in business, and Indigenous small business owners.
Also worth mentioning from West Coast Wildflowers is their scholarship to assist Indigenous, Metis and Inuit students to pursue post-secondary education in BC. Applications are open December 2021 and August 2022. Contribute yourself by adding to your cart or donate in someone's name as a gift, from $5 to $100.
Business: Stó:lō Gift Shop
Browse Instagram: @stologiftshop
Online Ordering: Yes or in-person at 7201 Vedder Rd, Chilliwack, on the Coqualeetza grounds
Featured Gift Item: Ceramic Nesting Measuring Cups $22
Shop in-person from 9:30am to 4:30pm on weekdays or online anytime for local, one-of-a-kind, authentic Indigenous and Indigenous-inspired arts, crafts, paintings, prints, glassware and cards. A practical, and beautifully designed gift is the set of nesting measuring cups featuring artwork by Haisla, Heiltsuk artist Paul Windsor. Pick up your online order at the store in Chilliwack or have it shipped directly to your door.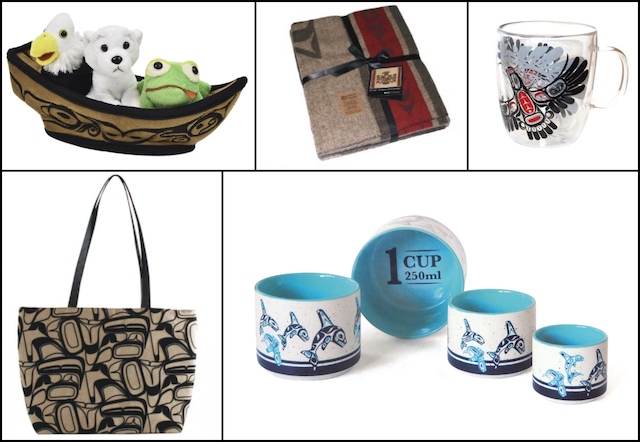 Business: Skwachàys Gallery
Browse Instagram: @skwachayslodge
Online Ordering: Yes or in-person at 29 W Pender St, Vancouver
Featured Gift Item: Beige Eagle Flocked Tote $38
The first Indigenous boutique hotel in Canada. Skwachàys hosts an in-house gallery with online shopping services featuring Indigenous artwork, including original paintings, framed limited edition prints, jewelry, pottery, wood carvings and giftware. A social enterprise owned and operated by Vancouver Native Housing Society. Their Beige Eagle Tote with flocked fabric designed by Kelly Robinson is the perfect gift for the fashionable recipient always on the go. 
Business: Bill Reid Gallery
Browse Instagram: @billreidgallery
Online Ordering: Yes or in-person at 639 Hornby St, Vancouver
Featured Gift Item: Wool Blanket, Strength of our Ancestors $100
Bill Reid Gallery features traditional and contemporary artwork and accessories, including hand-painted sculptures, fine jewelry and art prints. This charitable organization also has two street-level locations. Proceeds from all purchases support local Indigenous artists and artistic and educational programs. Their new Wool Blanket, suitable for ceremonial gifting or any household, is a cozy and thoughtful gift. Royalties are always paid back to the artist, Terry Horne, Stó:lō/Yeqwyeqwí:ws.
Business: Squamish Lil' wat Cultural Centre
Browse Instagram: @slccwhistler
Online Ordering: Yes or in-person at 4584 Blackcomb Way, Whistler
Featured Gift Item: Mug Glass – Eagle's First Flight $35
Authentic and exclusive handcrafted Northwest Coast First Nations art and merchandise. The glass mugs on their site immediately caught my eye as a tea and coffee lover. This intricately designed piece by Ernest Swanson, Haida Nation, makes a wonderful holiday gift for anyone. If you wish to purchase a gift card on their website, they are also available at any time.
Business: I-Hos Gallery
Browse Instagram: @ihosgallery
Online Ordering: Yes or in-person at 3310 Comox Rd, Courtenay
Featured Gift Item: Finger Puppets in Canoe $35.90
I-Hos carries traditional and contemporary Indigenous art from the Northwest Coast, including masks, prints, gold and silver jewelry and wood carvings. The physical gallery is located on the original K'ómoks Village site, open Tuesday – Saturday. This soft, plush, finger puppet set it a lovely gift for children on your list, featuring Hoppy the Frog, Valdy the Eagle and Moka the Spirit Bear by artist Bill Helin.
Business: Crowfoot Collective
Browse Instagram: @crowfootcollective
Online Ordering: Yes or in-person at 1725 Cowichan Bay Rd, Cowichan Bay
Featured Gift Item: Sterling Silver Bangles $38
An Indigenous-owned boutique in the heart of Cowichan Bay carrying local and global goods. All handmade, Fair Trade and ethically sourced and 10% of profits are always donated to Indigenous Organizations. Crowfoot Collective's Sterling Silver Bangles are a classic gift and can be adjusted to fit any wrist. They will look great paired with other statement pieces, as well.
Related: Indigenous Gift Guide for Shopping Local, Indigenous Globox™ Campaign, Indigenous Tourism BC App