Got your Easter dinner plans hopping into place yet? If not, there are lots of great Easter dinner meal kits designed to get your lips smacking while you stay safe with family or your bubble. Here at Miss604.com, we want you to support restaurants while we get through what we hope is the last wave of COVID-19, but to do it safely, so we can all enjoy the best of what Vancouver has to offer this summer.
And meal kits are such a great way to do that!
But don't wait – reserve your kits quickly so your chosen eatery can accommodate you. This list is a great start, but don't forget to check with your local favourites. And delivery is always a great choice too!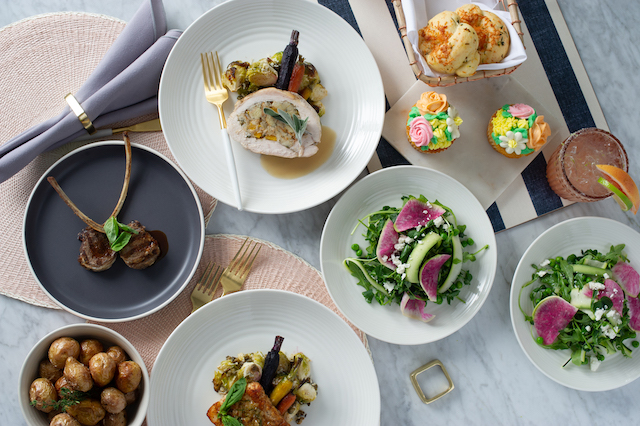 Easter Dinner Meal Kits and Take-Out
Note: Some options are take-and-cook and others are ready-to-eat. Most order cut-off dates are Wednesday, March 21st. Click through for full details from each venues.
Chicken or Ham? Have both! Monday the 29th is the last day for reserving Belgard Kitchen's meal kit. For $80, two can enjoy a half-chicken roast, some honey-glazed ham, savoury bread pudding, herbed baby potatoes, and butterscotch panacotta. What's great about Belgard's kit is they provide a YouTube link for a video demo to help you cook your feast to perfection. Also available are wine and beer.
Be spoiled by choice – and yum! At Vancouver's catering institution The Lazy Gourmet, a variety of choices await – like the amazing "Easter Grazing Box" for two ($95), because why cook when God made cheese, charcuterie and glorious carbs? Their set menu is $45 a person and includes a spring pea salad, garlicky-cheesy-herby bread knots, duck-fat potatoes, stuffed turkey breast, seared BC cod in an orange-basil sauce, roasted Brussels sprouts and honey-brown sugar carrots, with cupcakes to finish. But there's also an Easter Dessert Box with bite-sized delights, like chocolate truffles. Need cocktails? A batch of grapefruit Paloma will help you imbibe your day away. Families with discerning children can order the "Easter Egg Hunt" with little plastic eggs crammed with carrot cake truffles (!), homemade mini-chocolates and meringues, even mixed caramels. Learn about their kits here.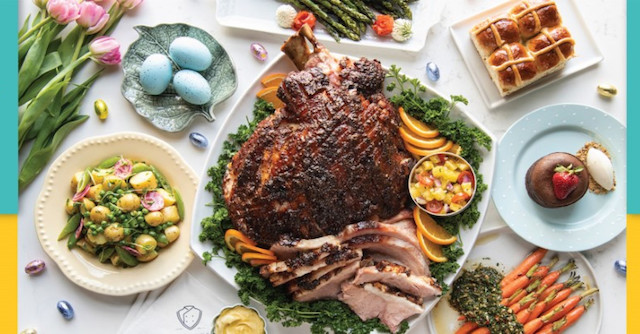 Seasonal feasting for a bargain! The Pacific Institute of Culinary Arts is training the next generation of great cooks, and their Blue Hat Bakery-Café has a feast available for pickup. For $45 a person, you'll get hot cross buns, grilled asparagus and smoked salmon, maple-bourbon ham, roasted carrots with chimichurri, and a warm spring salad with peas and baby potatoes. Finish that off with a molten cake, then keep it coming with their mini Easter eggs. You'll have to get your order in before 1:00pm on March 31st. Be sure to check out their recommended list of wine pairings available to add on.
Traditional or Moroccan? Decisions are hard! At Forage, the farm-to-plate hotspot on Robson, they're offering a 3-course take-home meal with two set menus at $55 a person. Each comes with beetroot hummus and spring greens as an appetizer. The mains are either JD Farm roasted turkey with honey ham, accompanied by Italian sausage-and-pickled chanterelle stuffing, roasted veg and a celeriac pomme puree. Option two is a Moroccan-style braised lamb shank with harissa-spiced roasted veg, the celeriac pomme puree, and a scattering of pine nuts. Both plates finish with a Golden Ears Neufchâtel cheese puff complete with caramelized onion and birch syrup puree, and crème anglaise. Some trivia for you: Neufchâtel is the French "cream cheese" predecessor, made for over 1500 years in Normandy.
Did you say… lamb Wellington? At the inimitable Hawksworth Restaurant, they're serving up a stellar feast for four at $317.40. It includes a lamb Wellington with rosemary jus and mushroom duxelles, sauteed carrots and fingerling potatoes, and a spring salad. It finishes with glorious dark Valrhona 70% chocolate Easter eggs they've filled with delights – like soft caramels, lavender marshmallow, and passion pâte de fruit. You'll roast the lamb Wellington yourself, but they have complete instructions. (We recommend ensuring you have an instant-read meat thermometer handy!)
Always a solid choice! Heritage Asian Eatery's take-home family feast is always available for two-to-four, or four-to-six, for $69 and $139 respectively. Depending on which you choose, you can expect their classics like the house Heritage chicken, BBQ pork, and treats like truffle siu mai, crystal scallop and pea tip dumplings. The larger feast also includes Peking Duck. For Easter weekend (April 2 – 4), they'll be offering a takeout Easter Dim Sum Lunch Package ($69) for two-to-three people including prawn dumplings, truffle siu mai, Heritage wings, eggplant, chive prawn cake , xo radish cake, lotus leaf sticky rice, black sesame balls. Requires a day's notice for ordering.
Eat like an Iron Chef! In 2019, Boulevard Kitchen & Oyster Bar was named among Canada's 100 Best Restaurants because of their uncompromising commitment to great ingredients and the outstanding cookery of Iron Chef Champion, and 2019's "Chef of the Year," Alex Chen. For Easter, take home a feast for four with either a slow-roasted leg of lamb ($235 for four) or a boneless prime ribeye roast ($265). Depending on which, you'll get a wonderful selection of sides – including Yorkshire puds for the roast. Each protein is accompanied by potato gratin, broccolini, radish, fennel, and the respective jus for the meat in question. Before the main, though, you'll start with their trademark BLVD cornbread and a spring asparagus soup with Dungeness crab. Dessert will take you to a happy place courtesy of raspberry caramel – complete with milk chocolate mousse and raspberry curd.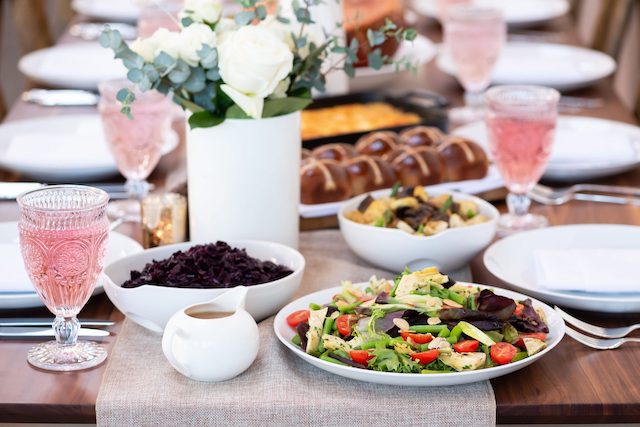 Decadent share platters or traditional feasts. Railtown Catering doesn't disappoint with their slew of offerings for your holiday weekend. Cheese & charcuterie? Starts at $30. Mezze platter? Same. But it's the "Easter to Go" package that serves 4-6 or 8-10 that we'd like to dive into. Bone-in honey-glazed ham, spring greens with seasonal veg and toasted almond salad, a cucumber salad too. For sides, there are scalloped potatoes with Gruyère cheese, sweet peas and baby carrots with mint, roasted root veggies with shallots, mushrooms, and asparagus, even braised red cabbage. Hot cross buns and whipped butter will satisfy your carb cravings, and classic rhubarb crumble with homemade ice cream has got your sweet tooth solved. (Orders need to be in by March 31.)
Feeling continental? French meal kits? Ooh-la-la! Satisfying Vancouverites for decades now, Provence Marinaside takes you to France with their take-home three-course Easter menu. The first course is their delicious classic herbs de Provence-crusted goat cheese with mesclun greens. Second course, you get to pick between a Dijon-herb crusted rack of lamb or carved ham, with roasted French beans and carrots, plus scalloped potatoes. Finish things off with a clafoutis aux fruits rouges with raspberry coulis.
Other classics: Too many tastes to please? Consider picking up pizza kits to make your own pies to order at home from Rocky Mountain Flatbread. Or let everyone choose a feast of their own with our friends, Les Amis du Fromage – because any friend of cheese is a friend of ours. Their casseroles are here.
Meal Kits Available Beyond Vancouver
Hart House Restaurant at Deer Lake has a braised lamb take-home dinner kit. A charred asparagus and rhubarb salad with feta will taste like spring before you dig into their hearty red-wine braised lamb shank and smashed spuds with herb & garlic cream. Rosemary, orange, and honey-glazed carrots join Parmesan green beans, before you finish off with a happy-making chocolate-hazelnut tart and fresh berries. Two can enjoy this feast for $90, or $180 for four. Order before noon on March 31. What a brilliant plan – enjoy a leisurely spring day at Deer Lake, then take home something delish.
Easter feasts and so much more! Our friends at Langley's Well-Seasoned: A Gourmet Food Store have you covered for Easter dinner or Easter brunch. If you'd like the add-on charcuterie and cheese platter, that'll set you back a reasonable $42 for four people. Dinner ($135 for four) features some asparagus tarts, slow-roasted corned beef and two veg, a spring greens salad, sweet'n'savoury cabbage, and – brace yourself – banoffee pie. Pony up $99 for brunch, too, and you'll get Liege waffles with homemade salted caramel, quiche with asparagus, cheddar, and ham, plus a potato medley, and a fruit salad. Offerings are limited, but you can purchase your kit online, easy-peasy.
European-style favourites for the budget-minded. Monday the 29th is the last day to order the bargain-friendly Easter take-home options at Catering Visions, serving Fort Langley and North Surrey. At $50 for two or $90 for four, this is an Eastern European feast for all to enjoy. Dig into two courses , starting with Zurek – a Polish white borscht with kielbasa and a fermented-rye base. Choose two sides, including European potato salad, green beans Polonaise, or classic mashed spuds. Then choose two mains, from lamb chops with mint sauce, turkey Galatine, or classic mustard-glazed Easter ham. Folks report that take-home holiday meals from Catering Visions are always generous and delicious.
Something Special
On the North Shore and is Kitsilano, check out at the incredible Easter treats from reknown chocolatier Thomas Haas. It's chocolate, but art. From gift boxes to their truffle eggs and Easter stollen, you'll get sweet relief on your long weekend with these delights.
And So Many More! #SupportLocal
We're blessed with an amazing dining scene in Southwest BC, whether you're in Victoria or by the beach drag in White Rock. We can't possibly do the variety of eateries, cuisines, and locations justice across the whole Lower Mainland, let alone on the Island.
And who says you need to go traditional? Your favourite delivery spots cooking up sushi, Mexican, Indian, and other international flavours are all happy to serve you too.
For Easter feasts, most places have Wednesday the 31st as their ordering deadline, if not sooner, so don't hesitate to check with your favourites to see what options you have close to home. After all, it's a long weekend and you've got better things to do than toiling over a hot stove.