Celebrating the Lunar New Year and ringing in the Year of the Ox, the Coastal Lunar Lanterns display in Downtown Vancouver will feature the works of artist Susan Point and her family of artists starting February 11th.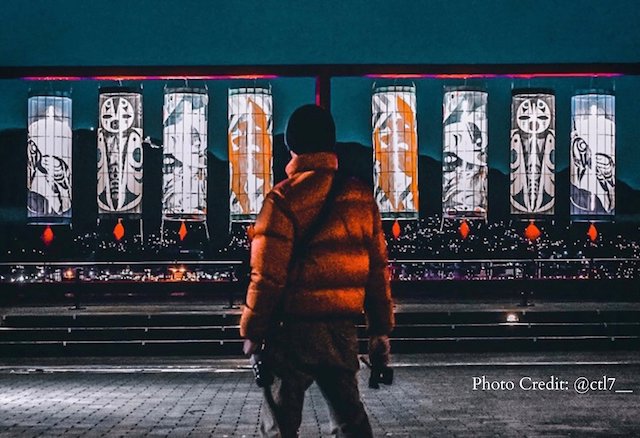 Coastal Lunar Lanterns in Downtown Vancouver
The Lantern City – Family Ties at English Bay Feb 20 to Mar 7
Eight lanterns with designs from two Indigenous families originating from two ends of the Pacific Ocean will be part of the Coastal Lunar Lanterns – "Family Ties" in 2021.
Musqueam artist Thomas Cannell had been involved in both 2019 and 2020 editions of the Coastal Lunar Lanterns; his mother, the renowned Susan Point, will now lead her family of artists including Thomas, Kelly Cannell (daughter) and Summer Cannell (granddaughter) to be presented in an unprecedented artistic and cultural dialogue with the Pavavaljung family of artists from the Paiwan tribe in Taiwan.
We Are A Family at šxʷƛ̓ənəq Xwtl'e7énḵ Square Feb 11-23
For "We Are A Family", the project's artistic vision of family is everything is presented with festival partner, LunarFest Vancouver, LGBTQ2S+ artist Kent-Chan Kusalik. It will be featured for the first time alongside Filipino-Canadian artists Mayo Landicho and Bert Monterona, and returning Squamish artist Cory Douglas, as all of them will join the Lantern City family.
Special AR technology brings these art pieces to life, along with an immersive light show to brighten the long winter nights.
"These lanterns on display are side by side, just like we are as a family. Family, that's a strong word," Susan Point told The Lantern City. "Family for us means the ones who will be beside us no matter what happens. We support each other and inspire each other at home and while working together or apart."
More details about Coastal Lunar Lanterns (formerly with LunarFest, now The Lantern City) will be available online in the coming weeks along with more LunarFest Vancouver programming.
Related: Susan Point at Surrey Art Gallery: Free Artist Talk