The Surrey Art Gallery is pleased to present a talk with one of Canada's foremost artists, Susan Point. Point will deliver a presentation about her past and current work. The talk takes place in conjunction with her exhibition Susan Point: Spindle Whorl, on tour from the Vancouver Art Gallery. Admission is free.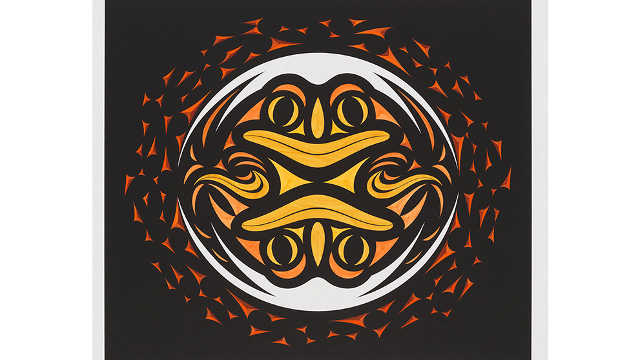 Susan Point at Surrey Art Gallery: Free Artist Talk
When: February 19, 2020 from 6:30pm to 8:00pm
Where: Surrey Art Gallery (13750 88 Ave, Surrey)
Admission: Free!
Susan Point is renowned as one of Canada's leading innovators in the fields of contemporary and Indigenous art. She has pioneered the development of Coast Salish art (a field historically dominated by men) through her works in jewellery, sculpture, printmaking, public art, and more. Her artmaking celebrates the vibrancy of traditional Coast Salish culture, while situating it within the present moment.
Spindle Whorl features screenprints developed by the artist over the past four decades. Each one uses the motif of the spindle whorl—a small, round, usually wooden disk traditionally used by Coast Salish women to prepare wool that would be woven into garments and ceremonial blankets. In her art, Point beautifully adapts the whorl as a vehicle for symbolic meaning, reinventing and adorning it with animals, the forces of nature, mythological creatures, and other more abstract design elements.
For Point, the spindle whorl is not only a way of connecting with her heritage, but a means of developing visual ideas. In many instances, traditional motifs such as salmon, eagles, crescents, and moons intertwine, transform, and meld into each other, producing strikingly original imagery. Combined with the use of colour, her works present us with an entirely unprecedented body of patterns and forms. This commitment to the exploration of the whorl has inspired generations of younger Coast Salish artists, and expanded the realm of visual expression.
About the artist
Susan Point is a Musqueam artist based in Vancouver, British Columbia. She grew up with her family in their home on what is known as the Musqueam Indian Reserve near the mouth of the Fraser River. In the early 1980s, Point became interested in reviving the traditions of Coast Salish art and design. She first began making art in 1981 when she took a jewellery-making course at Vancouver Community College. Her work has since helped revive Coast Salish design and brought new scholarly attention to her culture. She was the first Musqueam artist to have a solo exhibit at the Vancouver Art Gallery. Point's public works include pieces installed at the Vancouver International Airport, Stanley Park, the National Museum of the American Indian in Washington DC, and the UBC Museum of Anthropology. She has been widely recognized for her work, most recently with the Audain Prize for Lifetime Achievement.