Surrey's 2020 Civic Distinction Awards (formerly City Awards) are awards of excellence that acknowledge business and community leaders who have made a major contribution to the City of Surrey in their respective fields. Nominations are now being accepted until October 16, 2020.
Surrey's Civic Distinction Awards
Nominate a Surrey resident, organization, group or business for an award of excellence and demonstrate your civic pride by recognizing outstanding projects that positively impact the City of Surrey.
Award Categories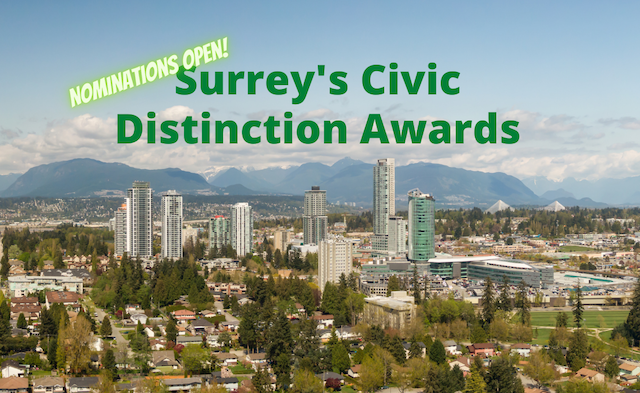 Beautification and Enhancement Award
The Beautification and Enhancement Award recognizes outstanding contributions of individuals and groups who increase the vibrancy, safety, and connectedness of Surrey's neighbourhoods through community building activities.
Design Award
The Design Award recognizes the outstanding contributions in design of open spaces, public realms, urban design and public art. Areas of consideration include accessibility, sustainable design, form and character, quality of design and crime-prevention. There is a separate nomination form for each category: Small, Medium and Large Residential; Commercial and Industrial; Institutional; Landscape, Public Space and Infrastructure; Renovation and Adaptive Re-Use; Interiors; and Public Art.
Environmental Award
The Environmental Award recognizes outstanding contributions in environmental action, such as people and individuals who 'go beyond' to enhance Surrey's natural environment and projects that inspire and inform, creating awareness as they related to environmental action or environmental issues of concern. Award categories include: Outstanding Individual, Community Group (neighbourhood or non-profit); and Outstanding Business.
Heart Award
The Heart Award recognizes the outstanding contributions of individuals and organizations who are promoting the social well-being of Surrey residents by supporting vulnerable populations and strengthening the community. Award categories include: Group, Individual and Lifetime Achievement.
Arts and Heritage Award
The Arts and Heritage recognizes the outstanding contributions of individuals, groups or organizations for preserving, interpreting or promoting Surrey heritage and arts. Award categories include categories for both heritage and art projects with particular consideration given to the promotion of culture and cultural diversity in Surrey.
Award categories include: Visual Arts; Performing Arts; Literary Arts; Heritage Education and Awareness; Heritage Preservation and Legacy Heritage Business.
Mayor's Choice Award
The Mayor's Choice Award is an award category with criteria that change for each Civic Distinction Awards, in order to recognize a campaign or initiative that is important to the Mayor in the award year. This year's Mayor's Choice Award celebrates and recognizes outstanding projects and groups that participated in the Love Where you Live initiative; an initiative to clean up and beautify the City of Surrey.
Award categories include: Clean up and Litter Reduction; Beautification and Enhancement Project (Individual); and Beautification and Enhancement Projects (Group/Organization).
Sport Tourism Award
The Sport Tourism Award recognizes the outstanding contributions of individuals and groups through the hosting of a Sporting Event have made significant contributions to the tourism industry of Surrey. Particular consideration given to sport tournaments that have brought considerable recognition to the City of Surrey and economic impact. Award categories include: Regional/Provincial Event and National/International Event.
For more information and individual nomination links (per category) visit the awards website here.
The award recipients will be announced in early December 2020.