There will be mini donuts. There will be SuperDogs. There will even be screams from the Coaster. While we won't be navigating our way through the throng to lineup for deep-fried Oreos we can enjoy the PNE as a drive through fair in 2020.
PNE 2020, a Drive Through Fair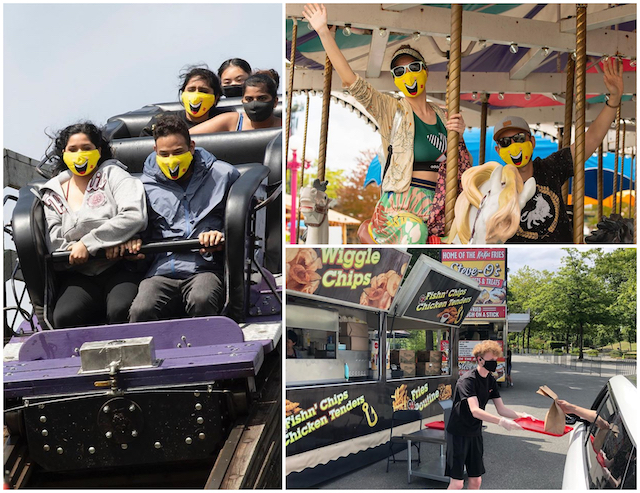 When: August 22 – 30, 2020 (closed Monday the 24th) 11:00am to 7:00pm
Tickets: Must be booked online in advance. $25 per car load (regardless of number of passengers). Price includes 2 tickets to the Fair 2021, per vehicle and a PNE face mask. Food purchases and Prize Home ticket purchases are extra.
Your PNE 2020 ticket will get you access to the following, via a drive through:
The President's Choice® SuperDogs™ Tail-Gate Party

Join The President's Choice® SuperDogs™ for a Tail-Gate Party like no other as they run, jump and fly in this interactive, socially distanced spectacle! Three 10-minute shows every hour filled with fun and surprises.

Agriculture displays including all your favourite barnyard animals
A Summer Celebration PNE Reverse Parade.

Feel the Rhythm of a Summer Celebration as you become part of the show.  Honk your horn, wave, and make some noise as you drive through a Reverse Parade route line with dancers, puppets, and blast of colour and fun.

Win A House, Win a Car! PNE Prize Home ticket sales
Larger than life dinosaurs and your favourite cartoon characters

Stomp through time as you roar by your favourite larger-than-life dinosaurs, including a 50' Brachiousauras, a Triceratops, and watch for the mighty T-Rex.

Iconic Fair food including Hunky Bills, mini donuts, corn dogs and poutine
PNE Fair programming will adhere to full social distancing protocols developed in consultation with Vancouver Coastal Health.
Playland will also be open Saturdays, Sundays and holidays until September 7, 2020 (11:00am to 5:00pm). Purchase separate tickets for that experience online.
Feeling nostalgic? Check out The Best Old PNE Photos 1914-1980