Playland will be reopening this summer, with COVID safety measures in place. Twelve family-favourite rides including Pacific Adventure Mini Golf will be a part of this limited reopening. You can book times to visit on Fridays, Saturdays, and Sundays starting July 10, 2020.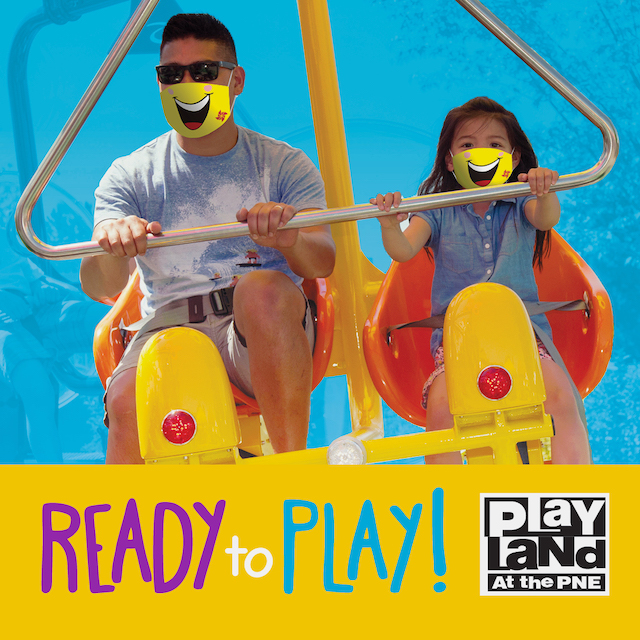 Playland Reopening with COVID Safety Measures
Tickets are now available via TicketLeader for date-specific time slots: Mornings: 10:30am to 2:30pm or Afternoons: 3:30pm to 7:30pm.
There are a limited number of tickets per time slot. A single price admission gets everyone into the amusement park to ride. Kids 3 and younger are free with paid adult admission.
A Souvenir Playland Face Mask is included with admission. Face coverings will be required in all queue lines and on rides. Other safety measures include:
Stay home if you're sick.
Purchase tickets in advance for date/time specific entry. Cash will not be accepted.
Practice social distancing, keep 6 feet/2 metres between your party and other guests. Plexiglass shields have been installed where possible.
Wash hands regularly with soap. Use sanitizer before and after each ride. Enhanced cleaning measures have been added throughout the park.
Wear a face covering in queue lines and on rides.
People with no symptoms can spread COVID-19 if they are infected. Interacting with the general public increases your risk of exposes. Playland cannot guarantee you will not be exposed during your visit. Please follow all posted signage and instruction from staff while visiting.
Enjoy the Sea to Sky Swinger, the Kettle Creek Mine Coaster, Tea Cups, Honeybee Express and more. For food, Fundunkers mini donuts, Triple O's, and candy floss will be available.
UPDATE July 27, 2020: Additional thrill rides will come back online August 1st including: AtmosFear, The Beast, Breakdance, Dizzy Drop, Gladiator, Music Express, Pirate Ship, Revelation (extra charge), Rock'n'Cars, Westcoast Wheel, Wooden Roller Coaster.