The Vancouver Park Board will be closing Stanley Park to all vehicles starting Wednesday, April 8, 2020 in an effort to reduce the number of people in the park and to enable physical distancing. It is the latest in a series of measures the Park Board has taken in recent weeks to reduce the risk of the COVID-19 pandemic to the public.
Park Board Will be Closing Stanley Park to Vehicles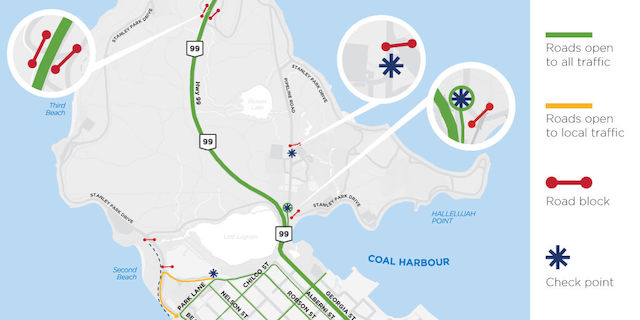 Causeway Will Remain Open
The closure will be carried out Wednesday morning and will remain in place indefinitely. It will be implemented via physical barriers and signage at key access points to the park, supported by Park Rangers and the VPD. Digital traffic signs on Georgia St, English Bay, and the Stanley Park Causeway will alert motorists to the closure. The Causeway will remain open.
Reducing the Number of Visitors to the Park
Despite the closure of all parking lots in Stanley Park more than a week ago, visitors have still been observed travelling by car to the park, particularly on sunny days, and parking illegally on the road.
Closing Stanley Park's roads will reduce the daily number of people in the park and open up space for cyclists and pedestrians from the neighbourhood.
Once the closure is implemented, the Park Board will be encouraging cyclists to keep a safe physical distance from pedestrians by moving off the seawall and using the adjacent Stanley Park Drive, which will be free of traffic.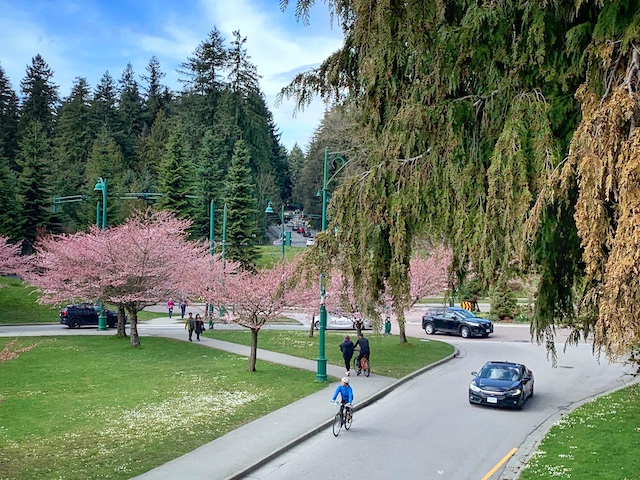 Access Available to Emergency Services, #19 Bus, and Staff
Emergency services, the #19 bus, and Park Board and City service vehicles will still be able to access the park.
There will also be limited access for key tenants and leaseholders via checkpoints at the Georgia St roundabout, facilitated by Rangers and Park Board staff.
Access will be provided to staff of the Rowing Club, Yacht Club, HMCS Discovery, Prospect Point, and Stanley Park Ecological Society.
Protect Yourself and Others
Vancouver is among cities with the densest neighbourhood populations in Canada, and residents rely on park spaces for fresh air, much like a backyard. It is paramount that everyone shares the spaces and uses them safely.
Always maintain a safe physical distance of a least two metres
Use parks and beaches for a short break to exercise, not to socialize
Visit during less busy times (mornings, late evenings, or when it's cloudy or damp outside)
Access neighbourhood or community parks and do not drive to destination parks and beaches
Keep dogs on leash when walking, unless using an official off-leash park
Refrain from touching shared surfaces and be vigilant about hand-washing
Consider wearing a cloth (non-medical) face mask when exercising vigorously or accessing public spaces
Stay home if you're sick, especially if feeling cold or flu-like symptoms
Related: Social Distancing in Vancouver Parks During COVID-19 Outbreak, Quarry Rock Closed, and More Park Closures During COVID-19
UPDATE May 22, 2020: Starting this morning, Vancouver Park Board staff will begin reopening the majority of parking lots at parks and beaches, with the aim of having lots open by Sunday, May 24.
Parking lots were closed in mid-March as part of the Park Board's overall effort to:
Support physical distancing
Reduce crowding at destination parks and beaches
Encourage use of neighbourhood parks
The reopening over the next two days of public parking includes 7,000 stalls at beaches and parks across the city, including the roadways at Queen Elizabeth Park. The reopening follows careful planning and consideration by the Park Board and is in alignment with the BC Restart Plan. Parking at beaches and parks is also vital to ensure there is equity of access to these spaces, particularly for residents with mobility challenges.
Pay parking and enforcement will be in effect at the pay lots and visitors are urged to keep a safe distance from others of at least two metres while exiting their vehicles and visiting beaches and parks.
Stanley Park and English Bay lots remain closed.