Update as of February 2021: Trails in the District are open, with the exception of Lynn Canyon Suspension Bridge and Quarry Rock. The re-opening date for these two trails is not yet known. Please remember to remain six feet from other trail users, and if you can, visit during less busy times.
Yesterday, the City of Vancouver issued a PSA to "enjoy our parks but stay apart" and unfortunately the message didn't reach everyone. In fact I heard from a source that those trying to distance on trails were actually laughed at. Now, in the North Vancouver District, Quarry Rock and Lynn Canyon Suspension Bridge are now closed due to the inability to ensure physical distancing on those trails and narrow passages.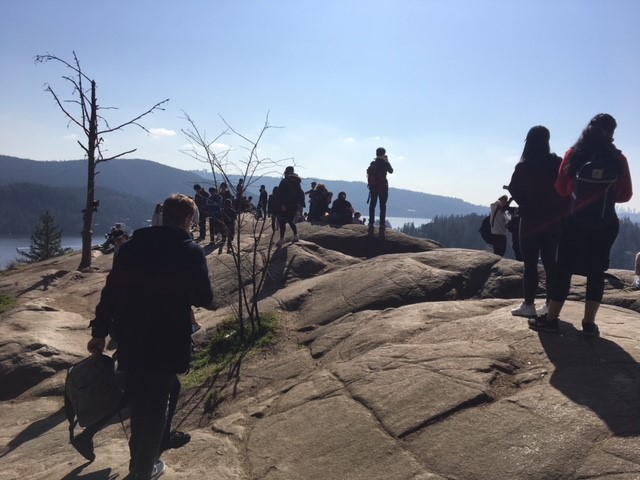 Quarry Rock and Lynn Canyon Suspension Bridge Closed
From the North Vancouver District on Facebook: "Quarry Rock and Lynn Canyon Suspension Bridge are closed until further notice. Enforcement will take effect as of 7:00am Sunday, March 22, 2020.
The District of North Vancouver has taken this unusual step as visitors are not following orders of the provincial health officer to maintain a physical distance of 2 metres, despite on-site signage and staff enforcing physical distancing at trail entrances. These two public spaces also have spots on trails or bridges that make proper distances a challenge to keep. Please ensure you remain two arms' lengths away from others."
Mount Seymour and Cypress Provincial Park Closures
BC Parks has announced that at Mount Seymour and Cypress Provincial Park, access is restricted to some lower elevation trails; parking and road access closed.
The Stawamus Chief has been closed on March 22nd. On March 21st hikers were still using the trail and all climbing the same ladder to reach the peak.
Metro Vancouver Regional Parks
There is a full closure of Brae Island Regional Park in the Township of Langley and the closure of parking lots at Boundary Bay Regional Park, Deas Island Regional Park and Delta Heritage Airpark in the City of Delta; both within municipalities that have declared a local state of emergency. All other Metro Vancouver Regional Parks are currently open, though park facilities such as playgrounds, docks, rental facilities and picnic areas are closed.
Playgrounds and Outdoor Recreation
Most cities and municipalities have closed access to their playgrounds and on March 22nd the City of Vancouver announced that they were closing all public outdoor recreation facilities within parks and beaches. Volleyball, skate parks, field sports, tennis, and more are now closed.
In Delta, Fred Gingell Park is entirely closed because of its stairs. On Sunday afternoon the City of Coquitlam also confirmed it has closed sport fields, sport courts and skateparks, as well as public washrooms in parks.
BC Hydro is closing Buntzen Lake and Hayward Lake Recreation Area facilities including picnic areas, docks, beach and boat launch.
Stay in the Know
Here are links to your local parks Facebook pages (since they are frequently updated) so you can get all of the latest information:
Follow my COVID-19 series for news, information, and entertainment during this trying time.