International Women's Day is Sunday, March 8, 2020 and to celebrate this year, I have rounded up a diverse list of events, from talks and wellness to fundraisers, brews, and laughs: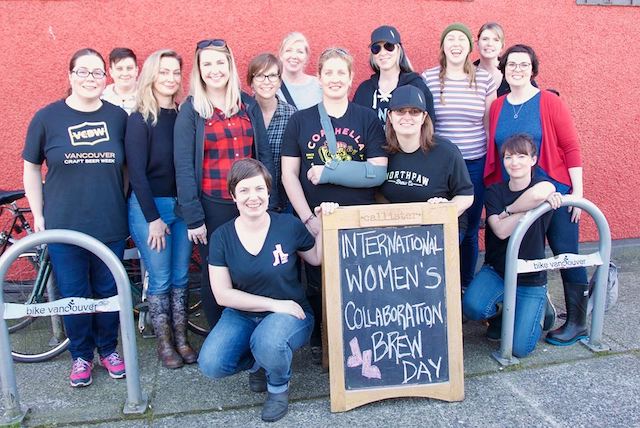 Ways to Celebrate International Women's Day in Vancouver
International Women's Day at Vancouver TheatreSports: March 8th join Vancouver TheatreSports in a mirthful and laugh-filled celebration of International Women's Day featuring a special show featuring an all-star cast of women players drawn from our current ensemble and Rookie League.
International Women's Day with Dress for Success Vancouver: March 8th at Birks (698 W Hastings) is hosting a clothing donation drive for DFS Vancouver. Drop off your gently used professional attire to help a woman thrive in her career. DFS Vancouver's mission is to empower women to achieve economic independence by providing a network of support, professional attire, and development tools to help them thrive in work and life.
All Day Fundraiser at Bandidas Taqueria: March 8th supporting WAVAW, Canadian Council of Muslim Women, Downtown Eastside Women's Centre, Native Women's Association of Canada, WISH Drop-in Centre Society, Trans Lifeline, Canadian Research Institute for the Advancement of Women, and the Moose Hide Campaign.
International Women's Day at Lululemon Lab: March 8th, a morning of women's wellness with yoga teacher Shayla Stonechild, meditation guide Ishra Gill and naturopathic physician Dr Laura Nicholas.
International Women's Day Her Startup Stories: March 6th, connect with women in business including Humaira Ahmed, Founder and CEO Locelle; Natasha Ingram, Founder and Marketing Strategist Transparency Digital Agency; Sara Baar, Founder and Designer at Say Hey Studio; Cindy Tran, Founder CanWeeDine; Kelly Ann Woods, Founder Gillespies Fine Spirits Ltd, Boozewitch and State B Cannabis Beverage.
International Women's Day with the University Women's Club: March 8th. "Women as Instruments of Peace" a talk with writer and human rights consultant Corey Levine at Hycroft.
International Women's Day with Marlene Lowden: March 8th at Place des Arts in Coquitlam. Artist talk and blind contour drawing. Lowdens exhibition celebrates Canadian female artists, many of whom are significantly under-recognized in the Canadian art canon.
Women's Collaboration Brew Day: March 8th at Callister Brewing (1338 Franklin St). Women's brew day is for all female homebrewers, brewing professionals, or other interested women who are new to brewing and want to come learn more or just hang out with like-minded beer/brewing enthusiasts.
Gender Equity in Sports and Beyond: March 10th. A free, one-day forum that includes peer-to-peer learning, an inspiring keynote from Charmaine Crooks and expert-led training on decision-making that supports diversity and inclusion from the BC Gender Equity Office.
Walk in Her Shoes: March 8th from Creekside Community Centre. CARE's Walk In Her Shoes challenge is a global movement that gives you an opportunity to show your solidarity with women and girls in developing countries – all while raising critical funds to help them lift themselves out of poverty.
Steel Magnolias in Vancouver: On stage until March 8th. Featuring an all-female collective of Vancouver-based performers, this beloved story of camaraderie and fierce loyalty epitomizes Southern charm and unwavering strength in the face of triumphs and tragedies.
Related: Awesome Women in Vancouver History, Rosemary Brown, Vancouver History: Mabel Ellen Boultbee, Vancouver History: Anna Ethel Sprott, Vancouver History: Doreen Reitsma, Women of Distinction Awards Nominees 2020