In honour of International Women's Day this week, I've decided to profile some amazing women in Vancouver history, starting with Rosemary Brown. Recent namesake of a West End lane, star of a Canadian postage stamp, and recipient of over a dozen honorary degrees, Rosemary Brown was a feminist, writer, educator, politician, and mother who changed the course of history in BC and Canada.
Rosemary Brown (1930-2003)
From the Vancouver Sun: "Tireless advocate for the disadvantaged — "Until all of us have made it, none of us have made it" — Rosemary Brown was a gritty, outspoken feminist and provincial legislator with a vision of equality much broader than defined by race or gender."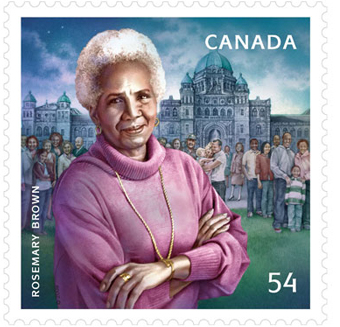 Born in Jamaica, she came to Canada in 1951 to study, receiving a BA from McGill University a Masters in Social Work from the University of British Columbia.
In 1956, she helped in the founding of the British Columbia Association for the Advancement of Coloured People (BCAACP). The BCAACP worked to open up housing and employment to Black people in British Columbia, and for the introduction of human rights legislation in the provincial parliament.
Working with the BCAACP and Voice of Women in the 1960s, she also worked briefly with the Children's Aid Society and as a counsellor at Simon Fraser University. Brown was often a panelist on the national television series People in Conflict.
In 1972, she entered politics and was the first black woman to be elected to a Canadian provincial legislature. During her 14 years as MLA for Vancouver-Burrard, Brown created a committee to remove sexism in British Columbia's educational material and was instrumental in the formation of the Berger Commission on the Family, among her many other accomplishments.
She thought that it was important that issues of human rights, poverty, racism, and sexism should be addressed at the early stages of students' education.
In 1988, she was featured in the National Film Board's documentary, "No Way, Not Me" a twenty-five minute film addressing issues of poverty among young women:
She received many awards over the years, along with honorary doctorates of Law from several Canadian Universities. Brown received the Order of British Columbia and the Ontario Black Achievement Award, the Order of Canada and a United Nations' Human Rights Fellowship. She was also a life member of the Privy Council of Canada and a member of Canada's Security Intelligence Review Committee.
Brown also won a YWCA of Metro Vancouver Women of Distinction Award in 1989.
"To be black and female in a society that is both racist and sexist is to be in the unique position of having nowhere to go but up!"
After politics, she became a professor in women's studies at Simon Fraser University and became the CEO of the advocacy group MATCH International Women's Fund.
In the 1990s, she wrote an autobiography, Being Brown: A Very Public Life, and was named chief commissioner of the Ontario Human Rights Commission.
In Downtown Vancouver's West End you'll find Rosemary Brown Lane located between Robson and Haro streets, running from Burrard Street to Lagoon Drive.
Sources used in this post: Vancouver Sun, BC Black History, Canadian Encyclopedia, Legislative Assembly of BC