On March 12, 2020 BC Provincial Health Officer Dr. Bonnie Henry gave a directive to Canadians to not gather in groups of more than 250 persons due to COVID-19. With Spring Break coming up and a full slate of festivals and events around Vancouver, a majority of activities have been cancelled. Here is an ongoing/updated list of what's open or closed in Vancouver during the COVID-19 outbreak in Vancouver: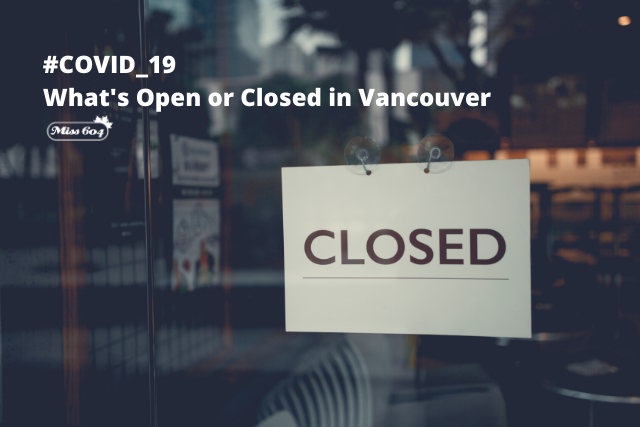 COVID-19 What's Open or Closed in Vancouver
Last updated: Friday, March 20, 2020 at 10:00am
The British Columbia government has declared a provincial state of emergency to support the provincewide response to the novel coronavirus (COVID-19) pandemic. This follows a provincial health order to limit gatherings to 50 persons maximum and a recommendation to social distance, staying at least 1 meter away from others.
Still Open
Granville Island Public Market
Twilight Drive-In
Vancouver Farmers Markets
Paused, Postponed, Closed
All bars and restaurants in Vancouver will be closed for St. Patrick's Day (March 17, 2020). All bars and nightclubs in BC now must be closed (March 18, 2020). Many restaurants are only open for take-out and delivery.

As of March 22, 2020, most playgrounds and outdoor public recreation facilities (sports fields/courts, skate parks, and park washrooms) are closed in Vancouver.
420 Vancouver
52nd Annual Pacific Northwest Labour History Conference
Apple Stores (until March 27)
Aritzia Stores
Arts Club California Wine Fair
Arts Umbrella
BC Distilled (Main Tasting Event)
BC Place
BC Sports Hall of Fame
Bloedel Conservatory
BMO Vancouver Marathon
Burnaby Village Museum
Burnaby Art Gallery
Burrard Arts Foundation Emerging Artist Launch
Bsides Vancouver Hacker Conference
CARHA Hockey World Cup
Canucks Autism Network: Adapted Hockey Tournament
Carousel Theatre for Young People
CelticFest Vancouver
Chef Meets BC Grape (postponed)
City of Burnaby (all libraries, recreation and cultural facilities, golf courses)

City of Burnaby-operated restaurants
Barnet Marine Park Café
Bonsor Café Breakaways Concession
Burnaby Mountain Mulligan's House Express
Burnaby Mountain Restaurant
City Hall Café
Edmonds Rain Catcher Café
Encores Bistro
Ice Cream Parlour Café
Riverway Mulligan's Bistro
Riverway Mulligan's House Express
Riverway Restaurant

City of Coquitlam (most civic facilities)
City of Delta (all recreational facilities, archives, art centres)
City of New Westminster
City of Port Moody (all recreational facilities, librairies)
City of Port Coquitlam
City of Surrey (all community centres, libraries, rinks, pools)
City of Vancouver (all community centres, rinks, pools)
City of White Rock (all city-run recreational programs and facilities)
Climb Base 5 (Coquitlam and North Vancouver)
DanceHouse presents RUBBERBAND & Compañía Rocio Molina
Dr. Sun Yat-Sen Classical Chinese Garden (March 15-18 for filming)
Early Music Vancouver (rest of their 50th season events)
Easter Eggspedition at VanDusen Botanical Gardens
Fall For Local Markets (postponed to June)
Gateway Theatre's From Alaska
Granville Island Kids Market
Great Canadian Casinos (including River Rock, Hard Rock)
Gray Line Westcoast Sightseeing
Grouse Mountain
Growing Room Literary Arts Festival
Imperial Theatre
Indian Summer Festival, Holi Fundraising Party (postponed)
Keg Restaurants
Langley Events Centre
lululemon stores (March 16-27)
Museum of Vancouver
Parks Canada

Fort Langley National Historic Site
Gulf of Georgia Cannery National Historic Site

PNE Venue Events (Monster Jam, Gem Show, Gift Expo, Jurassic World)
PoCo Farmers Market Opening
Port Coquitlam May Day Celebrations
Roedde House Museum
Rogers Arena
Science World (until April 6)
Seasons Festival
Shadbolt Centre for the Arts
Surrey Art Gallery Spring Opening
Surrey's Eggapalooza
Surrey's Old-Fashioned Easter Celebration
Stanley Park Easter Train
Starbucks (in gathering areas, "to go" only in all others)
Surrey Party for the Planet
Surrey's Ukrainian Easter
Surrey's Vaisakhi Celebrations
TED Conference (postponed)
The Cinematheque (until April 16)
Tim Horton's ("to go" only)
Vancouver Art Gallery
Vancouver Cherry Blossom Festival

Cherry Jam, Japan Fair & Big Picnic

Vancouver Civic Theatres (over 250 persons)

Shen Yun
Chopin Society
VRS Benjamin Grosvenor
The Beethoven Experience: A Most Remarkable Night

Vancouver Food Tours
Vancouver International Auto Show
Vancouver Maritime Museum
Vancouver Opera
Vancouver Park Board (pools, hot tubs, saunas, steam rooms, fitness centres, ice rinks, golf courses, and pitch and putts)
Vancouver Public Library (all programs cancelled)
Vancouver Recital Society
Vancouver South African Film Festival
Vancouver South Asian Fashion Week
Vancouver TheatreSports
Vancouver Vaisakhi Parade
VanDusen Gardens
VIFF Vancity Theatre (until April 16)
Vivaldi Chamber Choir
Vogue Theatre
West End Seniors Network (Barclay Manor programs)
West Vancouver (all community centres & cultural facilities)
Whistler Blackcomb (Vail Resorts) March 15-22
World Ski & Snowboard Festival
ZeeZee Theatre Trans Scripts, Part I: The Women
Galas Postponed/Cancelled
Fred Lee has been keeping on top of all the gala postponements and cancellations, here is his latest list:
A Loving Spoonful's Dining Out for Life
BC Centre for Ability Dining for Dreams Gala
BC Children's Hospital Foundation's For Children We Care Gala
Brian Jessel Cabriolet Gala (postponed to August 22)
Chinatown Foundation Spring Gala
Face the World Gala
Indian Summer Festival Holi Gala
Kinesis Dance DecaDance Gala
Lions Gate Hospital Foundation Gala
Looking Glass Foundation Gala
One Night in the Valley for Variety BC
Ovarian Cancer Canada Love Her Gala
PALS Gala
PADS For the Love of Dog Gala
Rare Finds Gala
Vancouver Opera VOX Gala
YWCA Women of Distinction Awards
NOTE: These are events that I have been emailed about or personally researched online. There are certainly many more so please feel free to share in the comments below and I'll add to the list. Thank you!
Related: Tips for Working From Home (and Still Being Productive)
Breaking Bread: Vancouver Restaurant Support During COVID-19