"You can work in your pyjamas all day!" is one of the excited responses I usually receive when someone asks about my home office. With the COVID-19 pandemic has come the cancellation of major events and social distancing being practiced out of an abundance of caution. Many companies are encouraging employees and team members to stay home from the office and telecommute.
"How do you stay motivated?" is another FAQ. While #PJsALLDAY sounds fun, it does take a bit of effort to stay motivated. Over the last 12 years, working on projects for sixty4media and of course Miss604.com, I have identified a few tips and tricks to stay productive in my home office: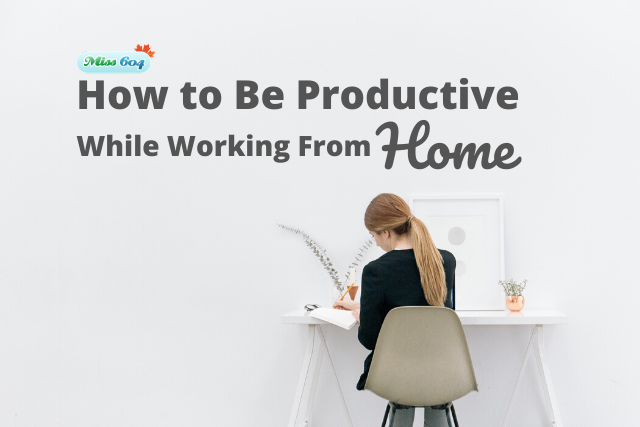 How to Be Productive While Working from Home
Of course your company will hopefully get you setup with all of the technology and co-working tools you'll need (shared project management apps like Slack, Asana, Basecamp, etc.) but here are some more personal self-care tips:
It starts with a fauxcommute. We live in the heart of Downtown Vancouver so John's walk to work only takes 10 minutes. He's on a schedule so I decided to follow his pattern. When he's dressed and out the door by 9:00am, so am I. We walk to a coffee shop together for provisions and then part ways. He continues on to his office and I walk back home. Those 20 minutes get me up and about, and put me into a "work" mode.

I shared this once with a fellow travel writer who said he literally gets on his bike, cycles around the block, and parks his bike at his laneway office to simulate a commute and get in the right mindset for work.

Separate home space from work space. One thing about working in your home and that work can BECOME your home, then there's no escape. I have a designated area/room where I keep all of my work items (files, laptops, cameras, tech) and when John walks through the door at 6:00pm, I LEAVE that space. My work is done too and we can enjoy our evening together.

For those other social media managers following along, I use Hootsuite to schedule my posts days in advance so the only work I do in the evenings is feed-monitoring from my phone here and there.

Make sure you still take a lunch break. One thing about working from home is the lack of distractions. like coffee breaks, meetings, lunch breaks. You'll sit down at your desk, zone out with some tunes, starting clacking away on your keyboard and before you know it, it's 2:00pm and you've completely lost steam. Stand up, walk around, have some water, get a coffee, refresh, stretch, then get back to it.

Have a virtual work buddy. I chat online throughout the day with John, my sister, and various friends also working from their home offices. We take synchronized breaks – or John will send me a Skype message: "Have you eaten yet?" To drop the hint.

Please, mute your phone. Meetings still have to take place and when you have 5-20 people on a conference call now it's important to mute your own mic when you're not speaking. Clicks of a mouse, firetruck sirens, family members in the background, construction noise, all of that can disrupt what should be a productive session.

Sync your wireless headphones or use your smartphone's headphones so you can still be handsfree to take notes during the call.
Update: Everyone is being very understanding about background noise at this time, so don't stress about this one too much!

You don't have to work for 8 hours straight. Break up your day. Cook a meal. As long as you get the work in, it doesn't have to be in a 9-to-5 window. Offset your hours, stretch, and come back.
Enjoy your time alone. Put on some music (I discovered that Cut Copy helps me code better), sing your heart out or dance in your chair like no one is watching — because no one is. Discover something new about your work patterns and what really helps you concentrate on tasks. It can help you when you get back to the office – but maybe lose the dancing and singing unless everyone will be totally into that now and lip-dub videos will come back in style… but I digress.
Last but not least, be sure to clean your keyboard, mouse, and phone regularly, as well as your headphones and cables. If you'd like to chat during the day, or remind me to take my lunch break, find me on all social media @Miss604.