An Iconic Canadian TV segment in the 90s used the slogan, "keep fit and have fun" and that ran through my head as I was onto my third winter activity of the day in Vernon: Snowshoeing at Predator Ridge.
Earlier that morning I was visiting North America's largest ski club at Sovereign Lake and before that, on the slopes at SilverStar. I call it a Vernon Winter Activity Hat Trick, but you can find out what SilverStar Mountain Host Bob Vedan calls his perfect "Vernon Trifecta" in my ZenSeekers post here »
A Vernon Winter Activity Hat Trick
1. Where: Sovereign Lake
What You Can Do: Rent Nordic skis or snowshoes, take lessons, or even go tobogganing. This is a pristine and lush mountain environment in an idyllic setting (and a lodge with hot chocolate as-needed)!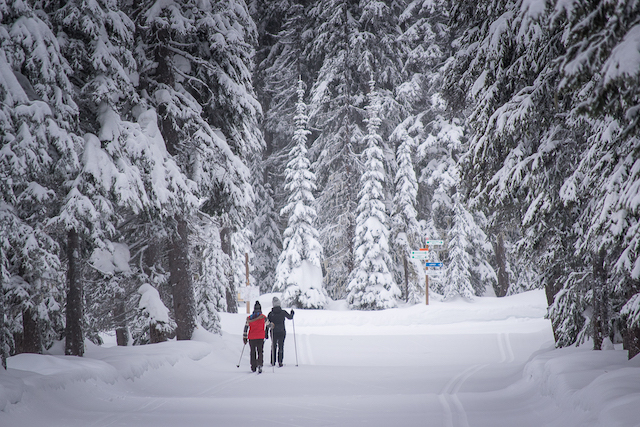 2. Where: SilverStar Mountain Resort
What You Can Do: What can't you do?! Ski, snowboard, head out with a Mountain Host (complimentary), snow cat tours, horse-drawn sleigh rides, tubing, ice skating, and fun village activities and restaurants. There's also snow bike tours, hockey, yoga and bowling.
3. Where: Predator Ridge
What You Can Do: Snowshoe on the golf course! 1,200 acres of hills, valleys, and panoramic lookouts above Okanagan Lake. Photo op tip: Head up to the Longspoon Loop above Ellison Provincial Park (you'll find it on a free map from the Fitness Centre) to snap a pic or get a shot like this from the Sparkling Loop: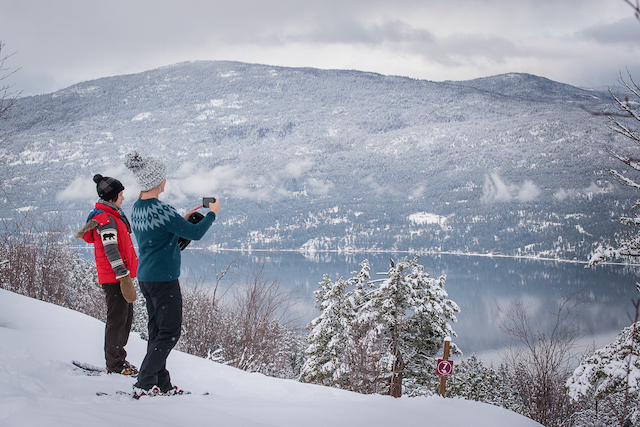 I've been to Vernon now in the winter, in the summer, and at harvest time. I suppose I should plan my next trip in the spring but not before I get a few more snowy laps in around the lake or up the mountain. Be sure to make Downtown Vernon your home base, where you can get to all of these activities within 30 minutes!
When You Go