The Vernon Fall Festival is coming up October 1 to 31, 2019 and I recently got a preview of some of the autumnal fun when I was in the area (picking apples and exploring pumpkin castles) with ZenSeekers.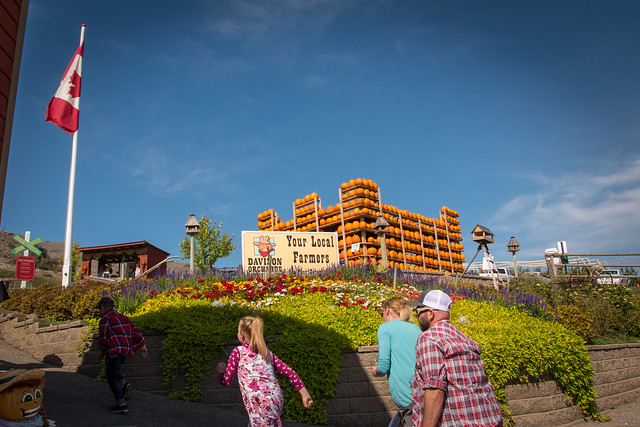 Vernon Fall Festival Fun
The Apple Harvest Festival and the Family Pumpkin Festival are happening at Davison Orchards. Take a tractor ride out to the pumpkin patch and pick your favourite pumpkin straight from the field. Visit (and feed) the farm animals, run and play in Crazy Cow Kids Corral, relax with a Spiced Apple Cider, taste pumpkin cake, muffin or pie, and listen to the music from the Pumpkin Butter band. Here you'll also find the aforementioned Pumpkin Castle, and an amazing seasonal shop with everything from home decor to pumpkin pie. On October 19th, don't miss the Tourism Vernon Giant Pumpkin Weigh-In!
Now it's funny, earlier this summer I was at the Field of Dreams in Iowa (near where John grew up) then in late September I went to the site of the Field of SCREAMS at Historic O'Keefe Ranch in Vernon. Grimm's Fairy Tales turn into nightmares across three full corn mazes at this historic site. This event is not suitable for young children. You can also join Ghost Tours of Vernon host, Gabriel David Sumegi Newman the 2nd for a spine tingling and entertaining tour through the haunted buildings at O'Keefe Ranch.
After the corn maze gets your heart racing, slow things down at The BX Press Cidery and Orchard. Have a tasting flight at a picnic table in the orchard and in the summer they offer wood-fired pizza right outside the tasting room. View the lovely video from ZenSeekers and even more "BX" history here »
BONUS! Want to learn all about the flora and fauna of Vernon? Visit the Allan Brooks Nature Centre next time you're in the area. From their perch above the city, you'll learn all about the ecology of the area – any maybe you'll even be able to go pond-dipping!
When You Go
Thanks to the Honda Canada for getting me around on this expedition in the Canadian-made CR-V. Honda has been building cars in Canada for the last 50 years! #HondaCanada50