Guest post contributed and written by Jen Murtagh.
Have you ever watched videos of people whizzing by, often hanging upside down, in the high gnarly  trees of Whistler? I have been seeing those videos for years and often wondered, could I do that? I am not going to lie, I have a bit of a height aversion so when I told my family I wanted to try ziplining, everyone was a little surprised. Ziplining has secretly been on my "must do" list for both personal and family experiences for years and this past week all six of us ticked it off our respective bucket lists.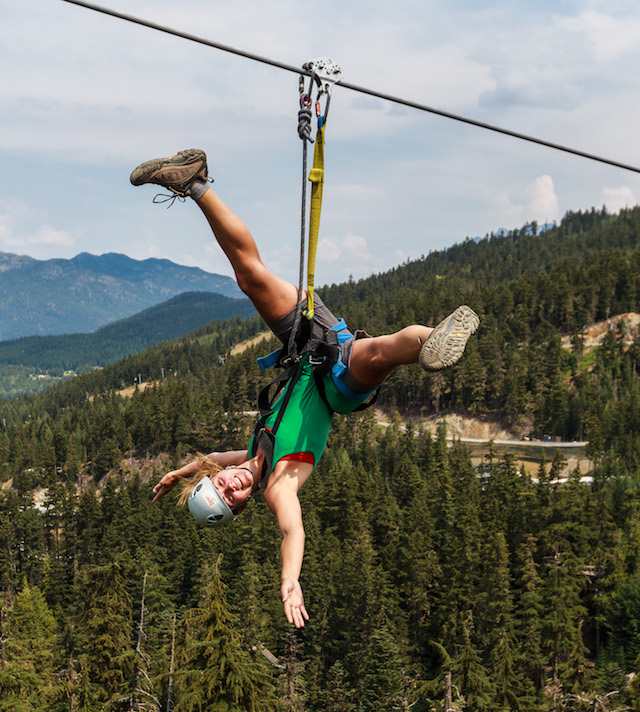 Zipline with the Family in Whistler with Ziptrek Ecotours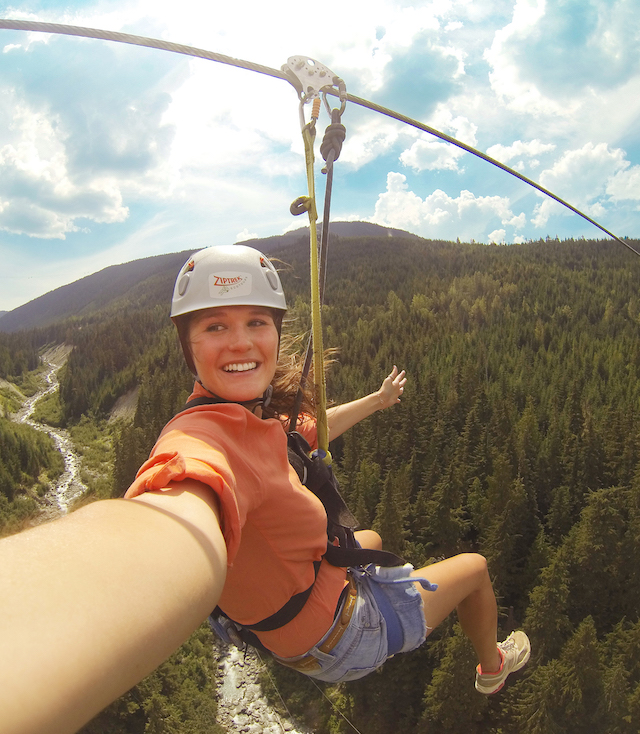 As a mom and stepmom to four kids ranging in ages from 7 years old to 15 years old – it's not always easy to find activities that appeal to everyone. After reading Ziptrek Ecotours stellar reviews on Google and learning more about this multi award-winning adventure ecotourism business, renowned for delivering awareness and appreciation of the natural environment, we locked it in. 
Ziptrek offer thrilling tours which provide an entertaining combination of aerial adventure and ecological exploration. Ziptrek Whistler is also home to the longest zipline in all of Canada and the USA –The Sasquatch®! At over 2 kms long and screaming fast, guests will experience spectacular views and over 7,000 feet of pure eco-exhilaration. With 11 ziplines in total, the company offers 4 distinct zipline tours, providing something for everyone. Your inspiring journey also takes you through a true old-growth temperate rain forest via a combination of suspension bridges, treetop observation platforms, and ground based trails. An adventure not to be missed, brought to you by the pioneers of zipline tours in North America.
As the ages of our kids are diverse, we decided to opt for two tours. I took our two youngest on the Bear Tour and my husband and the two eldest participated in the Eagle Tour.
If you are considering which one to book first – you should know that any child under 65 lbs has to do the Bear Tour. You need to be at least 75 lbs to do the Eagle Tour which is a bit higher and a little more heart-pounding. The Bear tour offers 5 ziplines which will take you around 2.5 hours. It's perfect for first time zippers with jaw dropping scenery. Even my most cautious child had no problem and was comforted and supported by our two outstanding guides, Cian and Lauren. 
If you are a bit more adventurous then you may want to consider the Eagle Tour, which also includes five different ziplines. If you like to get your adrenalin going, their 2400 ft zipline with a 30 storey descent should help get the blood pumping!
Expect to learn about the land you are ziplining on as well as nature-based learning is part of Ziptrek's mission. I definitely appreciated the land acknowledgement to the Squamish and Tsleil-Waututh Nations and understanding more about how Ziptrek care deeply about their impact on the land and how they operate as sustainably as possible.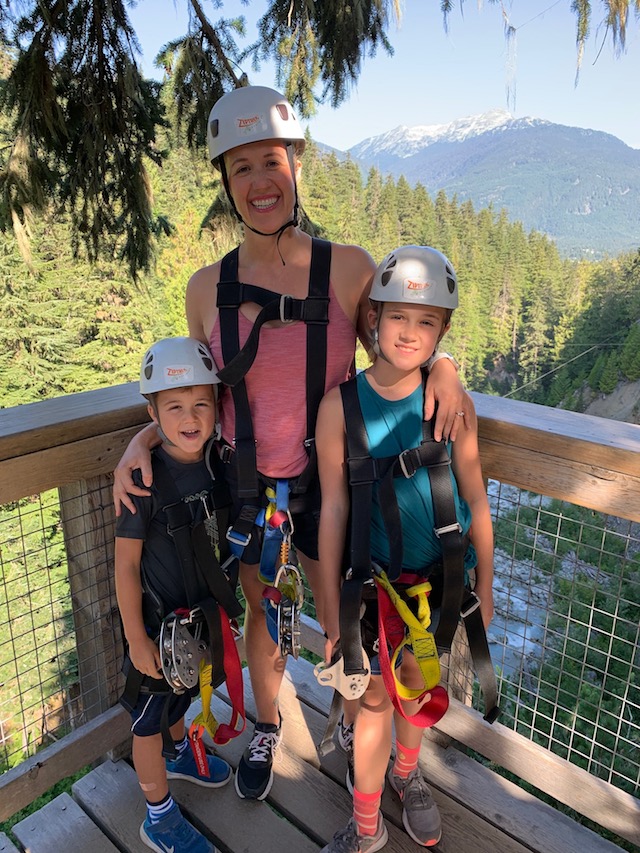 Although we didn't get the opportunity to try the Sasquatch, this video says it all! One monster zipline, spanning a mind-blowing distance of +2 Kms, you will experience spectacular views and 7,000 feet of pure eco-exhilaration. Adrenalin junkies – this ones for you!
Ziptrek tops my "must do" adventures in Whistler. Ziplining definitely pushed me out of my comfort zone and left me feeling more confident and excited about new adventures to take on with our family. My kids are already asking when we can go back and try the other lines. Whether you are a bunch of friends, a couple or a large family like ours – Ziptrek will appeal to all levels of thrill-seekers. 
More about Ziptrek 
Ziptrek has been voted 'Best Adventure Tour' for multiple years running and has also been the recipient of 2 'Whistler Excellence Awards' in Whistler since beginning its operation. On Ziptrek tours you enjoy an unforgettable opportunity to explore, learn and delight in the thrill of an aerial adventure in natural environments that lend themselves perfectly to an enlightening ecological curriculum.