It's one of the nation's largest Canada Day celebrations and with near-perfect weather and a stellar lineup of performers, Surrey Canada Day was a highlight of early summer.
Food trucks cranked out burgers, ice cream, smoothies, popcorn, and skewers of flame-grilled goodness, and of course there was the cupcake giveaway that's become a tradition at the opening ceremony: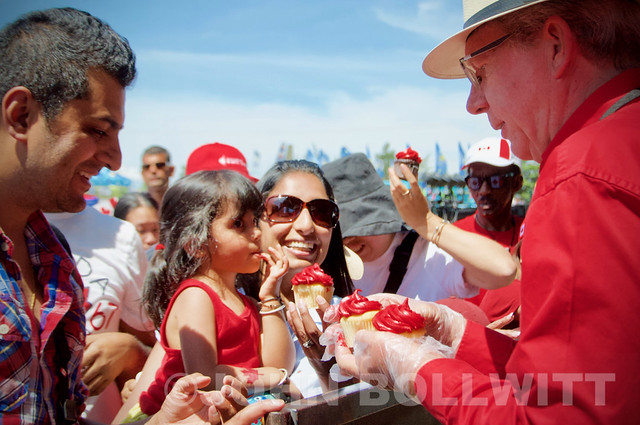 The midway was rolling all day, the ball hockey court was busy, and families camped out at the amphitheatre for the day. Out of the sunshine, the Rodeo Zone in the Agriplex had its own stage, a market, bull riding and axe throwing!
Dancers, DJ Flipout, and musical acts like Her Brothers, The Heels, and Buckman Coe kept the beats going on three stages. Surrey Honda gave away a vehicle for the 7th year in a row, and Marie Hui belted out one of her signature anthems to get the evening going.
Almost everyone I know spins a Tragically Hip playlist on July 1st and it was a real treat to catch The Hip Show share their tribute on the main stage. The charming and absolutely positively lovely Bif Naked rocked the house as she marked the 10th anniversary of playing the Surrey Canada Day stage — John and I were there in 2009 too!
Headliners Our Lady Peace kept the crowds happy, playing some of their greatest hits along with some surprising covers (like Maps by The Yeah Yeah Yeahs) before fireworks burst above.
All in all, another perfectly patriotic party in Surrey in celebration of Canada's 152nd birthday. Next up is Surrey Fusion Festival! Coming up July 20 & 21, 2019 at Holland Park.