Spend some quality time with the dad in your life on June 16th, enjoying some of the events and activities taking place across the region. From BBQ and baseball to fishing, car shows, collectibles and comedy, you'll definitely find some fun for the family this Father's Day in Vancouver!
Father's Day in Vancouver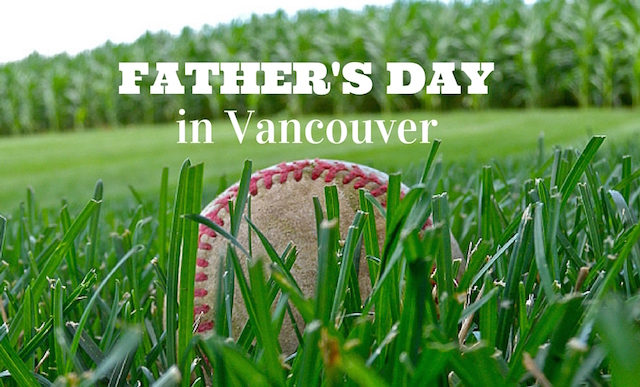 When: Sunday, June 16, 2019 from 9:00am to 1:00pm
Where: Lafarge Lake at Town Centre Park (1299 Pinetree Way, Coquitlam)
Chances are, you remember fishing with a parent when you were a kid, reeling in that trout and holding it up to the camera. If you want to give your child the same experience, this is the perfect opportunity. Coquitlam's Lafarge Lake will be stocked with rainbow trout in the morning and volunteers will be available to teach fishing techniques. Drop by for this free, family-friendly day of fishing fun and prizes.
When: Sunday, June 16, 2019 from 11:00am to 4:0pm
Where: Burnaby Village Museum (6501 Deer Lake Ave, Burnaby)
Admission: Free! Carousel rides $2.65
Activities and demonstrations for fathers and their families is taking place, including the annual classic car and vintage motorcycle display presented by the Greater Vancouver Motorsports Pioneers Society.
When: Sunday, June 16, 2019 from 11:00am to 3:00pm
Where: Historic Stewart Farm (13723 Crescent Rd, Surrey)
Admission: Free!
Skip the present this Father's Day and take Dad out for a memorable date at Historic Stewart Farm. Bring the whole family for locomotive fun, featuring: The Greater Vancouver Garden Railway Club and their display model trains; train rides courtesy of the Pacific Trackless Trains (rides by CASH donation); choo choo crafts to make Dad a special Father's Day card; conductor style dress up; sack races with Dad on the lawn; lemonade and coffee on the farmhouse verandah; baked treats made on the wood burning stove in the farmhouse kitchen; tours of the restored 1890s farmhouse with a costumed guide.

When: Sunday, June 16, 2019 at 10:00am
Where: Fraser River Heritage Park (7494 Mary St, Mission)
Admission: $10$15 per vehicle if paid at the gate.
Presented by Mission Firefighters' Charitable Society. Net proceeds will be disbursed amongst local charities and organizations, last year over $21,000 was raised!
When: Sunday, June 16, 2019 from 12:00pm to 7:00pm
Where: Main Street in Vancouver, from Broadway to 30th
Admission: FREE!
Bring the whole family for a day on Main. With 14 stages across the festival, there's something for everyone at Main Street. Local staples like Neptoon Records, Red Cat Records will return, as will Accordion Noir, Kits Rock School, the Watershed Jam Stage and the Vancouver Performing Stars, among others. Full Circle: First Nations Performance, The Avant Garden, Long & McQuade and Zilla Live are programming new stages.
When: Sunday, June 16, 2019 from 11:00am to 5:00pm
Where: Matsqui Community Hall ( 33676 St. Olaf Ave, Abbotsford)
Admission: $6, kids 12 and under are free
Vendors include hosts Heroes for Sale, along with Barriticus Entertainment, Mgclz Designs, S&M Antiques and Collectibles, With I Was Crafty, and more. Browse and shop collectibles, comics, graphic novels, toys, and curiosities. $1 off admission with a non-perishable food donation for Cyrus Centre services for Youth & Families.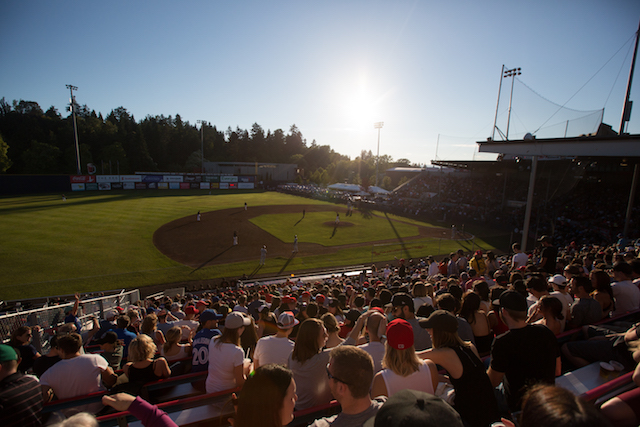 When: Sunday, June 26, 2019 at 1:05pm
Where: Nat Bailey Stadium (4601 Ontario St, Vancouver)
Admission: Game tickets start at $16
The first A&W Family Fun Sunday of 2019 with frosty $1 A&W Root Beer floats and a post-game Kids run the Bases for all children 12-and-under. Get to the park early with your kids as the first 500 children 12-and-under receive a super-cool 3/4 length baseball T-shirt.
When: Tours at 11:00am, 1:00pm and 3:00pm
Where: BC Sports Hall of Fame, Gate A, BC Place in Vancouver
Admission: $20 per person, group rates available
Visit the BC Sports Hall of Fame, the home of the BC Lions and Whitecaps FC all in one during an all access tour of BC Place scheduled on Father's Day.
When: Sunday, June 16, 2019, 12:00pm to 2:00pm or 2:30pm to 4:20pm
Where: 21152 16th Ave (at 212th) in Langley
Admission: $33 for adults $20 for children
A Fathers day tradition at Township 7! Come and taste through three fantastic BBQ pork dishes catered by Smoke & Bones, paired with one of their handcrafted Township 7 wines. Stations include Fraser Valley Pork smoked for 14 hours over hardwood. Pulled and served on sliders. Topped with Creamy Coleslaw and a true Tennessee Red Sauce paired with our the Township 7 Rose. Two more stations to go! You won't want to miss this delicious event.
When: Sunday, June 16, 2019 at 2:00pm
Where: The Improv Centre (1502 Duranleau St, Vancouver)
Tickets: Available online for $25
The SuperDad Show pokes fun at the foibles and challenges of what it means to be a modern Dad. Based on audience suggestions, VTS' quick-witted improvisers could explore such timeless themes as 'two-Dad families', 'Dads and their love affair with the barbecue', 'hockey Dads', 'Dad, can I have the keys to the car?' or 'Dads and daughters' in belly laugh-inducing scenarios. Audience members can bask in familiar phrases or 'Dadisms' such as "Do you think I'm made of money?", "When I was your age…", "You're not going out in that, are you?", and the classic "You'll understand when you're older."
Looking for more events and things to do on Father's Day in Vancouver? Check out the Miss604 June Events List for Metro Vancouver and follow Miss604 on Twitter and Facebook for daily info.