Join Vancouver TheatreSports for Father's Day on Sunday, June 16th for The SuperDad Show – a special matinee performance in celebration of an often unsung hero.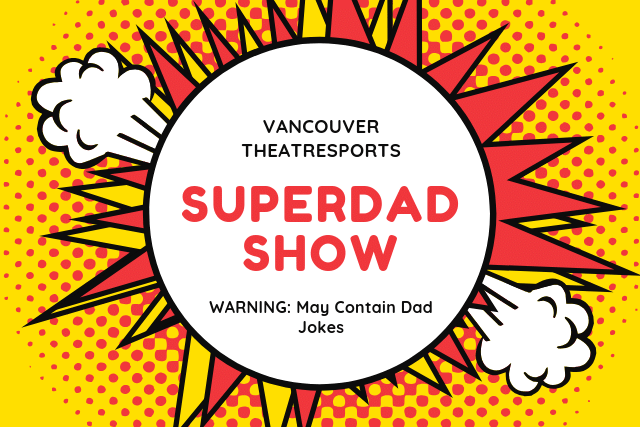 Vancouver TheatreSports for Father's Day
When: Sunday, June 16, 2019 at 2:00pm
Where: The Improv Centre (1502 Duranleau St, Vancouver)
Tickets: Available online for $25
The SuperDad Show pokes fun at the foibles and challenges of what it means to be a modern Dad. Based on audience suggestions, VTS' quick-witted improvisers could explore such timeless themes as 'two-Dad families', 'Dads and their love affair with the barbecue', 'hockey Dads', 'Dad, can I have the keys to the car?' or 'Dads and daughters' in belly laugh-inducing scenarios. Audience members can bask in familiar phrases or 'Dadisms' such as "Do you think I'm made of money?", "When I was your age…", "You're not going out in that, are you?", and the classic "You'll understand when you're older."
This special family-friendly show takes place at 2:00pm so there's plenty of time afterward to take Dad out for dinner or to fire up the barbecue. Tickets are value-priced at only $25 and include the show PLUS either a glass of house wine, beer on tap, or non-alcoholic beverage. Tickets are on sale now at vtsl.com.
The Neil Macrae Bar & Lounge at The Improv Centre will open that day at 1:00pm for pre-show beverages and, weather permitting, the patio deck overlooking the picturesque marina will also be open to patrons.
For more information follow Vancouver TheatreSports on Twitter and Facebook.