Celebrating 15 years in 2019! Car Free Day Vancouver is a series of street festivals promoting the unique re-imagining of space that seeks to showcase the possibilities of a city less dependent on cars.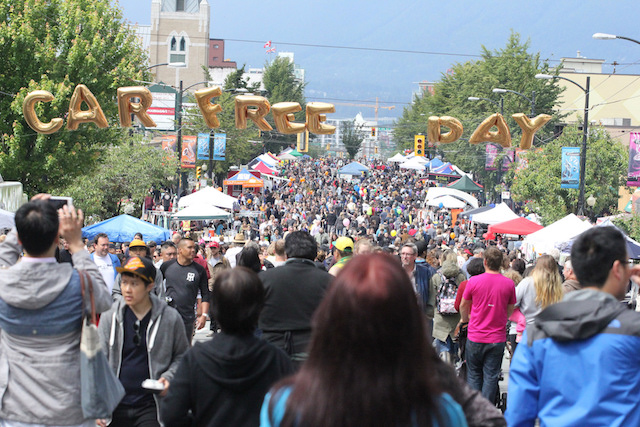 West End Car Free Day Festival

When: Saturday, June 15th 2019 noon to 7:00pm
Where: On Denman from Davie to Robson
The West End festival will also have roving entertainment, and Shutterbuggy, the mobile photo booth modeled after a 1940s camera that's been featured at Burning Man. Sleepy Girls Productions will do both drag performance and interactive drag face-painting and airbrushing for kids and adults.
The West End festival has programmed three stages of their own, and has partnered with WE Arts for the fourth stage. WE Arts is a non-profit grassroots community organization working towards a thriving arts and culture community in the West End. The three Car Free Day-programmed stages will feature 21 performances, including the likes of Juno-winner Murray Porter, local indie darlings Sleepy Gonzales, and the multi-talented Ostwelve, aka Ronnie Dean Harris, who also designed the 2019 Car Free Day posters.
Website: Website | Facebook
Main Street Car Free Festival
When: Sunday June 16th 2019 noon to 7:00pm
Where: Broadway to 30th on Main Street
With 14 stages across the festival, there's something for everyone at Main Street. Local staples like Neptoon Records, Red Cat Records will return, as will Accordion Noir, Kits Rock School, the Watershed Jam Stage and the Vancouver Performing Stars, among others. Full Circle: First Nations Performance, The Avant Garden, Long & McQuade and Zilla Live are programming new stages.
Website: Website | Facebook
Car Free Day on The Drive
When: Sunday July 7th 2019 noon to 7:00pm
Where: Venables to N. Grandview on Commercial Drive
The Drive's entertainment will be as eclectic as ever, with many new and returning stages put on by community groups, businesses and individuals, including Zilla Live's DJ van, the Vancouver Street Dance Festival, Highlife Records, and Renzo's Cafe. There will be tons of roving entertainment from the likes of the Carnival Band, HoopDreamer, and Roller Skate Vancouver.
Website: Website | Facebook
Kitsilano Block Parties
When: Host a Kitsilano Block Party celebrating Car Free Vancouver on June 15th or 16th.
Instead of closing off a major street, people throughout Kits host block parties with their neighbours. The block parties are as individual as the people who pull them together. Some have dancing, some have music, some have couches, chairs and carpets in the middle of the street and some share chips and a drink together! All of them are a fun, relaxing chance to hang out with the people who live in your neighbourhood.
New This Year at Car Free Day Vancouver
This year Car Free Day is excited to launch an expanded Activity Funds program. This year the program has expanded to also include art installations and a special category to waive vendor fees for grassroots nonprofits and emerging Indigenous artisans.
Indigenous Live Music Initiative
In addition to the expanded categories, this year Car Free Day received a grant from Creative BC's Music Industry Initiatives program to increase performance opportunities for Indigenous musicians.
Both Indigenous and non-Indigenous programmers are encouraged to apply for this Car Free Day funding to run stages at the events. Non-Indigenous programmers who apply to receive this special funding to present Indigenous live music will be able to attend a training session as part of the program. This educational component will cover Coast Salish cultural awareness training, and how to best engage with Indigenous performers and artists.
For more information follow Car Free Day on Twitter and Facebook.