Celebrating 15 years in 2019! Car Free Day Vancouver is a series of street festivals promoting the unique re-imagining of space that seeks to showcase the possibilities of a city less dependent on cars.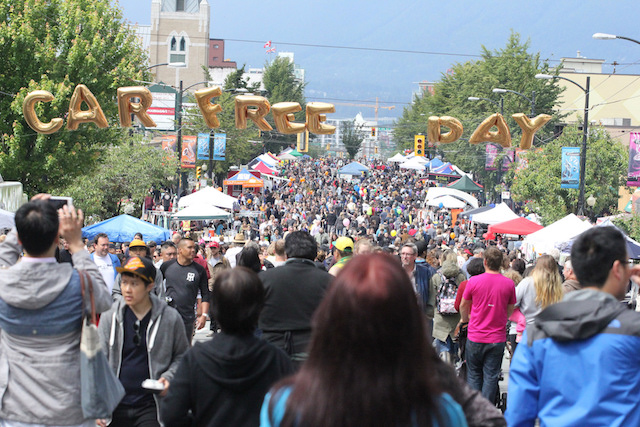 West End Car Free Day Festival

When: Saturday, June 15th 2019 noon to 7:00pm
Where: On Denman from Davie to Robson
The West End brings together business owners, community organizations, artists and volunteers to seed the idea of building a better, more livable city. There are music stages and jam sessions to listen to, art being exhibited and created live on the street and plenty of places to grab a bite to eat or something to drink.
Website: Website | Facebook
Main Street Car Free Festival
When: Sunday June 16th 2019 noon to 7:00pm
Where: Broadway to 30th on Main Street
Main Street has 15 stages and mini festivals along the entire street. This is a fun, family-friendly event with kid-zones, skateboarders, funky artisan shops and popular food vendors. You can really taste the flavour of Main Street with extended patios from many restaurants.
Website: Website | Facebook
Car Free Day on The Drive
When: Sunday July 7th 2019 noon to 7:00pm
Where: Venables to N. Grandview on Commercial Drive
Commercial Drive is a creative and eclectic neighbourhood east of downtown. There are many unique shopping, food and entertainment destinations, and the community has a love for its heritage history. As the place that Car Free Day began, Commercial Drive stays true to its grassroots beginnings and the story behind the festival. There is a strong message of advocacy and activism for providing car free spaces and green culture for the community.
Website: Website | Facebook


Kitsilano Block Parties
When: Host a Kitsilano Block Party celebrating Car Free Vancouver on June 15th or 16th.
Instead of closing off a major street, people throughout Kits host block parties with their neighbours. The block parties are as individual as the people who pull them together. Some have dancing, some have music, some have couches, chairs and carpets in the middle of the street and some share chips and a drink together! All of them are a fun, relaxing chance to hang out with the people who live in your neighbourhood.
New This Year
This year Car Free Day is excited to launch an expanded Activity Funds program. This year the program has expanded to also include art installations and a special category to waive vendor fees for grassroots nonprofits and emerging Indigenous artisans.
Indigenous Live Music Initiative
In addition to the expanded categories, this year Car Free Day received a grant from Creative BC's Music Industry Initiatives program to increase performance opportunities for Indigenous musicians.
Both Indigenous and non-Indigenous programmers are encouraged to apply for this Car Free Day funding to run stages at the events. Non-Indigenous programmers who apply to receive this special funding to present Indigenous live music will be able to attend a training session as part of the program. This educational component will cover Coast Salish cultural awareness training, and how to best engage with Indigenous performers and artists.
For more information follow Car Free Day on Twitter and Facebook.
A Miss604.com guest post by Alexis Miles
Alexis Miles is a college student with a passion for writing, hiking, and live music.