Westcoast Sightseeing is launching Dinner in the Sky North Vancouver on June 23rd featuring Executive Chef Ned Bell. 22 guests can enjoy a meal while suspended 150 feet above West Esplanade for an elevated 360 dining experience like no other.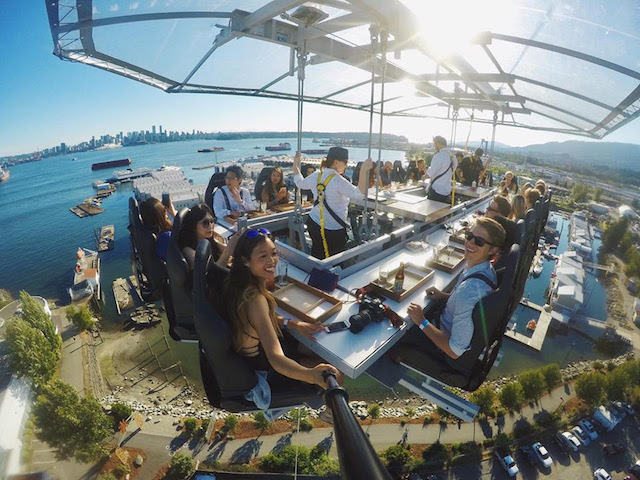 Dinner in the Sky North Vancouver
From June 23 through July 29, 2018, Dinner in the Sky North Vancouver will be presenting fabulous brunch, lunch and dinner offerings from its scenic location at 415 West Esplanade, which showcases spectacular ocean, mountain and city vistas.
Individual experiences and private events for Dinner in the Sky North Vancouver are available to be booked online. Other locations for this summer will soon be announced.
Well-known Canadian chef, Ned Bell is sure to bring elevated excitement and culinary flair to Brunch in the Sky, Lunch in the Sky, and Dinner in the Sky. Bell has established his reputation across Canada with his passionate approach to cooking and his commitment to using high quality local and sustainable foods.
Bell brings his special sauce to Dinner in the Sky's menu development, staff training and to upcoming celebrity chef experiences that will be threaded throughout the summer. Look to the affable, sustainable seafood advocate to bring exceptional ingredients and his "globally inspired, locally created" food philosophy to the table.
Dinner in the Sky Canada serves 22 guests with four staff including the chef, two servers and one designated safety lead. Guests can enjoy a 360-degree view with secure, comfortable rotating and reclining seating. It will offer eight to ten brunch, lunch, dinner, and other experiences each day, as well as themed special events, weddings and other private celebrations.
The venue includes a premium reception lounge for check-in and pre- and post-dining beverages, appetizer and dessert.
Follow Dinner in the Sky on Facebook, Twitter, and Instagram for more info.