The 7th annual Surrey Doors Open is a free city-wide event that takes place on June 9th. You can explore 30 venues, connected by trolley stops or on a self-guided tour, and experience Surrey's rich culture, history, art and architecture.
Surrey Doors Open 2018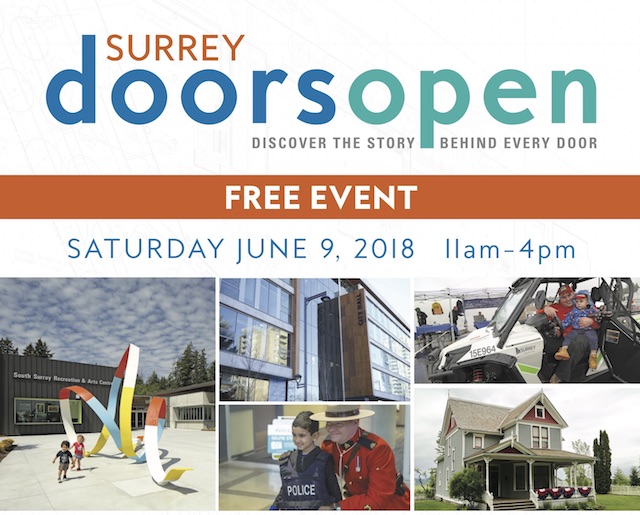 Where: 30 venues in City Centre, Cloverdale, Newton, South Surrey
When: Saturday June 9, 2018 from 11:00am to 4:00pm
Admission & Activities: FREE during the event
At each venue you can enjoy free guided tours, entertainment, and the chance to win great prizes! Post your Surrey Doors Open photos and share your unique stories and experiences on Instagram or Twitter for a chance to win great prizes using #SurreyDoorsOpen or email your photos to [email protected]. Submissions will be accepted from 11:00am Saturday June 9, 2018 until 4:59pm on Friday June 15, 2018. Winners will be accounted on Tuesday, June 19, 2018.
Participating Venues
Cloverdale Venues
A&T Equestrian
Cloverdale Library
Fraser Valley Heritage Railway
Harness Racing BC
Honeybee Centre
Surrey Animal Resource Centre
Surrey Archives
Surrey Fire Service Hall No.8
BC Vintage Truck Museum
South Surrey Venues
Historic Stewart Farm
Semiahmoo Arts
South Surrey Operations Centre
Newton Venues
Surrey Amateur Radio Training
Surrey Operations Centre.
Whalley Venues
Bear Creek Park Train & Mini Golf
Central City Brewers & Distillers
Chuck Bailey Recreation Centre
City Centre Library
City Parkway Studios
Di Reggae Cafe
Forsyth Park
Health & Technology District
Maranatha Canadian Reformed Church
Sprite Multimedia
St.Constantine &
Helen Greek Orthodox Church
Surrey Biofuel Facility
Surrey City Hall
Surrey Nature Centre
Ukrainian Orthodox Church of St.Mary
Viva Care Medical Clinic
Free Shuttle
Visit Surrey Doors Open venues on your own, or enjoy the free Hop-On, Hop-Off Shuttle Bus at designated venues in Cloverdale. Services start at 11:00am and ends at 4:00pm.
Free shuttle buses will be running approximately every 45 minutes from the Hop-On, Hop-Off Zone in Cloverdale. Please note that our shuttles cannot accommodate booster seats or car seats for children.
Hop-On, Hop-Off Shuttle Bus Zone will start at 56A Avenue and 176A Street and shuttle between:
Surrey's Heritage Railway
Surrey Animal Resource Centre
Venues within walking distance of the Hop-On, Hop-Off Zone
Cloverdale Library
Surrey Archives
Surrey Fire Service Hall No.8
Doors Open History
The inspiration for Surrey's Doors Open stems from origins in France where the first Doors Open event (La Journee Portes Ouvertes) took place in 1984. The idea soon spread to neighbouring countries and has since expanded around the globe.
Toronto was the first North American city to follow the European lead and launched a high profile event showcasing constructed heritage, architecture and design as a millennium project in 2000. The City of Richmond has hosted the event over the last 9 years, and has grown their community involvement to over 40 open sites throughout Richmond.
Miss604 is proud to be a sponsor of Surrey Doors Open