This post has been contributed by Greg Hart, Urban Wildlife Coordinator with the Stanley Park Ecology Society ("SPES").
Grab a Bird's Eye View of Stanley Park's Herons
Stanley Park's Heron Cam
The Pacific great blue herons have finally returned to their nesting trees in Stanley Park. This year's arrival was quite abrupt. Before this past week, the herons had only been seen in and around the colony nests for a few fleeting moments. Then, suddenly, late Sunday afternoon (March 11), eleven males claimed nests. Monday morning—setting up just before dawn and completely unphased by daylight saving time—a few more birds joined their ranks squawking away in the trees by the Vancouver Park Board offices. As of this writing (March 15), more than 50 herons can be seen squabbling for nests and partners.
Pacific great blue herons are a Species at Risk in BC. We are quite fortunate to have such a large colony within such a busy urban area. Stanley Park Brewing, the Vancouver Park Board, and Stanley Park Ecology Society all have the heron's best interests in mind. Stanley Park Brewing has adjusted their construction schedule at the old Fish House Restaurant site to postpone the majority of the outdoor work until after the breeding season.
The Park Board has developed a new management plan in consultation with biologists from the Ministry of Environment and Environment Canada to ensure the construction and park activities do not cause distress to the birds. Stanley Park Brewing has also hired an independent environmental monitor to be on-site daily to ensure that human activity is not disturbing the colony.
Stanley Park Ecology Society continues to monitor the colony's size, productivity, and success rate. We are all thrilled to see the herons behaving as they normally would this time of year. Currently, 41 nests are occupied with herons. These nests are the ones closest to the Park Board offices. Historically, these are always the first nests to be settled and claimed. Over the next couple weeks, we expect to see more and more herons continue to return, pair up, and raise fledglings.
The Heron Cam is now live! Watch all the excitement and drama unfold during this breeding season.
Here's a snapshot of recent jousting activity between males:
New for the year, Stanley Park Ecology Society will provide live nature interpretation at the heron colony every week. You can help support our monitoring and education programs by Adopting-a-Heron-Nest.
If you have questions or would like to know more about these birds, email us or join us at the colony! We'll see you there.
About SPES Saturday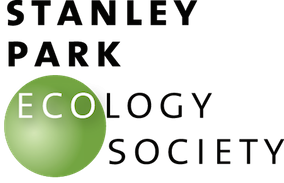 As a member of the Stanley Park Ecology Society ("SPES"), I wanted to offer the organization an opportunity to share their news, events, and work so I created the "SPES Series" years ago. This is where SPES can contribute and share stories with my audience once a month. Follow SPES on Facebook for more information.