I love walking tours, and I find they're most often the best way to get to know a city — even if it's your own. There is a new virtual, self-guided tour out there featuring places highlighted by one pretty amazing woman who once called Vancouver home.
E. Pauline Johnson (Takehionwake) documented and shared "Legends of Vancouver" over 100 years ago, telling famous tales of the Lions peaks and giving Lost Lagoon its name.
Many of Pauline's works are in the Public Domain and her book, "Legends of Vancouver" is available on iBooks, and for free on Kindle. Inspired by Pauline Johnson, you can now take the Legends of Vancouver Self-Guided Walking Tour.
Legends of Vancouver Tour
Stops of interest — that you can visit in person or online — include: The Pauline Johnson Memorial in Stanley Park (near Third Beach), The Two Sisters (view The Lions from Ferguson Point), Slhx̱i7lsh (known as Siwash Rock), The Lost Salmon-Run (on the Sea Wall), The Sea-serpent (at Brockton Point), Deadman's Island, The Lost Lagoon, The Lure in Stanley Park (near the Seven Sisters), Deer Lake (Burnaby), Point Grey, The Recluse (Capilano Canyon), The Lost Island (Deep Cove), and The Deep Waters (Buntzen Lake).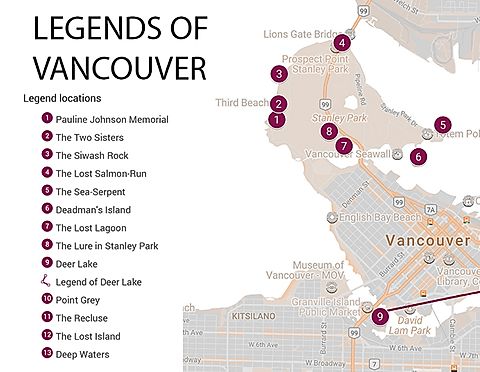 This Vancouver walking guide visits some of the sites of those legends, and examines places of sacred meaning to local Indigenous People of the Squamish, Musqueam and Tsleil-Waututh Nations. Each may also have their own stories, that may differ from the legends documented in Pauline Johnson's book.
On March 10, 1913, Vancouver mourned the death of Pauline Johnson by declaring the day a civic holiday. She was even commemorated on a postage stamp in 1961 — being the first indigenous-Canadian, first woman (other than the Queen), and author to ever be honoured in this manner. Take a walk through your Vancouver, guided by the words and stories of her Vancouver 100+ years ago.