The following has been contributed by Steffani Cameron, who is in the middle of a 5-year worldwide adventure that she is chronicling at FullNomad.com.
With a mission to write about the Okanagan's food and wine industry for a cheese magazine, I packed my fat pants and hit the road in my Honda HRV. Naturally, my good pal Miss604 wanted a report on all things foodie about my adventures.
Here's a thing I learned along the way: You may think there is such thing as "too many cheeseplates," but I'm here to tell ya, there ain't. So, let me share with you some of the great places I've explored cheeses, wines, and other tasty experiences.
Eating in the Okanagan, Cheese Plates Galore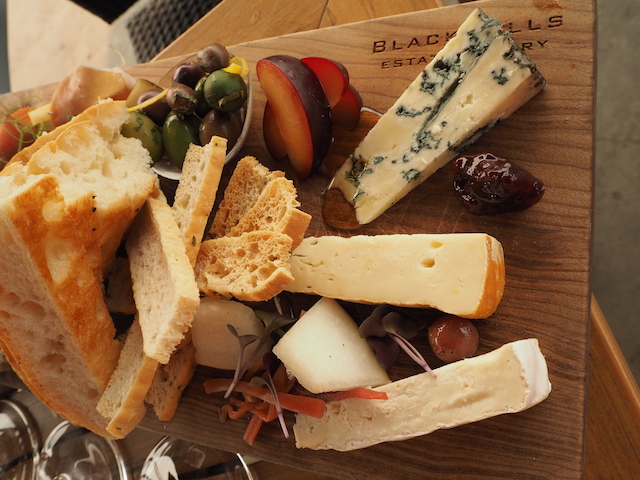 Black Hills
Within days of my visit, the BC Wine industry was jaw-dropped to learn that Black Hills had been acquired by Peller Estates. GM Glenn Fawcett promised the winemaker will keep up its industry-leading quality. Good thing, too, because their Nota Bene is one of BC's best premiere red blends, year after year.
But let's talk about their cheese plate. When that thing was sat in front of me, I told the chef it was one of the sexiest cheese plates I've ever seen in my life. Featuring all Upper Bench cheeses, the accompaniments really set it apart. Think pickled melon, thyme-roasted grapes, the juiciest of fresh Okanagan nectarines, and so much more. An assortment of meats, fruit, breads, and cheeses always sounds great, but when so much care goes into making the fruit and preserves offered as unique as the cheeses and meats are, that's when it's other-level stuff.
VinAmité
Tell the good folks at VinAmite Winery that Steffani from Culture says you gotta try the cheeseplate, and they'll get one ready for you. What set this plate apart from so many others I enjoyed was that Catherine Coulombe and her family are French-Canadian, so it's French decadence. I enjoyed four cheeses, wild boar terrine (with house-made Gamay Noir wine jelly), a duck rillette, chicken liver mousse, and a fig-and-cinnamon wine jelly. Apparently, they get the mousse, rillette, and terrine made specifically for them.
VinAmite is an Oliver-Osoyoos boutique winery only a few years old, but are already delivering great wine. They only produce a couple thousand cases annually, so bottles like their great Compass blend of Merlot, Cabernet Sauv, Cab Franc, and Malbec tends to sell out. They're also unique in that they're one of the few BC wineries offering a single varietal bottle of Petite Verdot. At $54.90* a bottle, it's pricey but a beautifully complex red that begs for cellaring. Their tasting room isn't year-round, but call in the off-season to book a visit. With the cheese platter, I promise, it'll be a terrific break in your day.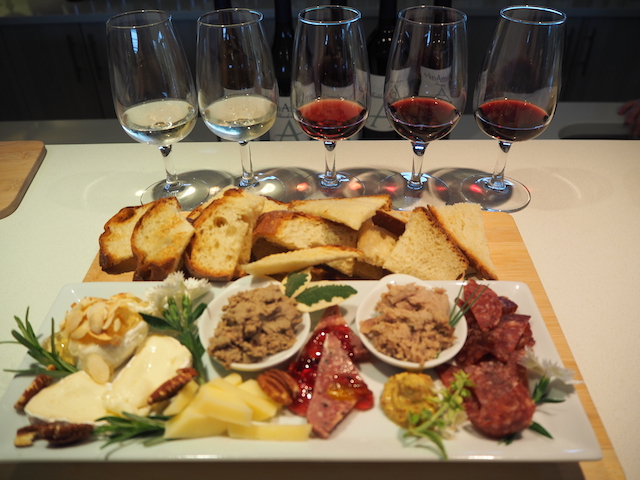 La Stella Winery
Sister vineyard to Le Vieux Pin, La Stella is one of those best-kept secrets that only the real hardcore wine-lovers know about. They're not flashy, they don't have to market, and they have product that is world-class. Talk to the sommeliers in the know and some will tell you that only six or seven vineyards in BC can compete with what La Stella's putting out. Its winemaker is Severine Pinte, a Frenchwoman using traditional French methods, and she's considered a star on the BC scene now.
Their stunning Maestoso sells at $89.99* a bottle, and you'll love trying it in the shop. It's even being served as the only Canadian wine in German Michelin-starred restaurant, Landhaus Scherrer! But, also be sure to try the olive oils and balsamics that they're importing from Sicily. I grabbed the olive oil, but am still kicking myself for not buying the white balsamic, which had a mind-blowing sweet-tart profile that would be incredible in salads.
Platinum Bench Wine & Bread
Here's a great thing: A winery with an artisan bakery. This husband-and-wife team called it quits on their former careers (he was a CPA) and decided to go all-in on their dream and moved out from Winnipeg. They hired the Okanagan's best wine consultant and now they're banging out amazing wines. But what sets them apart from nearly any other winery in North America is that there's an artisan bakery on-site, run by wife Fiona Duncan, a master baker. They make incredible breads, sometimes 300 loaves a day, in their small outdoor bakery, and it's sold out before noon every single day. It's made them a hot location for cyclists.
It's on the same road as Burrowing Owl and Black Hills, so you could walk from one amazing winery to the next. Start early with Platinum Bench and some of their, say, fig-and-gorgozola bread (made with Poplar Grove cheese) and then carry on to Burrowing Owl for some sips, and finish with a lunch cheese plate at Black Hills. Brilliant!
Upper Bench Winery & Creamery
Two amazing cheese producers are found in Penticton – Poplar Grove and Upper Bench, and Shana Miller has had a hand in both. She was head cheesemaker at Poplar Grove, and her husband Gavin the winemaker, until they started their own winery and creamery in 2011. Today, Upper Bench wines are terrific, and probably some of Penticton's best value wines, but their cheeses could stand against most any you'd find in Europe. Now they've got a summer-only outdoor brick-oven pizzeria that's making killer pizza.
But what you really want to know about with Upper Bench is their Curds and Corks Club. For $180* every three months you'll receive six bottles of Upper Bench wines with three of their cheeses. The cheese retails for about $60* a kilo, so that's a fantastic price and they deliver. The King Cole will make even the most blue-phobic cheese-eater a fan of blue cheese, and their UB Brie has the most neutral rind I've ever had on a brie.
Covert Farms
Covert Farms has been a player in BC agriculture since the 1950s, back when it was just a fruit tree orchard. Today, it's a sprawling family-owned farm producing organic fruit, vegetables, and yes, grapes. They not only sell top-quality grapes to some of the region's most selective winemakers, but they make their own wines too. Plus, this is probably the most family-friendly wine-tasting experience you can have. Got kids? Take them here during the summer months for a tour of this working farm. You'll ride on benches in the flatbed back of an old red Mercury truck and learn all there is to know about organic and biodynamic farming. Like how the Coverts are using lentils in their vineyards as a means of getting nitrate into the soil, but how it attracts birds like starlings, who used to eat grapes, and how red-tail hawks now find those birds as their prey, and how that means songbirds and other small birds are able to feel unthreatened as they pick off insects in the vineyards. Now that's what I call pest control!
And they have a terrific shop where you can buy their wines and other snacks, in case you feel like packing a picnic lunch to eat elsewhere on their property, where you'll get amazing views of the Okanagan Valley below. The kids can jump on their "giant pillow" and dogs are allowed to run around off-leash. The farm tour comes with a cheese-and-charcuterie platter along with a wine tasting of five wines, and costs about $60 a person. During the tour, don't be surprised if you stop to pick some blackberries or other fruit. You'll also stop to learn about all the different grapes and get to pick them off the vine in bunches to take with you and eat. (Obviously that's a much more enjoyable experience in September, when they're actually ripe!)
Strictly Wines
Fairview Cellars
With a dated label and a crammed little log-cabin tasting room, it's easy to dismiss Fairview as inconsequential wine in the Okanagan scene, but you'd be making a grave mistake. Bill Eggert was one of the original winemakers that put the Okanagan on the map, and he's still cranking out big, bold reds that are some of the best in the province. He's always been a risk-taker, and still is, which you'll find in is Fumee Franc, made of thin-skinned Sauvignon Franc grapes full of smoke taint from the 2015 fires that literally came right up to the property line. Not for the meek-of-heart, the Fumee Franc is so smoky it tastes like you're drinking a campfire, but it's an incredibly different wine that'd be amazing with a spice-rubbed ribeye hot off the grill. My favourite this year is the Madcap, a Merlot-lover's blend of Merlot, Cab Franc, and Cabernet Sauvignon. Highly drinkable, and well-priced.
River Stone Vineyard
Fairview's Eggert turned me on to this boutique winery where the Kanes operate a tasting room right out of their home. Their Stone's Throw and Corner Stone reds are worth dropping in for a tasting. Another boutique winery, they have strong wine club sales and often sell out.
Okanagan Crush Pad
Here's a project worth knowing. Both an independent winery and an incubator for startups, the Crush Pad sells their organic wine labels of Narrative and Haywire, which are naturally produced with no added sugars or yeasts. The winery nurtures naturally-occurring yeasts, thanks to their porous concrete fermentation tanks, and it makes for light, drinkable wines that are created by nature and unlocked by winemaker Matt Dumayne.
Think of it as being similar to how master cheesemakers in Europe nurture bacteria in their aging rooms. It's that "don't know what" that makes the product better than others.
If you've never had an "orange wine," ask to try their "orange" Sauvignon Blanc. It's still a white wine, technically, but the skins are left in the fermenting process for much longer, creating incredible complexity and depth seldom found in traditional whites. Orange wines are a relatively new experience here in North America, but Croatia and other Old World wine regions have experimented with them for some time now. If you visit OCP, make sure you ask if you can go pay "Rocky" the sheep and his buddies a visit. The winery uses sheep to keep weeds at a minimum in the vineyards, making it more of a biodynamic experience. Plus, fluffy and cute!
But There's So Much More!
The Okanagan is loaded with boutique experiences. When you taste wines you love, ask their staff and winemaker where else you should try. Good winemakers respect other great winemakers, and that's what makes winetasting in the Okanagan such a great experience. Sure, there are the heavy-hitters like Burrowing Owl and Tinhorn Creek, but if you limit yourselves to those guys, you're missing out on phenomenal artisans making world-class product in small batches.
Ask for recommendations and you'll be sent to places like Tyler Harlton's garagiste winemaking project, or Fitzpatrick Family Wines, or JoieFarms, and Nichol Vineyards, and Three Sisters, and the Little Engine, and so many others that you might not ever learn about unless you ask.
The Okanagan is in the world's top 10 winemaking regions, and most of their boutique wineries sell out their vintages every single year. If you're not out there experiencing them first-hand, you're missing out.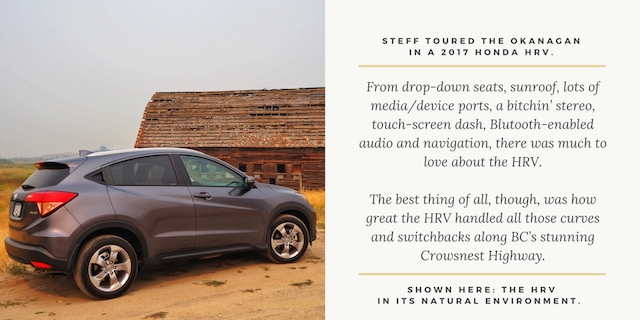 * Prices are those recorded at the time of the author's visit. All pricing at the winery and officially from the winery will be the most accurate and correct.