There are some rather unique ways to raise funds and awareness for local animal shelters, in fact I once spent a few hours inside a kennel at the SPCA a few years ago, and we've heard about the local cafe with cats. Now, there is Bunny Yoga.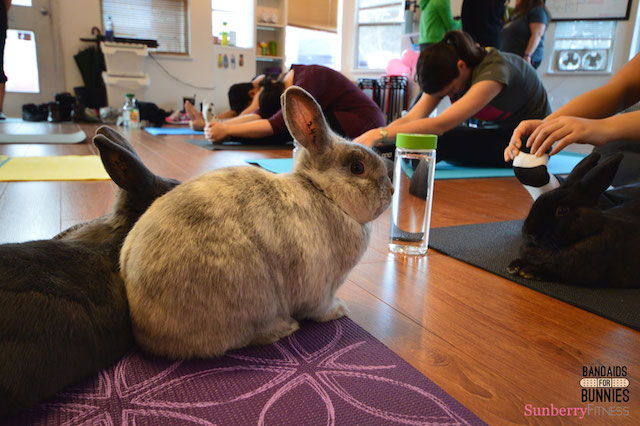 Bunny Yoga Class
When: Sunday, January 24, 2016 from 2:00 pm to 3:00 pm
Where: Sunberry Fitness (#440-4400 Hazelbridge Way, Richmond)
Admission: $20, book online in advance, women only.
Cause: Bandaids for Bunnies. There is a big bunny abandonment problem in Richmond, that Bandaids for Bunnies is trying to alleviate.
I connected with Nancy Lin, co-founder of Sunberry Fitness in Richmond, who has partnered with Bandaids for Bunnies to present this very unique yoga class which began in the fall.
"Bunny Yoga a Flow/Yin yoga class where we let bunnies roam free in the class room. The bunnies interact with the people during the class as they see fit."
Nancy says that the big difference in setup, compared to a regular yoga class, is that there are bunny cages along the classroom so they can hide if necessary.
"We find flow/yin style of yoga with its gentle movements work really well, it works with the bunnies' natural instincts. For example when we do the cat-cow pose, the bunnies will think you are a cave and sit on your yoga mat under you."
The bunnies tend to be drawn to their favourite people, whether they have taken the class before or if they have bright colours on their mats or clothing.
So why are these activities or businesses that pair animals with humans becoming so popular? Nancy says it's something that's actually always been around, for as long as people have loved animals. "It's just with the rise of the internet and social media it has become much easier to organize and gather people with similar interests, therefore making these events possible."
After the Bunny Yoga class, participants can feed the bunnies or inquire about their adoption of fostering. Fostering is for pairs of bunnies as that helps them adjust to the short term environment.
For more information, follow Sunberry Fitness on Facebook and Twitter, as well as Bandaids for Bunnies on Facebook.